MONTREAL – Having too many options is always a good problem to have, but it leaves Jill Ellis with some tough decisions that will go a long way in deciding the next Women's World Cup champion.
The U.S. women's national team coach finally hit all the right notes in her lineup choices on Friday against China. The 1-0 quarterfinal victory might not look overly convincing on paper, but it was the United States' most complete and most energetic performance of the tournament.
On Tuesday, she faces the heightened challenge of pushing the right buttons against the world's No. 1-ranked team, Germany, in a World Cup semifinal.
Ellis doesn't like talking about formations; she chooses to discuss "roles" within a system – the No. 6 (holding midfielder, a sore subject among U.S. followers) or the playmaking No. 10, for example. So to speculate on the formation she might employ is soccer's version of Russian roulette.
Ellis didn't make wholesale changes against China, but the decision to free up midfielder Carli Lloyd in a more attacking role paid huge dividends. Morgan Brian, 22, sat in behind Lloyd to sweep in front of the United States' staunch back line, which hasn't conceded a goal in an astounding 423 minutes.
"Freedom" was the word Lloyd consistently used to describe her role on Friday. It's a freedom for which she thirsts and one which she hasn't experienced in four games alongside Lauren Holiday, who was suspended for the quarterfinal due to yellow card accumulation. Sticking with Brian in the middle on Tuesday would again free up Lloyd, but it would likely mean the much more experienced Holiday moving to the bench. Brian is 22 years old and a U-20 World Cup champion, as has been touted by Ellis and company throughout the tournament. But is she ready for what's likely to be a bruising USA-Germany semifinal?
That question circles back to the endless debate regarding the United States' lack of a true defensive midfielder (the No. 6), but that's a tired topic within U.S. circles and one that isn't going to change. Shannon Boxx is the best suited for such a No. 6 role, but she turned 38 years old on Monday, has only played 16 minutes this tournament and has been nursing a slight quad issue (while still practicing). Boxx is most likely to see action in the final minutes to help the U.S. close out a game, as she did against Nigeria in the group stage.
So where does Ellis go from here?
USA vs. Germany: Watch a Spanish livestream at 6:30 p.m. ET
Her biggest dilemma is in the center of the park, where Lloyd and Holiday both want to push higher into the attack and are both best-suited in a more forward role. "Heck yeah," Holiday said of her enjoyment of playing higher in the midfield in the final minutes against Colombia. The joy was palpable.
But together, Lloyd and Holiday have struggled to find any sort of rhythm alternating between the role.
I asked Ellis on Monday whether or not Holiday and Lloyd could co-exist in dual attacking roles. Her response was coy. "We'll figure it out," she said, adding in a wink.
Lloyd, Holiday and Brian could, in theory, all be on the field at once with the U.S. playing a hybrid 4-5-1 or 4-4-1-1, allowing Lloyd or Holiday to push on while the other sits underneath with Brian. That's something similar to what Ellis tried in a match against Brazil last December and again at the end of the victory over Colombia and it would be the only way to get all three players on the field without forcing Brian into an uncomfortable wide role. That may be a risk Ellis will have to take.
"They are both attacking personalities," Ellis added. "It's pick and choose the moments, because obviously Germany is a tremendous transition team, so it's that measure and that balance. But yeah, I think we would like to get them involved in our attack if possible."

But France found success against Germany in a flat 4-4-2. Amandine Henry controlled the middle of the park and winger Louisa Necib tucked in defensively to account for Germany's numbers advantage in the middle.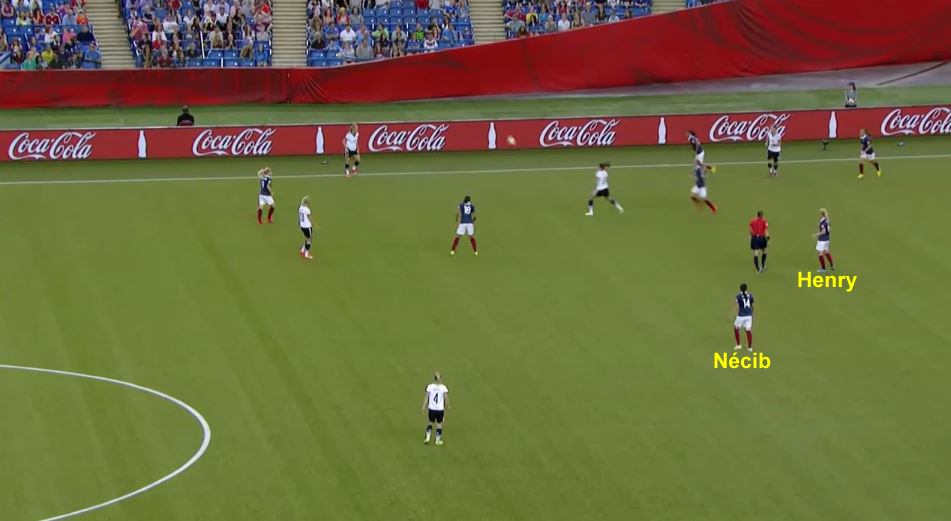 Such a system is a mirror image of the U.S. setup, so France may have provided the Americans with something of a blueprint against Germany. The U.S. has often throughout this tournament asked its wide midfielder to tuck in centrally on defense against teams that have a numbers advantage in the midfield. Australia and Colombia in particular gave the U.S. trouble due to that.
Ellis and her players say they expect Tuesday's semifinal to be a transition game – a style with which they assimilated themselves in the group stage – and for there to be room on the flanks.
"Germany does well in their attack," U.S. forward Alex Morgan said. "But I think their back line, they are physical, but I think they can be vulnerable in the outside spaces behind the back line, so it's going to be a lot of flank play again, like Kelley O'Hara provided (against China)." Morgan also said that she liked having a central midfielder higher up the field.
MORE: USA vs. Germany will be final before Final  |  Krieger faces familiar foe
But her point about flank play leads to Ellis' second big issue: the wide midfielders. Megan Rapinoe will certainly slide back into a starting role after being suspended for Friday's quarterfinal. She has been the team's best attacking player this tournament.
Kelley O'Hara brought a needed energy on the flank against China. The U.S. finally employed a high-pressure system that forced China into mistakes and saw the U.S. take the initiative. The U.S. likes to be on the front foot.
"(We like) pressing teams. What the U.S. does best — and you look back at the history of all the teams — it's pressing," Lloyd said. "It's putting teams on their heels. We don't want to give teams respect. We don't want to make teams feel that we are nervous. We want to make teams nervous."
Similarly, France pressed Germany high and saw rewards for it. The French left fullback Amel Majri was often high up the field to apply pressure, a role that U.S. left fullback Meghan Klingenberg is more than capable of playing.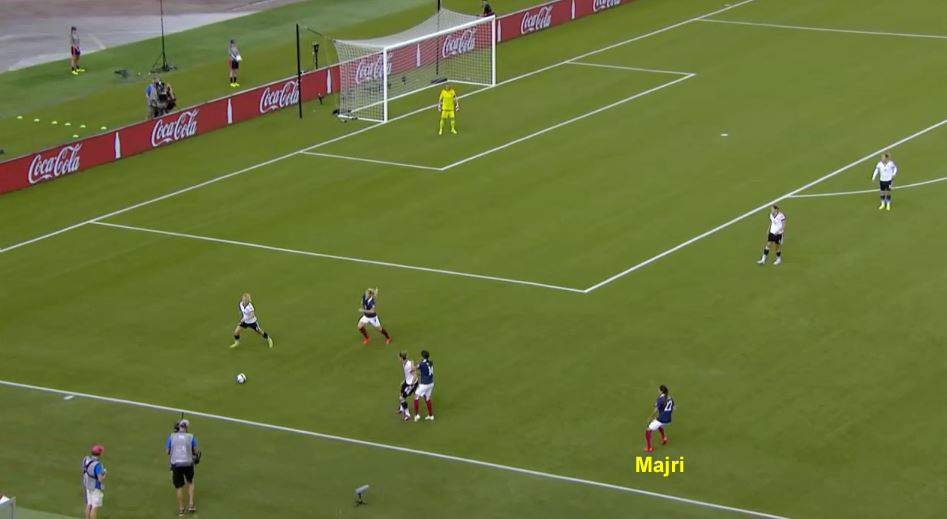 Did the speedy O'Hara do enough to earn herself a second consecutive start? Or will Ellis stick with Tobin Heath, who provides more of a 1-v-1 attacking presence? O'Hara is likely to provide more defensive cover.
And up top, there is the ever-present elephant in the room: Will Abby Wambach start? Ellis chose to line up Amy Rodriguez alongside Morgan in the quarterfinals and Rodriguez was a significant reason for the more energized U.S. performance. But Rodriguez didn't take her chances in front of net, and Ellis said on Monday that two areas of focus for the U.S. against Germany are the aerial battle and the middle of the park. Wambach is the world's all-time leading scorer, netting almost half of her 183 international goals with her head. Wambach will also be fresh after only playing the final few minutes against China, but she wouldn't provide the type of defensive pressure that Rodriguez would in a high-pressure system.
Ellis' decisions are likely to take a leading role in how this battle of the world's top two teams shakes out. A 4-4-2 with Lloyd and Holiday in the middle of the park seems like the house bet for that critical area, but O'Hara and Heath both have a case on the wings and whether or not Wambach starts will dictate how direct the U.S. plays and how high up the field the Americans press.
Ellis says she doesn't look at the news or social media, choosing instead to stay in the "bubble" to which she so often refers.
"In terms of pressure, I think that you don't go into a job like this knowing that the expectations are nothing but high, right? I don't lose sleep about the games and such because this is the environment I chose to be in. If I didn't choose it, I wouldn't be able to do it."
Tuesday's game will be her most-pressure packed yet. Her decisions will be game-changers and perhaps game-winners if she gets them right, but as France found out in the quarterfinals, just winning the tactical battle against Germany isn't good enough if scoring chances aren't finished in front of net. The U.S. has been happy to win regardless of the style of play. At the end of Tuesday, the result is all that will matter.