Mike Powell knew the milestone was coming.
On July 11, Powell's world record in the men's long jump turned 8,351 days old, and his thoughts traveled back to its birth, Aug. 30, 1991. They often do.
The previous world record, etched indelibly by Bob Beamon at the 1968 Olympics, turned 8,351 days old on Aug. 30, 1991. Powell snapped it that night, in Tokyo during a World Championships epic event with Carl Lewis.
Powell has now held the world record longer than Beamon did, and nobody is currently jumping close to it.
"It's lasted 23 years," Powell, an avowed stat geek, said in a recent phone interview. "I didn't think it would last 23 minutes."
Neither did Beamon on Oct. 18, 1968.
***
As storm clouds gathered, Bob Beamon bowed, stepped back, leaned forward and accelerated down a runway for his first Olympic final jump at Mexico City's Olympic Stadium.
"It felt like a regular jump," he told Sports Illustrated 46 years ago.
Beamon loped 19 strides and launched off the takeoff board like nobody had ever seen. Jesse Owens, peering through binoculars inside the stadium, estimated Beamon leapt vertically five to six feet, according to SI.
Beamon fell to Earth. His white shoes dug into the landing pit, six seconds after his first step down the runway. Momentum carried Beamon to three mini jumps out of the pit. He jogged away, wiggling his arms and receiving one low-five before reaching a bench.
Then he waited.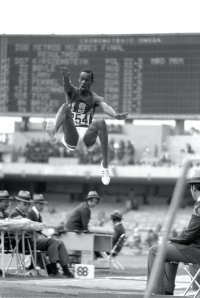 The jump was so long, so unexpected, that the measuring device couldn't extend far enough to record it. It took about a half-hour to locate and lay out tape to confirm what Beamon figured, that he'd broken the world record of 27 feet, 4 3/4 inches.
Officials announced the mark in meters – 8.90 – but Beamon, not fully versed in metrics, couldn't fathom it. He has said he thought it might have been a shot put mark.
Teammate Ralph Boston, the 1960 Olympic champion, broke the news to him: Beamon leaped clear past 28 feet, to 29 feet, 2 1/2 inches.
He shattered the record by nearly two feet.
Beamon collapsed to his knees and covered his eyes in disbelief.
Descriptions of the feat have since ranged from a "mutation" performance by a medical expert; to being in "the twilight zone" by Beamon; to what "might be the clearest instance of adrenaline-driven overachievement that the sports world has ever seen" by SI.
Perhaps the best came on Oct. 18, 1968, from one of Beamon's competitors to SI.
"Compared to that jump, the rest of us are children," said Igor Ter-Ovanesyan of the Soviet Union, who ceded his share of the world record that day.
Mexico City marked Beamon's first and last Olympics, nine months before man landed on the moon. He never again jumped 27 feet, partially due to injury.
***
Beamon has said he expected his world record to be broken "in the next 30 minutes" at the Olympics. The conditions were ripe, jumping at an altitude more than 7,000 feet above sea level. Beamon also benefited from the maximum allowable tailwind for record purposes, 2 meters per second.
But nobody challenged it in Mexico City. In fact, nobody would jump within a foot of Beamon through the 1970s.
Then came Carl Lewis, whose prodigious talent was rivaled by his steadfast confidence that he would one day break Beamon's record.
Lewis would win four straight Olympic long jump gold medals from 1984 through 1996, along with five more in the sprints. Officially, he never beat Beamon's mark, but Lewis maintains the record book lies. He and others point to the National Sports Festival in Indianapolis on July 24, 1982.
"Carl jumped 30 feet," NBC Olympics track and field analyst Dwight Stones said. "I was right there."
Stones, then a high jumper, said long jumper Jason Grimes approached him in the infield before Lewis sprinted down the runway that day.
"You want to see a 30-foot jump?" Grimes told Stones. "You better watch right now."
Lewis just about proved Grimes prophetic with his leap, but an official raised a red flag, indicating a foul on Lewis' takeoff.
"We were crestfallen," Stones said.
Lewis and Stones both said the official erred in ruling that Lewis' foot nudged over the foul line, even though it left no mark in the foul area. A foul could only be called if a mark was left, Lewis argues to this day.
Nevertheless, Lewis' imprint was raked before it could be measured. He insists it was farther than Beamon's world record, if not 30 feet.
Lewis' very next jump was legal, and it was the second-longest ever at the time, 28 feet, 9 inches.
"Not getting the record that day worked out better for me in my career anyway," Lewis says now, still remembering an ABC 20/20 investigative report titled, "The Perfect Jump," with an Israeli-born physicist dissecting video of his magical foul. "It told me you could break the record if you really, really want to. That day changed the way I look at my career."
Beamon's record withstood the challenge.
Lewis won the first of four straight Olympic long jump golds two years later, but it was Soviet Robert Emmiyan who scared Beamon with a 29-foot jump in May 1987.
"When I heard about that, something came over me," Beamon said in a press conference one week later, according to The New York Times. "I felt it's evident my record will be gone soon. I've been preparing myself for that day."
Beamon readied to hand it over to Lewis, who had not set a personal best in five years but was in the midst of a 10-year, 65-meet winning streak.
***
Mike Powell said he met Bob Beamon twice before the summer of 1991, in 1985 and 1989, according to The New York Times.
Powell, a basketball standout as a boy like Beamon, said he saw the world record holder one more time a month before the 1991 World Championships in Tokyo. He spotted him in the crowd at one of his competitions.
"I remembering saying, I'm going to show Bob Beamon how far I can jump," Powell said. "I remember looking up in the stands, and he's leaving! What?!? You're going to leave while I'm jumping?"
Powell, who says even today that his "whole life story is being the underdog," took it as a slap in the face.
At the time, Powell was the 1988 Olympic silver medalist and the No. 4 American on the all-time list, behind Beamon, Lewis and Larry Myricks.
Beamon said then he didn't follow the sport close enough to recognize Powell. They would soon get very acquainted.
***
Powell rarely has an extended time without seeing highlights of the 1991 World Championships long jump in Tokyo, considered by many the greatest head-to-head duel in track and field history.
"But every single time I see it, I go right back to the moment," he says now, giddiness still in his voice. "I smell the air in the stadium."
What does it smell like?
"Have you ever been in the South, and there's a storm about to come, and the air gets real thick?" Powell asked. "There was a typhoon in the city. So the air was electric."
Powell came to Tokyo with an 0-15 career record against Lewis, but he felt more confident than ever to finally get on the scoreboard on Aug. 30, 1991.
He led Lewis until the final jump during an event two months earlier, until Lewis summoned a last-gasp leap to win by a single centimeter. It was Lewis' best jump since the 1988 Olympics.
"I demonized Carl," Powell said. "When we were in a room together, I always thought we were about to fight. He might not have known I was even there."
The long jump didn't start until the seventh day of competition in Tokyo. So, while Lewis focused on the 100 meters the first few days, Powell focused on himself, plodding through the athletes' village without making eye contact with anyone.
"I already had my game face on," Powell said. "I was jumping over and over and over again in my head."
There's written proof. He was asked to sign an autograph after his final gym workout before the competition.
"Mike Powell, personal best 8.66," he wrote, using metric as he usually did overseas. Then, he added a new line before putting the pen down. "1991 World Championships 8.95?"
Powell felt sure he would break Beamon's 8.90m world record. He was less confident he would win the gold medal.
Four nights before the long jump final, Lewis won the 100m in 9.86 seconds, snatching the world record back from countryman Leroy Burrell in what was then the fastest race in history. In long jump qualifying the day before the final, Lewis leaped more than a foot farther than anybody else. He then approached his coach, Tom Tellez.
"Look, I want to go break the world record," in the final, Lewis recalled, "and I'm never going to jump again. I'm just going to sprint. It's too hard [balancing sprints, the long jump and "the management" part of his career]."
Track and field meets are likened to a three-ring circus. Throws, jumps and races can run simultaneously. Often, field events take a backseat to sprints. But not in Tokyo. Press box binoculars were fixed on the runway on Aug. 30.
"All the elements were there for a great battle," Stones said. "I think everybody in the stadium was holding their collective breaths, as was Powell."
Powell jumped before Lewis in the 13-man order. He gritted his teeth on the runway for the first of his six attempts, set to plow through a swirling wind. His first jump was deplorable, not even 26 feet. He said he was so amped up he was almost hyperventilating.
Lewis went four jumpers later. Unfazed, he leaped 28 feet, 5 3/4 inches, with zero wind. That was farther than Powell's personal best.
Powell moved into second place on his second jump, but Lewis responded with the longest jump of his career on his third. Lewis improved to 28 feet, 11 3/4 inches, just 2 3/4 inches behind Beamon, but with too much tailwind for record purposes.
Powell, so error-prone he used to be called "Mike Foul" by his coach, was over the board on his fourth. Lewis sat on the edge of the back of the runway to watch from behind.
"I saw [Lewis]," Powell said. "I looked at Carl like, I'm getting you today."
Lewis then surpassed Beamon's hallowed record by one centimeter on his fourth jump, but again with too much tailwind, 2.9 meters per second. Lewis' eyes popped when the distance flashed on the scoreboard.
"If this man gets a legal wind, he might just break Beamon's record," Stones said in astonishment on the broadcast.
Lewis had just posted the greatest back-to-back long jumps in history. He put on his sweats and sat on the grass to watch Powell's fifth.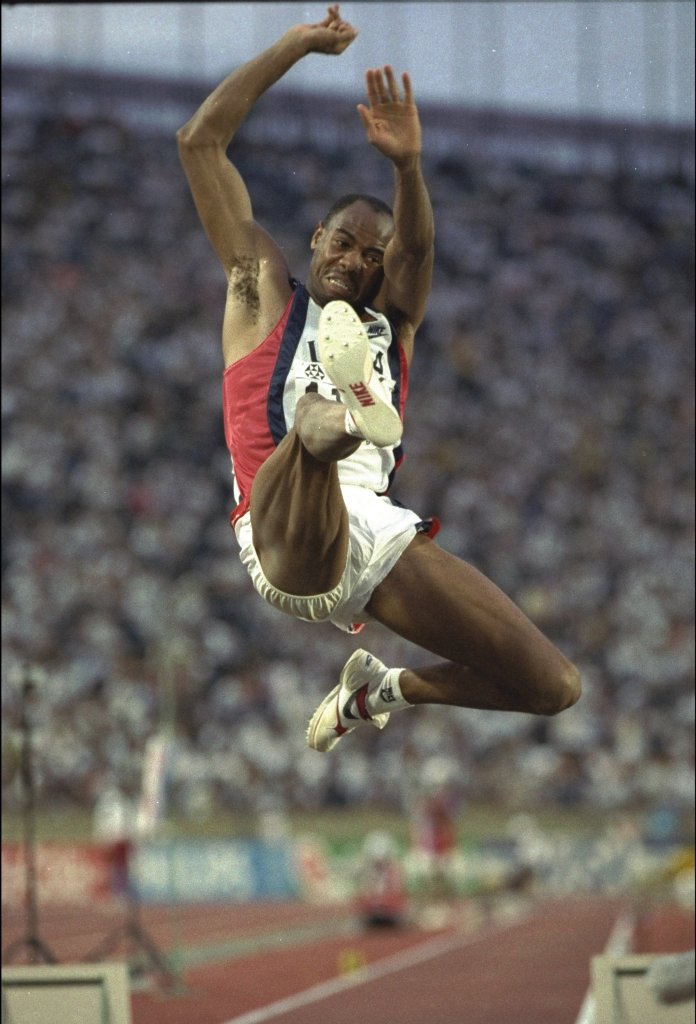 Powell puffed his cheeks, waved his arms like a pro wrestler on a ring walk, attacked the runway and propelled off the board with room to spare. He panged as his body arched back in the air with Beamon-esque height. He gave in to gravity and dug into the dirt with a thud that caused screams from a crowd of some 60,000.
"That explosion," Stones called it. "That bomb."
Powell immediately rose from the pit, raising his arms, pointing his fingers and roaring with focused intensity. The wind reading flashed in yellow numbers. A legal 0.3 meters per second.
Powell clapped as he awaited the distance reading. Lewis, in the same sitting position as when Powell embarked on the runway not 30 seconds earlier, stood up.
Then Powell saw it — 8.95 — a new world record. Powell cleared Beamon by two inches with a 29-foot, 4 1/2-inch jump close to sea level, and with very little wind at his back.
"Everything I did during my whole life until that point was encapsulated in that jump," Powell says now. "Everything in my life that I had not achieved. Every girl that turned me down for a date. Every time I didn't learn something. That was my moment to show the world."
Powell heard another sea of screams and jaunted on the track, past advertising boards for Coca-Cola, Philips and Fujifilm.
It didn't take long to realize it wasn't a victory lap, though. Lewis, who by then had disrobed his navy blue sweatshirt, had two jumps left.
"[Lewis] was the guy who could sink a full-court shot at a buzzer to win a game," said longtime track and field writer Dick Patrick, who covered the Tokyo meet for USA Today. "He was like Michael Jordan. Carl was like Tiger Woods, even five shots behind in the last round of the U.S. Open, you still think he could have a chance to win."
Lewis thought the same. He planned to leap farther than Powell, finally take the world record and retire from the long jump with that 10-year unbeaten streak.
"Zero doubt," Lewis says now.
Powell agreed.
"I fully expected Carl to come back and jump 29-6, 29-7," he said.
He almost did. Lewis' fifth jump was the longest legal jump of his career — 29 feet, 1 1/4 inches — but still behind Powell and Beamon.
Powell — the stat geek and time freak — measured the wait for Lewis' sixth and final jump on a watch (5 minutes, 31 seconds, reports said). "Please," he pleaded before Lewis' finale, bowing his head and folding his fingers in prayer.
Lewis' last attempt fell short, 29 feet even. Second place for King Carl.
Powell vanquished Lewis, dethroned Beamon and celebrated like NC State coach Jim Valvano after the 1983 NCAA Championship Game.
Powell ran wildly and bear hugged the first stranger he came in contact with — the foul judge.
"You're going to need a crowbar to get this smile off my face," Powell said while on the infield.
***
Bob Beamon's phone rang around 7 a.m. on Aug. 30, 1991, with the news he had feared for years. Ron Freeman, his 1968 Olympic teammate, delivered it.
"For a moment, I thought Ron had an apple in his throat," Beamon said then. "Obviously, there was something he wanted to tell me, but he didn't quite know how to begin."
Beamon felt confused, not by the record falling, but by who broke it. He had always thought it would be Lewis. (Even though the story goes that Powell's coach introduced himself to Beamon years earlier by saying, "I'm the guy who's going to coach the guy who's going to break your world record.")
"They said my record would never be broken," Beamon says now. "I've always looked at it as records will always be broken."
Powell's whirlwind of voicemails, media and insomnia lasted through that weekend. He broke the record on a Friday night. On Monday, he was back home in California and awake before dawn for a CBS morning show appearance with Beamon.
The pair shared meaningful conversation for the first time. Beamon says he has no recollection of it today, which is interesting, given Powell said at the time that Beamon broke into tears and told Powell that he loved him.
They barely talked about jumping or track and field. Rather, they shared passions for music and basketball.
"I think [Beamon] carried around a tremendous burden for 23 years, and that day was like having a weight lifted from his shoulders," Powell told SI in 1991. "It felt like he was passing the torch on to me."
***
Powell went into the 1992 Olympic year thinking a 30-foot jump might be possible, especially with Lewis there to push him. But neither Powell nor Lewis jumped farther than 28 feet, 7 inches, the rest of their careers.
Powell suffered a back injury in his first serious outdoor meet of 1992. Then it was a hamstring. Then a heel.
Lewis won the 1992 Olympic long jump on his first jump, 28 feet, 5 inches. Powell took silver, again, an inch behind.
Powell defended his World Championship in 1993, without Lewis in the competition.
Then came July 29, 1995. Powell woke to a phone call, not unlike the one Beamon received four years earlier.
Cuba's Ivan Pedroso had jumped a new world record, he was told, 8.96 meters in the Italian Alpine village of Sestriere. Pedroso was a solid jumper, fourth as a 19-year-old at the 1992 Olympics, but that was nearly a foot past his previous best.
Powell said Sestriere is the best place to jump in the world. It's in thin air nearly a mile high, with a fast runway and often heavy tailwinds. (Powell's farthest ever jump was in Sestriere in 1992, 29 feet, 6 inches, with 4.4 meters per second of wind, more than twice the legal limit.)
Italian media quickly questioned Pedroso's jump, reporting a man standing in front of the wind gauge on the Cuban's attempts.
There were 60 long jumps and triple jumps at the meet, and 56 exceeded the maximum allowable wind for record purposes. Three of the four legal jumps were Pedroso's, including the "record" jump at 1.2 meters per second, according to 1995 reports.
Italy's track and field federation didn't even bother submitting the jump to the sport's international governing body for world record ratification, given the circumstances.
Powell kept the record despite that brief scare. His grip on it has only strengthened the last two decades. No man has jumped with seven inches of Powell in the last 23 years.
In 2012, Great Britain's Greg Rutherford won the Olympic long jump with an 8.31-meter leap (27 feet, 3 inches), the shortest jump to win Olympic gold since 1972.
That regression is an anomaly in a sport where most standing world records don't last more than a decade or were set by dubious Soviet, Chinese or East German athletes in the late 1980s and early 1990s.
"I have the oldest record in the books, as far as I'm concerned," Powell said.
Jesse Owens' career-best from 1935 would have won the 2012 Olympic bronze medal.
"We're not progressing," Lewis said. "In what other event could someone who competed 80 years ago still be competitive?"
Of the greatest all-time long jumpers, and analysts such as Stones, it's Lewis who is most adamant about why the long jump is not what it used to be. He listed several reasons. The best young athletes are gravitating to sprints. There's nobody in the event setting a standard for others to chase, like Lewis throughout the 1980s.
In the simplest terms, the long jump is hard and everyone has settled into a comfort zone.
"Think about running 25 miles per hour and taking your body in the air and then the ground," Lewis said. "It is torture. A lot of people can't take the physical demands, and they can't take the technical part of it. If you can get through those two aspects, you get to the third stage — the fear factor. To jump far, you have to leave the board in a way that you feel like you could land on your face."
Many wonder how Usain Bolt would perform with a decent amount of training in the long jump. For years, Powell has thought the Jamaican has all the tools to become the first man to jump nine meters — with the right coaching.
"He could easily do it in a year if I was working with him," Powell said. "The main thing for him is just getting him to learn how to land. … The long jump is about turning speed into vertical lift — speed times height equals distance. He's the tallest guy back there [6 feet, 5 inches], the fastest guy ever, and he can jump [search "Bolt dunking" on YouTube]. The only reason he shouldn't do it is because he could get hurt."
It is very doubtful Bolt would consider the long jump.
A more curious case is that of German Markus Rehm, who jumped a personal best 7.35m in 2012 and improved to 8.24m this year.
Rehm, 26, jumps off a prosthetic right leg. He won Paralympic gold in 2012 and the able-bodied German National Championships this year. But Germany's track and field federation left him off its roster for the European Championships, citing a possible competitive advantage.
"It wouldn't be fair," if Rehm breaks the world record, Powell said. "But it would be sweet to see."
***
Another matter up for debate is this question: Who is the greatest long jumper of all time?
Is it Powell, who had the single greatest jump in history?
Is it Lewis, who had the greatest series of jumps in history, and the longest stretch of dominance, with four Olympic gold medals?
Is it Beamon, the man who set the standard by taking the event into uncharted territory?
Is it Owens, who held the world record for 25 years?
"Who do I think is the greatest of all time? That's for other people to say," Lewis said, adding, "If I hadn't come along, I don't think the event would have changed."
Powell said it's Lewis.
"He was kicking everybody's butt for almost 10, 12, 15 years," Powell said. "Carl was the reason why the record got broken because he was the segue between Bob and me.
"But I'm second."
Beamon said it's Powell.
"What do you mean by the greatest? What are the ingredients that go into it?" Beamon said. "To me, it's Mike."
Lewis and Powell must both live with holes in their careers, thanks to each other.
Lewis is the second-most decorated Olympic track and field athlete ever with 10 medals, including nine golds and four in the long jump.
He doesn't regret missing the long jump world record as much as he does being left off the U.S. Olympic 4x100m relay team at Atlanta 1996. Lewis hoped to shoot for a record-breaking 10th Olympic track and field gold medal, despite finishing eighth in the 100m at the Olympic Trials.
The U.S. won silver without him, .36 behind Canada, a margin so great that Lewis' presence wouldn't have made a difference.
Powell is one of the greatest track and field athletes never to win an Olympic gold medal. His silver medal-winning distance behind Lewis in 1992 would have won every subsequent Olympic long jump competition.
Powell said he wouldn't trade his world record for three of Lewis' gold medals. Four? Maybe.
"I'm always going to be upset because I didn't win the gold medal, and that was my goal," Powell said.
Lewis feels "horrible" for Powell. Beamon does too.
"When I see Mike, I say to myself, you know, as great as an athlete he was and having the greatest distance of all of us, including the great Carl Lewis, I was wishing that he would have had that opportunity to win a gold medal in the Olympic Games," Beamon said. "That's the ultimate. I'm wondering how Mike really feels about that, if he felt like that was the only thing missing from him being recognized as being the great one."
***
In two years, Powell will likely pass Owens for owning the long jump world record for the longest stretch of time.
Also in two years, Beamon hopes a documentary in production about his life, "Behind the 8.9," will come out. It would celebrate Beamon's longest-standing Olympic track and field record in advance of the Rio 2016 Games. After his competitive career, he did some TV work and became a director of an Olympians museum in Florida.
"I guess I never really retired," Beamon said. "I am an ambassador to adidas. I have a contract with the IOC. I stay busy."
Lewis and Powell are still chasing the long jump record – as coaches.
Lewis is an assistant under Leroy Burrell at the University of Houston, his alma mater. Remember, Lewis beat Burrell in the 1991 World Championships 100m, taking back the 100m world record from Burrell.
"My legacy as a long jumper will not be how far I jumped," Lewis said. "My legacy will be how far the people I coached jumped. I'm putting that pressure on myself."
Powell teaches at the Academy of Speed in Rancho Cucamonga, Calif.
"I want to see the record broken because I'm a fan of the sport," Powell said. "If I'm coaching him [the man to break the world record], I'm going to be really happy. My goal is to get somebody."
***
Powell and Lewis returned to Japan for a sports summit in March 2013. There, a TV station asked Powell to long jump in an exhibition against "some in-shape, 37-year-old dude," Powell said.
The request surprised Powell, but he took part anyway, jumped 18 feet and almost hurt himself. Powell was 247 pounds and motivated by the embarrassment.
He's lost 55 pounds in the last 18 months and dunked off two feet on his 50th birthday last November.
Powell is feeling so fit that he's training again with an eye on breaking the long jump world record — the Masters world record for age 50 and over. That's 6.84 meters, or 22 feet, 5 1/4 inches. He'll go after it in New Zealand early next year.
"I'm going to obliterate it," Powell said.