Cincinnati. Crosley Field, June 21, 1947 (two months after Robinson became the first African-American of the 20th Century to play Major League Baseball).
ANNOUNCER RED BARBER: Expressing their displeasure as the Dodgers take the field.
Crowd yells vicious racist slurs toward first baseman Jackie Robinson. They are also calling the Dodgers shortstop Pee Wee Reese names. "Traitor!" "Carpetbagger!" "Pee Wee!" one shouts. "How can you play with this black bastard:"
Reese finally has heard enough. He walks across the infield to Robinson.
ROBINSON: What's up?
REESE: "They can say what they want; we're here to play baseball."
ROBINSON: "Just a bunch of crackpots still fighting the Civil War."
REESE: Hell, we'd have won that son of a gun if the cornstalks had held out. We just ran out of ammunition.
ROBINSON (laughing): "Better luck next time, Pee Wee."
Pee Wee Reese puts his arm around Jackie Robinson.
REESE: Ain't gonna be a next time. All we got is right now. This right here. Know what I mean?
Crowd looks shocked and horrified that Reese has his arm around Robinson.
REESE: Thank you, Jackie.
ROBINSON: What're you thanking me for?
REESE: I've got family here from Louisville up there somewhere. I need them to see who I am."
— Scene from the movie "42."
* * *
When I was 10, the man down the street told me the story of Pee Wee Reese. The man had played baseball in the Navy with Reese — he showed me a photograph of the two of them on the field — and when the man realized that I had not heard of Reese, he quickly explained. Pee Wee Reese, he said, was a great baseball player. And Pee Wee Reese had helped Jackie Robinson smash through the color barrier in Major League Baseball.
The story ignited my baseball imagination — and that of many others across the country.  A statue commemorating Reese's embrace of Robinson stands in Brooklyn. The above scene from "42" is the crescendo of that movie. Countless pastors have used it in sermons, countless history teachers have taught it in their classes, and Reese's small gesture of goodwill toward Robinson is the basis for various children's books, including Peter Golenbock's "Teammates." The embrace has been written about, talked about, argued about, celebrated, discounted and used as a symbol, as you will see, to make wildly contrasting points.
But now comes the most personal of questions, the one the 10-year-old inside asks hesitantly.
Did it happen?
* * *
"It's a wonderful folk tale."
— Baseball writer Stuart Miller in the New York Times.
One thing we know for certain: It sure didn't happen like in the movie. If it happened at all, it likely would have happened on May 13, 1947. That, not June 21, was when the Dodgers made their first road trip to Cincinnati. On that day, there was an early rain, but the weather cleared in time for the game. The Dodgers played sloppy baseball, made three errors and lost 7-5. The Reds took two hits away from Robinson on nice defensive plays.
The game is unmemorable and, in the grand scheme of history, unimportant. What matters all these years later is that it was a delicate time in Jackie Robinson's first year. There were rumblings that the St. Louis Cardinals players were planning a strike in defiance of him. Branch Rickey, the man who signed Robinson for the Dodgers, had only the day before gone public with several "crank" letters Robinson had received from angry people all over the country. Robinson was hitting just .263.
When the Reds took the field in the bottom of the first inning, as the story goes, the Cincinnati crowd was particularly nasty. Cincinnati — with its close proximity to Kentucky — was considered the most Southern of baseball cities. Reese grew up in nearby Louisville, and so eyes were on him too. Fans taunted him just for the sin of playing with a black man. Finally, as the level of vitriol reached its peak, Reese is said to have walked over to Robinson before the first pitch was thrown. He put his arm around Jackie as if to say: "This is my teammate and my friend." Nobody recalls what, if anything, was said.
The moment was all the more touching because Reese had been raised to think of blacks as inferior. He grew up in a city where blacks were not allowed to play in the park or drink from the white drinking fountains. He would admit not even thinking about it. "I don't t guess that I ever shook the hand of a black man," he would say. But in that moment, as son Mark would memorably say, 'My father listened to his heart and not the chorus."
"Something in my gut reacted in that moment," Reese told the writer Craig Wright some 50 years later. "Something about what? The unfairness of it all? The injustice of it? I don't know."
"His walk across the diamond," Jonathan Eig wrote in his fine book Opening Day, "his embrace of Robinson, would be described years later as one of baseball's most glorious and honorable moments."
"But," Eig would say later, "I don't think it happened."
* * *
The Undefeated writer Mike Wise: "Wait, Pee Wee Reese putting his arm around Jackie Robinson never happened?"
Documentarian Ken Burns: "That's right. There is no image or write up anywhere."
Wise: "A photo maybe?" 
Burns: "No."
Wise: "But there's a statue in Brooklyn. And you played up this moment in your 'Baseball' documentary."
Burns: "You're right, there's a statue. And we did perpetuate it in 1994's 'Baseball.' But it never happened. We know more now."
— Ken Burns' Jackie Robinson documentary 
When chasing ghosts and secrets and myths, the first thing you do is go to the papers. Burns is right. There is no mention at all of the embrace in the newspapers. Quite the opposite, in fact. The Cincinnati Enquirer wrote that very day that Robinson "was applauded every time he stepped to the plate." Meanwhile, there is no mention of it in the black press either; Burns insists that the embrace had happened, the black papers "would have done 15 related articles."
There is no photo of it. Robinson's 1948 book about his first season called "Jackie Robinson: My Own Story" does not mention any such incident. As Eig points out, Commissioner Happy Chandler was at the game and — being both a Kentuckian and one of Robinson's greatest champions — you might have expected him to celebrate the moment if it really happened. Best anyone can tell, he never even mentioned it.
It is difficult, of course, to prove a negative. Still, there is a compelling absence of evidence here. There isn't a single contemporary account of the embrace in any of the newspapers or magazines. This is enough for Eig, for Miller and particularly for Burns to conclude that the story, at least as popularly told, is a myth.
But, like everything else in this search, it might not be so simple.
Yes, now we find every element of Robinson's struggle to be fascinating and historic. There have been dozens and dozens of books written about it, countless articles, millions and millions of words. We now view it as the single most important sports story of the last 100 years. But the 1947 coverage of Jackie Robinson's struggle was, to say the least, not so probing. We may celebrate Robinson's first game every year but at the time, it garnered almost no attention in newspapers across the country. The New York baseball writers stuffed Robinson's breakthrough moment somewhere in the middle of their baseball play-by-by. The New York Times game story made no mention at all of Robinson's being the first black baseball player of the 20th Century. This duty was left to the columnist Arthur Daley who, after writing about numerous other points of the game, finally got to it. "The debut of Jackie Robinson," he wrote, "was quite uneventful."
True, Robinson's play was well covered — he was listed daily along with Joe DiMaggio and Mickey Vernon and Hank Greenberg and others in the "How Stars Did Yesterday" column that appeared in many newspapers — but stories in the white newspapers, with only the rarest exceptions, focused on baseball, not Robinson's struggle. The black newspapers as Burns suggests did focus significantly on Robinson's personal endeavor, but there were so many big stories to cover — the potential strikers in St. Louis, the ascension of other black players like Larry Doby, Robinson's insistence that first year of turning the other cheek — little stories constantly slipped by. Even if Reese had put his arm around Robinson during pre-inning warm-ups — and the writers understood the significance — it's not clear that anybody would have written about it.
And, would they have understood it? Let's presume the event happened exactly like the story has been told. Reese walked over and put his arm around Robinson. What would that have looked like from the pressbox? Maybe they were going over signs. Maybe Reese wanted to offer some defensive advice to the novice first baseman. Maybe Reese had heard this great joke he wanted to pass along. Why would anyone even notice it?
Sure, you could say that it would have made for a striking image in 1947 to see a white man jog across the infield to put his arm around a black man. But that's probably not true. Here, after all, is the famous photograph taken on opening day, the photograph on the cover of Eig's book.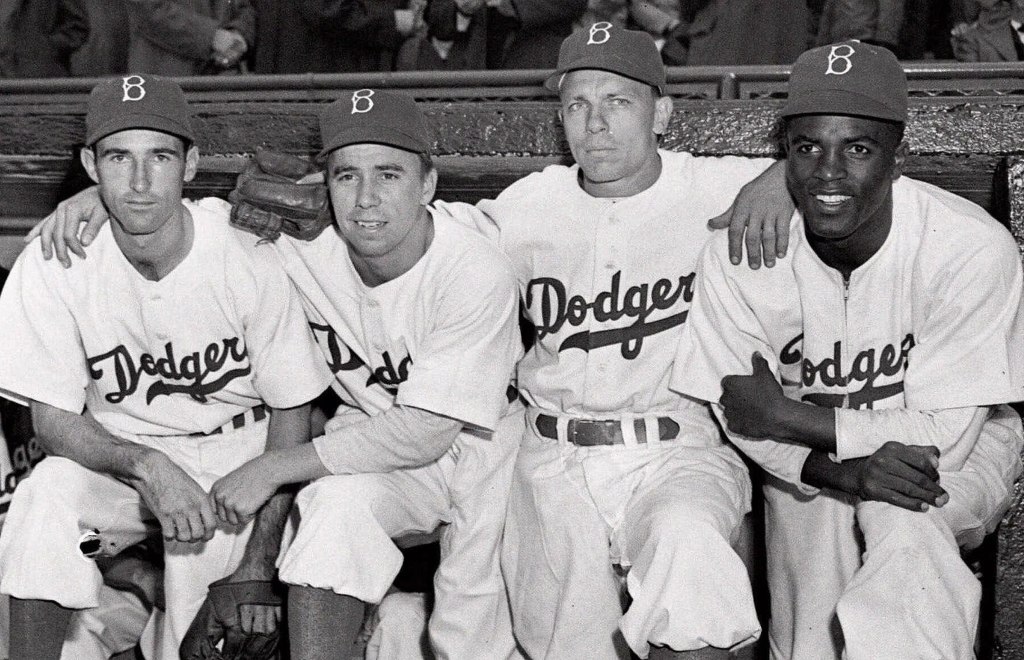 That's Eddie Stanky with his arm on Jackie Robinson's shoulder. Stanky would later be a pseudo-villain in a story told by Roger Kahn in "The Boys of Summer," one where Stanky said he did not consider it out of line to hurl racial insults at Robinson.
Would Reese's embrace of Robinson, assuming it happened, have captured anyone's attention?
Eig, in his book, quotes Lester Rodney — a writer for the Communist paper "The Daily Worker" — as vividly remembering the embrace. "I was there that day," Rodney said. "That kind of drama, how do you measure it?" Rodney, Eig wrote, would kick himself years later for not writing about what he had seen. Well, why didn't he write about it? Rodney does not say, but there are at least two distinct possibilities:
1. Eig's apparent theory is that Rodney was simply misremembering a now-famous event or confusing it with something else. This is quite possible. The vagaries of memory are well known.
2. Maybe Rodney did see it. Maybe he just did not fully comprehend what he had seen until many years had gone by.
* * *
"We want to feel like white people had something to do with this, that we were open-minded and that we saw what was right, and we wanted to make it happen. And Pee Wee Reese is our symbol for that. We all want to be the one that's wise enough to see that we can do better as a country. So the myth serves a really nice purpose. Unfortunately, it's a myth."
— Jonathan Eig in "Jackie Robinson."`
Let's say that the Reese-Robinson Cincinnati embrace is a myth. If so, how did it become such a famous one?
Burns' "Jackie Robinson" documentary suggests it became a popular story because we desperately want it to be true. We want Pee Wee Reese to stand behind Jackie Robinson. We want to believe that for every racist screaming, there was a decent person with a powerful sense of justice. And sure, maybe we want there to be some white people who contributed to the cause. Eig is right, Pee Wee Reese is a perfect symbol — he was a profoundly decent man who rebelled against his own upbringing and embraced Jackie Robinson as a teammate and a friend.
You know the line from The Man Who Shot Liberty Valance: "When the legend becomes fact, print the legend." You've heard how the word "upset" came about, right? There was a horse named Upset that beat the great Man O' War. Isn't that a cool story? No, it isn't true — the word upset had been used a for many decades, it was the very reason the horse was named "Upset" in the first place. But it's a good story. And every time I write that it's a myth, I will hear from people who angrily insist it has to be true.
So, yes, you can see how the Reese-Robinson story would become legend, even if it didn't happen. We know there are elements of truth to it. We know that Pee Wee Reese and Jackie Robinson had a beautiful friendship. We know Reese was one of the teammates who supported Robinson in the early years, inviting him and writer Wendell Smith, to join him on the golf course. We know that it was hard for Reese to go back to Cincinnati in those early years.
"Pee Wee Reese used to tell me he hated to go to Cincinnati because he had to face his family," Robinson said. "Everybody from Louisville was there. They'd all bug him about me, and he'd say, 'Look, have you ever met him?' And he'd introduce me."
And, we know that SOMETHING like the Cincinnati story happened because Jackie Robinson himself told it many times in his later years. Thing is, he usually placed the story in Boston in 1948.
"In Boston during a period when the heckling pressure seemed unbearable," Robinson wrote in his autobiography I Never Had It Made, "Some of the players began to heckle Reese. They were riding him about being a Southerner and playing ball with a black man. Pee Wee didn't answer them. Without a glance in their direction, he left his position and walked over to me. He put his hand on my shoulder and began talking to me. His words weren't important. I don't even remember what he said. It was the gesture of comradeship and support that counted. As he stood talking with me with a friendly arm around my shoulder, he was saying loud and clear, "Yell. Heckle. Do anything you want. We came here to play baseball. … The jeering stopped, and a close and lasting friendship began between Reese and me."
So, why isn't that story the one that became celebrated? Well, that story is a bit different. That happened in 1948, after Robinson had established himself, after several other black players, including the Dodgers Roy Campanella, had made their debuts, after the fire had cooled considerably. It's still a moving story, but it doesn't have the same impact of Pee Wee Reese standing with Robinson in 1947, in Cincinnati, at the height of the fight.
"One of those stories we can sort of disengage ourselves from," Burns says in an interview with Evan Smith, "because it's too convenient and the subject of children's books and statues, is that famous thing that in that first season, 1947 … Pee Wee Reese put his arm around Jackie Robinson. It's one of the great moments in the mythology of Jackie Robinson. It didn't happen."
"The moment was brave, caring, even sweet," writes Dave Kindred, "except most likely it never happened."
"It should have happened," Bill Livingston of The Cleveland Plain Dealer writes. "But apparently it didn't."
* * *
"No, I do not see it as a myth."
— Baseball writer and historian Craig R. Wright
"I would trust Craig's opinion a great deal more than Ken Burns'."
— Baseball writer and historian Bill James
So is this where it ends? Was the story of Pee Wee Reese walking over to Jackie Robinson in Cincinnati that day simply a folk tale stitched together with details from a variety of stories and our own hunger for it to be true? Should we leave it there because there is no surviving photograph or contemporary account? Does it even matter?
The 10-year-old in me says: Yes. It does matter. And it led me to Craig Wright, an early pioneer of Sabermetrics and author of the sensational "Pages from Baseball's Past." Wright wrote about the Reese's embrace and, subsequently, responded to the hailstorm of doubt that it ever happened. He believes that it did. And he pointed me to a series of stories Jackie Robinson did with the Brooklyn Eagle's Ed Reid in 1949. It was a 10-part series going over Robinson's life. In the eighth part, Robinson talked about his start with the Dodgers. This is what he said:
In the eighth part, Robinson talked about his start with the Dodgers. This is what he said:
"I'll never forget the day when a few loud-mouthed guys on the other team began to take off on Pee Wee Reese.
"They were joshing him very viciously because he was playing on the team with me and was on the field nearby. Mind you, there were not yelling at me; I suppose they did not have the nerve to do that, but they were calling him some very vile names and every one bounced off of Pee Wee and hit me like a machine-gun bullet.
"Pee Wee kind of sensed the hopeless, dead feeling in me and came over and stood beside me for a while. He didn't say a word but he looked over at the chaps who were yelling at me through him and just stared. He was standing by me, I could tell you that.
"Slowly the jibes died down like when you kill a snake an inch at a time, and then there was nothing but quiet  from them. It was wonderful the way this little guy did it. I will never forget it."
There are few details in that story. It doesn't say that the moment happened in Cincinnati, and it doesn't say that it was in 1947. It doesn't incorporate the fans taunts at all. Mostly, it doesn't say that Reese put his arm around Robinson, only that "he was standing by me, I could tell you that." The one thing that is clear from the story, however, is how much Reese's support meant to Jackie Robinson at a time when it seemed so much of the world was against him.
"I remember Jackie talking about Pee Wee's gesture the day it happened," Robinson's wife Rachel said in 2005. "It came as such a relief to him that a teammate and the captain of the team would go out of his way in such a public fashion to express friendship."
"Only (Robinson) could say what it took for it to be special for him, and say, 'I will never forget it,'" Wright writes. "It didn't take a hand on a shoulder; it didn't need to be a big gesture of public support, and in a way I think Jackie's big need was for it to be remarkable in an unremarkable way. … There is literally nothing to contradict Jackie's account of that day in Cincinnati."
In the end, of course, we can never prove it happened … and we can never prove it did not. The decision to believe or disbelieve is ours. The 10-year-old in me, the one who first heard the story 40 years ago, would prefer something more concrete, something more tangible, but history is rarely so accommodating. Fortunately, there is another story from 1947, one I only just heard. I like it even better.
It seems that every player on the team got letters when they arrived in Cincinnati. The letters insisted that if they didn't do something — if they didn't get together and stop the integration of baseball — they would all lose their jobs to black players.
"Pee Wee got on the bus and brought it up," Jackie Robinson would say. "And we started discussing it. And pretty soon we were all laughing about it. Pee Wee was the captain. He knew how to handle everything."