As I walk down the tiny corridors of the stacked temporary portable buildings that act as Norwegian soccer club Stabæk Fotball's headquarters, the current Stabæk head coach — and former U.S. men's national team coach — Bob Bradley spots me from his office. His entire coaching staff is sitting in a circle around him, but he calls my name, gestures to me in a friendly manner, and asks me to join him and his assistants.
Bradley is leaning back in his office chair with his arms folded, occasionally putting his index finger to his lips before speaking. I'm now sitting in on a team meeting as four members of the coaching staff and the sporting director are discussing a number of topics, and it quickly gets heated. Bradley is bringing all the passion you'd expect from a dedicated head coach, and the Norwegian members of his staff are slightly reticent to give definite conclusions. Bradley is urging them to stick their neck out on the line. He does that a lot in Norway.
"Norwegian people are very nice people. Especially around the club. They have been incredible in terms of having great pride in what the club is all about and when you come here they make you feel part of it right away," Bradley says. "I challenge the players sometimes, in some ways they are a little bit rigid. So I try to make them understand that you should show your personality, especially as a player. Let more of your personality come out and to have that side to you as well."
Bradley's players, and his coaching staff, need to come out of their shells? Yes, very much so. Bradley, a man many in U.S. soccer circles have branded as having a bland personality, is actually the very man leading the charge for extra panache and swagger from people at Stabæk.
"Swagger. Confidence. Personality … Show a little more outward energy," Bradley laughs. "They are good people here but a little bit rigid sometimes, a little stiff. But not Jan …" Bradley continues.
Bradley's Norwegian assistant, Jan Peder Jalland, is sitting in the corner of the room behind his boss, tapping away at his laptop. He smiles timidly, then laughs along with Bradley.  "Jan is not like that at all. The rest need to be pushed a little in those ways." Jan then chimes in, trying to explain why Norwegian people are perhaps, overall, a little more reserved than their American counterparts.
"In terms of that part, when you grow up here, one of the things you quickly learn in Norway is, 'Don't think you are more than you are. Don't act in a way where you get ahead of yourself. Keep your feet on the ground, be normal, don't make anything out of yourself,'" Jalland says.
Later, speaking with a couple of my Norwegian friends whom I arranged to meet in a small tavern in Oslo during my trip, we discussed this notion of being introverts. They nodded their heads and explained to me that the unwritten social rule of 'Janteloven' exists in Norway, which is a social code that doesn't look kindly on people trying to stand out from the crowd. This ideal is something Bradley partly admires, but you get a sense that it also rankles him slightly.
"There's something to be said for that (Janteloven) but also a time when to be involved in something you need to have more life to you," Bradley says. "For example, you talk with the players about something exciting and then they go … 'Hmmm …' And I'm like, 'Come on!'"
Back in his office, tactics are discussed ahead of the Rosenborg game. White boards are used. Corner kick routines are hashed out. Bradley does all this with ruthless efficiency, moving from one topic to the next. I've already spent at least three hours in the office and had several cups of coffee, which were actually very beneficial following my red-eye from London to Oslo that morning. Bradley then pours some trail-mix into my hand from a bag. He does the same for his assistant. Sitting in a circle in his office are myself, his two coaches, the youth team coach, the sporting director and the trainer. We are all sitting in different chairs and there are a plethora of tables slotted together, boxes everywhere and a hectic feel to the main office where everything happens. That's the way things are at Stabæk for now, energized and frenetic.
Stabæk are back at their old stadium (after flirting with life in a bigger, newer home … more on that later) and they are slowly getting back on their feet. Bradley's boys got off to a flier in the 2014 season, exceeding everyone's preseason expectations. Six wins from their first 10 matches had Stabæk in third-place in Norway's top-flight. Talk of a title challenge was in the air but some challenges arrived midway through the season, as players were sold and new guys had to settle into the side.
At the time of writing, Stabæk had reached the Norwegian Cup semifinal where they narrowly lost 1-0 to league leaders Molde, and are now safely ensconced in the middle of the table. Those pundits and naysayers who said Stabæk would finish bottom of the table at the start of the season were badly wrong. Along the way, Bradley has managed to foster a youthful side that's quick on the break and well-organized. They've beaten Norwegian giants Rosenborg home and away by an aggregate score of 7-2, and beat defending champions Stromsgodset home and away as well. With a few weeks left of Bradley's first year in charge, it's safe to say that Stabæk's season has been a resounding success.
But before we examine the Norwegian club's surprising success, maybe it's better to answer this question first: Just what in the world is the 56-year-old Bradley doing coaching a small club in Norway?
The Road to Stabæk
Stabæk are a small team who play in the Norwegian Tippeligaen (the country's top flight), based in the Western suburbs of Oslo. It is a very long way from Bradley's native New Jersey, but at this point in his life and career, he is at home wherever he has a soccer team to manage.
"He is the man. He is the boss with a capital 'B' and he is something else than we have ever seen in Norwegian football," says Stabæk's sporting director Inge Andre Olsen, who's decked out in a rather loud striped shirt and fancy cufflinks, while nursing a tobacco pouch in his upper lip. In an old Stabæk team photo hanging on one of the walls of the club, there's a young Olsen as a player with shoulder length hair; a look that makes perfect sense for his outspoken character.
"He is the best coach that has ever been here. For sure. His awareness, his presence on the pitch is just amazing," Olsen continued. "He is able to see 22 players when you train, at the same time, and move them one or two meters in this or that direction to get the right system. He is one of the best leaders, individually and to the whole room. So far this season we have done better than the whole of Norway expected. Bob has just been amazing. When we got Bob in we wanted to educate all of the other coaches here, to see where the bar is and how we will be successful. With Bob we get all this."
"This" was initially nurtured at Princeton University, as Bradley played soccer for his alma mater, but then found professional playing jobs hard to come by, like most aspiring soccer players in the '80s in North America. Bradley was briefly in Proctor and Gamble's executive program before moving to Ohio University to study sports management, where he wound up becoming Ohio's head soccer coach at the age of 22. After two years at Ohio, he linked up with the man he would follow as the USA's head coach two decades later, Bruce Arena, at the University of Virginia. After two years at Virginia with Arena, Bradley became the head coach at Princeton, taking them to the final four. Arena then came calling again as Bradley became his assistant at D.C. United and helped turn them into a dynasty in MLS' formative years.
Bradley then succeeded on his own at Chicago, winning an MLS cup and two U.S. Open Cups in the franchise's first three seasons before coaching the MetroStars and then Chivas USA. Both sides made the playoffs under Bradley, and his next move was to become the U.S. national team coach in 2006.
Through it all, his family have been by his side. They are engrossed by the game but he's aware having a career in soccer in America in the '80s and '90s wasn't the safest career choice. But it was his passion and his love.
"My parents and brothers have been great because they put up with it," Bradley smiled. "It didn't always make sense but eventually they appreciated it. My family, my wife Lindsay and my children have always enjoyed it. We are a strong family, we still stay in touch with everybody else and we've had great experiences in each situation. Plus, your wife gets triple bonus points when, after all that, you end up in Egypt. Because that is not easy," Bradley chuckles.
From Ohio to Virginia, New Jersey to Chicago, L.A. to D.C. and Egypt to Oslo, Bradley's incredible journey as a coach makes him one of the most interesting and respected coaches in the U.S. soccer community. Even if he doesn't like to hear it (he doesn't, by the way) he is a trailblazer. No American coach has experienced what he has in the top-tier of a European league. According to Greg Lalas, editor-in-chief of MLSsoccer.com, Bradley's ability to take a risk and go where no American has ever been before is something to be admired.
"As much as I think Bob Bradley is a trailblazer, it is part of his personality in general. Hold on, trailblazer is the wrong word. He is a risk-taker," Lalas continued. "You have to be a very strong person and be very sure of who you are and what you represent if you are willing to take risks with the belief that you are going to succeed. I don't think he has ever taken risks that he doesn't feel confident that he can succeed in it and knowing that he might not. To me that is one of the most admirable things a man can be. Someone who really knows who he is and wants to help you, knows who you are and help you be better."
Bradley is a divisive figure among U.S. fans and the media. During his five years in charge of the USMNT, criticism of his tactics, persona and personnel choices were frequent and not at all friendly. Bradley has been depicted by many as a manager who is strict and bland, and his performances in media appearances never came across as "prime-time."
"I've known him for a very long time and I know he is not the bland, dry person people seem to think in the media. The thing going around that, 'Oh, he doesn't smile that much.' Well, I've seen him smile more than once," Lalas laughs. "He is not animated in interviews but I've been in rooms with him where he is extremely animated and extremely loquacious and passionate about what he's doing, saying, and what he's talking about."
Lalas, who played at Brown University against Bradley's Princeton teams in the early '90s, knows the former U.S. national team boss better than most.  From his playing days in college and MLS, to interviewing him with the U.S. media, Lalas thinks the picture painted of Bradley is at least partially inaccurate.
"The main thing about Bob Bradley is, he doesn't suffer fools very well," Lalas said. "When you talk about his interactions with the media, he would prefer to have actual conversations as opposed to we, in the media, interrogating him. He would much rather sit down with a coffee, tea, beer or whatever and say, 'Let's talk about that game or that play.' Man-to-man, if you will."
Back in his office in Stabæk, Bradley does just that as he continues to throw around expletives when chatting about his experience in the collegiate game and his upbringing as a coach in the MLS era. He went so far as to share a note with me that he had written to one of his past teams that was rip-roaringly funny, full of the raw New Jersey humor I was about to discover Bradley has in abundance.
Before we go on a journey through Norway, however, it's important to focus on Bradley's lasting legacy on the U.S. soccer landscape. When asked recently about the impact Bradley and Arena have had on the current crop of young American coaches in MLS, legendary Bulgarian striker Hristo Stoichkov was quick to sing their praises.
"Many of these players, including Greg (Vanney), who is in Toronto these days, C.J. Brown, Peter Nowak, Diego Gutierrez, are part of a well-educated generation of players," Stoichkov said. "I believe all these players were able to keep a close relationship with Bob Bradley. I believe Bradley is the father of many of these players we are talking about who are either coaching or working in soccer in one way or another."
Stoichkov, a legend of FC Barcelona, played under Bradley with Chicago during the end of his career. Stoichkov believes his importance on coaching in America, along with Arena, shouldn't be underestimated.
"I believe both of them (Bradley and Bruce Arena) have done important things for this country, like being managers of the U.S. national team, going from round to round. I consider them both as the influencers, fathers, and friends of all these players-turned-coaches we are talking about."
That "father figure" theme resonates throughout Bradley's tale, especially when it comes to his relationship with his players. They all seem to see him as more than a manager. Lalas agrees.
"I think the players that played for him loved playing for him," Lalas said. "They have a tremendous amount of respect for him and what he used to do as a father figure for them. The stories about the relationship between him and (Mohamed) Aboutrieka are even legendary in Egypt now."
[parallax src="https://nbc-sports.go-vip.net/wp-content/uploads/sites/21/2014/10/stabaek-portable-offices.jpg" credit="Stabæk is a small but proud club that plays in Norway's top flight. (NBCSports.com)"]
Setting the Scene in Baerum
After making the move from Egypt to Oslo's outskirts, life is now very different for Bradley and his wife.
When you walk around Bekkestua, a small town in the Western suburbs of Norway's capital, you can see the huge floodlights of Stabæk's Nadderud Stadium piercing the sky in the distance. The town is on the number two metro line heading into the heart of Oslo. Within 15 minutes you are connected to a sprawling city full of industry and history. The sleepy town of Bekkestua feels a million miles away.
The town is set in the region of Baerum which has the highest income per capita in Norway and is home to the highest proportion of university-educated individuals. It is a region brimming with wealth, in a country where a beer costs around $15. One beer. It's pricey but the standard of living is sublime and compared to the danger and hectic life Bradley and his wife experienced in Cairo, the suburbs of Norway's capital are about as safe and serene as things get.
"It was a coincidence," laughs Bradley about the move. Who then lifts the lid on what life is like at the opposite end of the safety spectrum in laidback Norway. "I joke now with everyone here that it is as hard to get things done in Norway as it was in Egypt. For different reasons." That notion of Janteloven strikes again.
Despite that, there's plenty of hard work and something special going on back at Nadderud. A dedicated group of people are rebuilding a once proud club that had fallen to its knees, reached the edge of the abyss but is now on the rise again. An American coach is in charge of steering the ship back to past glories.
During Stabæk's heyday, when it won the Norwegian league title in 2008, the club thought it would be a good idea to move stadiums and were relocated to a huge, new indoor stadium, the Telenor Arena in the suburbs of Oslo. The venue was mostly used for concerts and entertainment (the 2010 Eurovision song contest took place there) but Stabæk made it their home. However, the swanky digs just didn't fit with the identity of the club and with rumored disputes over payments surfacing during Stabæk's financial implosion — which resulted in their eventual relegation to the second division in 2012-13 — they moved back to Nadderud. Clubs officials told me that they could have afforded to keep playing at Telenor but felt a return to Nadderud was the right decision. Taking a stroll around the old stadium on a sunny Thursday morning, the presence of 500 or so local schoolchildren competing in a track meet made Stabæk's training session a quaint, albeit loud, one.
As Bradley strode out onto the pitch (he has a trademark walk which is not quite a limp and not a stroll but it exudes confidence as he glides rhythmically with his head held high) to put his men through their paces on the pitch, the bright-red running track on the outside saw races taking place. Some kids sat back in the stands and watched Bradley's team, but most were screaming at the top of their lungs for their classmates to prevail. Opposite the stadium was one of the famed Norwegian Colleges of Elite Sport (NTG), which act as academic centers for Norway's top athletes. The majority of the Norwegian Winter Olympics squad are educated and trained at these schools, and so was Chelsea and Nigerian international midfielder John Obi Mikel during his formative years in Norway. Stabæk have a link with this local school, as their academy players get schooling there and are allowed to undertake extra training to aid their development. With Bradley's background in the collegiate game in the U.S., the fact that Stabæk's youngsters have education and soccer intertwined resonates well.
Screaming schoolchildren aside, Bradley was left to get on with his work as he arranged his players into two teams on half the field and went through phases of play. I watched intently from the sidelines, with one foot in the long-jump pit, listening in to what Bradley was barking out to his players. Every now and again he would blow his whistle sharply, stop the session, physically grab players and shift them one-by-one into the positions he wanted them in. Then, he'd let them play for a while, before doing it again. Meticulous. Precise. This is how a philosophy is built and without the money to spend on new players — Stabæk had one of the youngest squads and smallest budgets in the league — Bradley must hammer home his points ruthlessly.
Sitting down after training in one of the portable offices, I was offered another coffee by one of the youth team coaches. We spoke about Bob and his presence at Stabæk as I sipped on the bitter nectar which had become my lifeblood around Stabæk. Everyone was walking around with small plastic cups, brimming with strong coffee. People were here to work. I wandered upstairs in the temporary huts and came across an army of men and women working hard on phones and laptops. Their offices overlooked the training pitches. Everyone at this club were in this together. As Bradley often says: "That's football."
Americans in Europe
In Europe, it isn't easy to gain respect in the sport of soccer if you're from America. That's slowly changing but it's still a struggle. Bradley is at the forefront of that charge. It isn't happening overnight, but players like Tim Howard and Clint Dempsey in the Premier League, a plethora of talent in top European academies and one American coach continue to knock down the misconceptions Europeans possess about Americans in the game.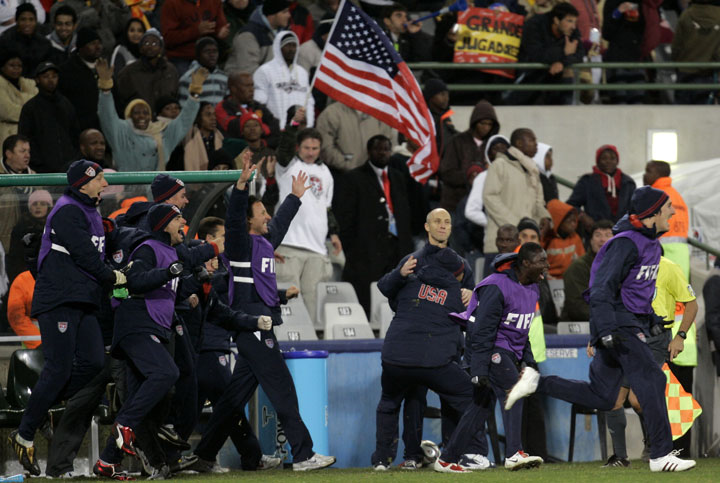 "In its simplest form, as much as the game has grown in the U.S., players and coaches earning respect in Europe is still not easy," Bradley says with a wistful look. "Every time we had a chance to play a friendly, when I was with the U.S., we'd speak about looking at a typical list of friendlies and I would say to the guys, 'Tomorrow, when people look at all the games, they will see Spain's score, France's score, Germany's score and then somewhere in there they will see the U.S.' Every time we played [in Europe] that was our chance to show how far the game has come."
Candidly, Bradley points to the success he had in charge of the USA at the 2009 Confederations Cup and how that elevated U.S. soccer on a global standpoint. He is chatty, joking around and is unlike the man I thought I would be meeting. Initially, my guard was up. I had been warned that Bradley was sharp and batted away questions routinely. After but an hour or so in his company I was already relatively at ease.
Going back to the '09 Confederations Cup — when Bradley took the U.S. all the way to the final of the esteemed tournament by beating Spain in the semfinals — was that the start of American players and coaches being accepted in mainstream European soccer circles? Perhaps. Bradley still wishes more players and coaches from the U.S. were given more chances to succeed in Europe.
"Actually when we had success in the Confederations Cup and then in the World Cup, many football people spoke very highly of the way we played as a team, our football, our results," Bradley said. "What we accomplished but still that part of what it means for players getting chances at a big clubs… what does that mean for coaches getting chances? It still takes time. We are still in the midst of it, there's no two ways about it."
Bradley's son, Michael, has starred at the past two World Cups for the USA and was one of those Americans plying his trade across Europe. The Bundesliga, Premier League, Serie A, Michael Bradley has been there, done that, got the T-shirt. Now, as has been widely publicized over the past six months, Michael has returned to Major League Soccer with Toronto FC in a big money move.
After watching his son work so hard to grind his way up to one of Europe's elite clubs and became a star man with AS Roma in Italy, what does Bob think about Michael's move back to MLS? He revealed he didn't tell him what to do but did dish out some advice.
"The driving force for him in this was that more than anything in football he felt he had earned the chance to be a big player in a big team," Bradley said. "That's the way things have developed with the U.S. and now he wanted to be in a team where he was a version of Mark Messier, a version of Roy Keane, a version of a guy that, 'It is on me' to lead it. He felt that, with everything he had done in Europe and with the Confederations Cup in 2009. But there were so many times that he felt like, 'Is anybody paying attention at bigger teams?' If they were, then that opportunity would've come."
That chance for Michael arrived, finally, with Roma in 2012 after rumors of Arsenal, Dortmund and Manchester United came and went. Fans in the Eternal City dubbed him 'the General' and he dominated game after game in the middle with his endless running, slick passing and leadership. However, when new manager Rudi Garcia arrived, Bradley was no longer a starter and began to play a bit-part role. Bob again: "That's football."
The terms hard-working, aggressive and committed are mentioned when talking about Michael. But those words also come up a lot when chatting to people about Bob.
Underneath the main stand at Naderrud lies the sacred epicenter of the club, a space that has the feel of a proper football team. Chipped concrete floor, old wooden lockers with half-peeled stickers on them, the smell of mud still thick in the air after practice. This was a proper football club from head to toe, as genuine as they come. It was here in the locker room that I sat down to speak with the assistant coach, Jan Peder Jalland, and delved deeper into Bob's personality.
"He has a lot of energy and focus but at the same time he is a very funny guy," Jalland explained. "You wouldn't always expect so. He looks serious but is very positive and very encouraging. He is fantastic to work with and for me as a young coach, he helps me and wants to develop me and gives me a lot of good ideas. He is wonderful to be with every day."
Walking out of the locker room, I peered down a long, dark corridor to a light at the end of it. In there was a man on an exercise bike ferociously pedaling away. It was Bob. I wandered down and took a pew next to him. We chatted tactics. Openly, honestly and passionately. Bob explained the solid 4-4-1-1 in-between gulping for breaths of air, wiping the extreme amount of sweat off his forehead while glancing at his watch. Off the record, no tape-recorders. Just football.
Then, a bearded middle-aged man with John Lennon-esque glasses, a laptop under his arm and wearing a stars-and-stripes bandana walked into the gym — this "gym" being nothing more than a concrete section under the stands with a few mirrors, a bike, one Olympic weight rack and a few dumbbells. He and Bob chatted about the recent U.S. national team roster Jurgen Klinsmann had released with his 30-man squad in camp ahead of the World Cup. I sat there listening to Bradley and this other man dissecting who was in and who was out. Then, Bob introduced me to the man with the bandana, who happened to be the father of U.S. international midfielder Mix Diskerud. The American influence is strong at Stabæk, as Mix had played for Stabæk before leaving for Norwegian giants Rosenborg in 2012. Bradley's first dealings with Stabæk came on scouting trips to Europe when he took in games Diskerud was playing in, so, in a roundabout way, Mix played a big part in where Bradley is now. That's football.
The American Pharaoh
It is impossible to try and dissect Bradley's character without mentioning, reflecting on and analyzing his two-year stint in charge of the Egyptian national team.
In Cairo, Bradley undertook one of the most difficult national team jobs in world soccer. In charge of a team that played in empty stadiums for over a year due to political instability, revolution and turmoil in the nation — as well as the Port Said massacre which saw at least 72 people killed in a 2012 soccer match between Egyptian clubs Al-Masry and Al Ahly — Bradley and his players became a symbol for not only soccer, but hope. The dream of making it to Egypt's first World Cup since 1990 was his task and he came agonizingly close, losing a playoff against his arch-nemesis, Ghana.
Despite the bitter disappointment, Bradley is ever the optimist. When I asked what he learned from his exploits in Egypt, he hailed the good work his staff did under the most extreme circumstances he's ever faced as a coach.
"The biggest lesson is that in football you can always do everything right and still not succeed," Bradley said, nodding his head  gently as you could see the cogs in his brain ticking away and reminiscing about his experiences in Africa. "If you just go by pure results, that's the way it is, but it is worth doing everything right. It is worth working the way we worked there because after it was finished, even though we didn't make it, it felt like we put everything in it and there was not much room for improvement. That was the lesson."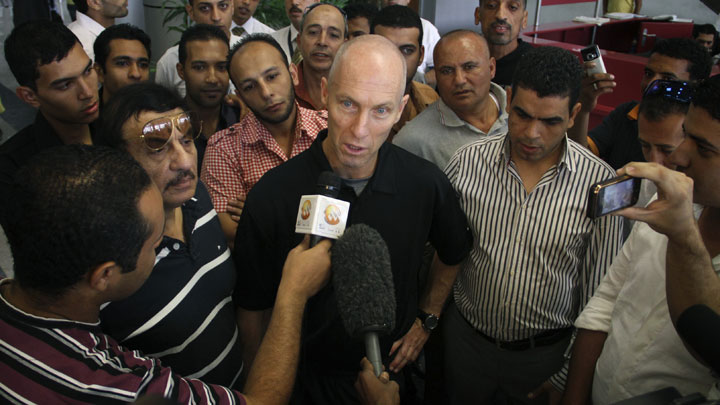 So what challenges did Bradley face while coaching Egypt? Well, having the Egyptian FA headquarters burn down to the ground was one thing. Then he saw most of his squad go a year without being paid, plus the Egyptian league wound up being suspended. Having no home fans to cheer his side on. Living a daily life scouring the news to see where protests would be and which areas of the ancient sprawling metropolis were no-go zones. These were the challenges Bradley faced admirably in Egypt on a day-to-day basis.
"I enjoy coaching. I was relaxed in Egypt. I was relaxed in the U.S.," Bradley said, the octaves in his voice rising. "I was relaxed even when I knew that at different times there were people looking for ways to chop my head off. You always like to think that you are strong and no matter what, even if I am in the toughest situation, it won't change me."
You believe him when he says that. In talking to him, one gets the sense that his values will never waver. Across a table in the middle of the office, Bob and I then chatted intensely about his time in Egypt. His piercing blue eyes would often draw narrow when a key topic arose. Such was the case when I asked him what was the one lasting moment from his time in charge of Egypt? Something that he remembers above all the madness?
"The one moment that I remember more than any one moment was still the meeting that I had with Mohamed Aboutrika after Port Said," Bradley said, taking deep pauses throughout his next statement.
Recalling the massacre of 72 people inside the stadium on that day when the revolution was in full flow in Egypt wasn't easy for Bradley. Over two years on from that dark day in the soccer world and Egypt's uprising, you sense his connection with the Egyptian people and his players was a strong one. Aboutrieka, a gifted Egyptian forward who played for Al Ahly, was said to have held dying fans in his arms as the Al Ahly fans were attacked due to their political beliefs. Bradley heard that Aboutrieka was quitting the game. Then came his meeting that changed everything.
"For the players at Ahly, their locker room was the first-aid station. Young boys … dying in their locker room," Bradley says, looking down at the plastic cup in his hand. "After that, it came out that Aboutreika was finished, he was retiring, and he said, 'How could something like this happen on a football pitch?' The first time I saw him at all after Port Said was the memorial and I just shook his hand and hugged him and then I see him at training and then I say, (Bradley lowering his voice,) 'We need to find a time to talk.' We set up a meeting and it had to be done very quietly because he didn't want everyone knowing about it and the wrong things being said about it. We have this meeting; it was after Port Said and you can still see all the emotion on these guys. In that meeting you could see how motivated he was to have one more chance to get to the World Cup. I had heard he was a really good man. The way he handled not being selected was totally different than most would've handled it and now you have this chance to talk to him, see him, look at him. When it was finished I said, 'I can't guarantee anything. If I bring you in whether you play 90 minutes or 45 minutes but I think together we can try to make this happen.'
"There was a feeling at that point that," Bradley's voice crackled with emotion, "that 'I've got my blood brother here. This is what we are going to do.' That is the one memory from everything that went on there, and I had a number of incredible experiences, but that meeting with him, that day after everything that happened, you could tell in that moment we were in it together and that was the way it stood until the end."
Former MLS player Jesse Marsch is a close friend to Bradley. Marsch played for Bradley at Princeton, then with the Fire and the U.S. national team. He was also Bradley's assistant coach at the 2010 World Cup, and is now back coaching at Princeton after managing the Montreal Impact during their inaugural MLS season in 2012. Marsch has made the fifth-most appearances of any player in MLS history and has known Bradley for over two decades personally and professionally, so it's worth hearing his take on Bob's career.
"(Egypt) was a crazy lifestyle for him," Marsch explains after recalling a visit he paid to Bradley in Cairo. "He managed to create a personal lifestyle where he was away from the revolution and all of that stuff but he wasn't totally isolated. That's for sure. Everywhere he went, everyone knew who he was. That made Bob a big public figure and he didn't only embrace it professionally but personally. He and his wife, when I was there, it was like they were Egyptians. They ate like Egyptians, they obviously didn't speak Arabic, but the way they interacted with the Egyptian people, they embraced the Bradleys as part of their family. I was overwhelmed by how much the people there loved him."
The overriding emotion you get from Bradley when talking about his Egyptian adventure is pride. However in the middle of May, sat in his office in suburban Oslo, you got the feeling that his mind sometimes wanders to what could have been. At the time of my visit to Norway, it was less than a month until the 2014 World Cup began.
"It is getting closer to the World Cup. When we watched the documentary (titled 'American Pharaoh' and produced by PBS) the other day, my wife filled up," Bradley revealed. "She knows what went on for two years and in the end you can't shake the fact that now … It's football."
Bradley's final days in charge of Egypt seemed to be the most painful. After breezing through the first stages of qualification, all that stood between him and realizing the dreams of a nation was a home-and-away playoff. However, the team that stood in the way was the same team which scuppered his World Cup dreams with the USA in 2010: Ghana. The Black Stars knocked the U.S. out of the World Cup in South Africa in extra time in the round of 16. Now, Ghana were once again going to stand in the way of a Bradley-led side, as all the pressure, emotion and hopes became too much for his team to handle in the first leg of the playoff. On the road in Kumasi, Ghana, Egypt lost the first leg, 6-1. It was a game Bob said he's watched "over 100 times" since.
Bradley's future as the Egyptian national coach was all but over after that shattering defeat, but after talks with the Egyptian FA, he remained as coach for one more game — the return home leg — as fans returned to the stands in Cairo and the Pharaohs won 2-1, but crashed out 7-3 on aggregate to Ghana. They'd fallen at the final hurdle of their World Cup journey.
"At that point," Bradley recalls, twiddling his thumbs with his arms steadily resting on the armrests, "we all spoke afterwards, we all reminded them what we had accomplished together and that even though we didn't make it, I couldn't be prouder of any group I have ever worked with."
Did the whole experience ever get too draining? Bradley pauses reflectively, and then fixes his eyes defiantly to mine.
"No," Bradley said, followed by another long pause. "I enjoy the idea that if you are going to challenge players to be in all the way, then you do that. Actually my wife would say sometimes, at the end, when she is emotional, she will look at me and say, 'It's harder for me.' She is so attached and she's not there. I still feel good about how we went about things and what we achieved. I am sad and disappointed in the end but I am also proud of what we did."
Months later, I spoke with Bradley about watching the World Cup from afar. He would stay up late in the sleepy suburbs of Oslo, watching the biggest soccer party in the world play out in Brazil. He was supposed to be there. First with the USA and then with Egypt.
"There's a lot there, Joe," Bradley said, before another long pause. "When you … accomplish so much with the U.S. and you are focused on what it takes to get to the World Cup, then you get your legs cut out from beneath you, you have that part. Then obviously, for my wife and I, the experience in Egypt, especially how much it would have meant to see these players, such as Aboutrieka, in the World Cup. When you consider everything we were up against … there was always this focus that we can do something special. At the core of that was what it would have meant to see these guys at the World Cup. When you watch the World Cup, you see how close you came, but it didn't quite happen."
He didn't say it, but I will. That's football.
Respect and the U.S. National Team
If this sounds like sour grapes from Bradley when reflecting about his time with the USA, it really isn't. He is genuinely honored and feels privileged to have coached his nation at a World Cup and for almost five years. However, in his eyes, there are some things that rankle. I asked him straight up if he felt like it was the right time to leave the U.S. when he was let go by Sunil Gulati back in 2011.
"No, I don't feel it was the right time to leave," Bradley said, his voice deepening. Feeling out the tenseness of the situation, I then forced the issue and asked if Bob has a relationship with U.S. Soccer.
"No," Bradley said bluntly, before launching into the following comments about his time in charge of the Stars and Stripes. His voice was raised, his anger still evident, almost three years on since he managed his homeland for the last time. However, the anger wasn't about his own treatment. Far from it. He was more concerned about the lack of respect for his players and coaching staff.
"There was no respect or appreciation for the work we did, the results we achieved after the World Cup in 2010," Bradley said. "We were moving things forward in a way where we were making the football better. We grew a great deal even in the Gold Cup [in 2011]. That's how we tried to move along in the Gold Cup and we did, that is how we went up early in the final and unfortunately in football it's a day when certain plays when we went forward (were) turned over and they took advantage. From a football standpoint that was a hell of a game. It was easy for so many people at that point to say, 'Ah, look at this.' (Bradley donned an accent from an episode of the Soprano's for that comment). Then U.S. Soccer, at that point, their mind was made up … It was made up beforehand."
I pushed him again and asked him what he meant and about why that decision was made to bring in Jurgen Klinsmann. Bradley didn't want to talk about Klinsmann, but did have the following to say.
"All I am saying is … I am proud of what we achieved over those years," Bradley said, calmly. "The football we played, the results we achieved were respected at a much, much higher level in Europe. I know this. I've had big soccer people, players we played against, coaches we played against, tell me that. But as a result, there was no respect or appreciation shown."
When I asked U.S. Soccer if I could speak to Sunil Gulati about Bradley's time in charge, I didn't receive much communication back. Recently, Gulati sent a Tweet out lauding Klinsmann's work over his first three years in charge. For others, however, the lack of respect Bradley received for his time in charge of the USA is flabbergasting.
"I don't know if he necessarily gets the respect he deserves from the larger soccer scene or soccer culture in the United States for what he achieved," Lalas said. "Let's be honest, Bob Bradley achieved as much as Jurgen Klinsmann has. Plus, Bradley reached the final of the Confederations Cup. Klinsmann hasn't had the chance to do that yet, but Bradley reached the final of a major tournament. I think we all should remember that but people often look at him for his personality, look at him and ask: 'Did the U.S. play the right way?'"
Bob and I spoke at length about his time in charge of the U.S. national team. One of the main criticisms aimed at Bradley during his near five-year stint in charge of the USMNT was that "his guys" were always in the roster no matter what, fullback Jonathan Bornstein being the primary target. Bradley countered the criticism of Bornstein by saying he was solid in both World Cup games, while he hit out at the criticism of midfielder Ricardo Clark following the USA's exit from the 2010 World Cup. Clark was heavily criticized for giving away the ball in midfield which led to Ghana's opening goal in the round of 16 defeat but Bradley told the whole story.
"Every coach thinks maybe we could have done this or that," Bradley said. "As for Ricardo, it is a shame people have treated Ricardo the way they have. When you look at the success we had in 2009, in qualifying, Ricardo was always a competitor, always a guy who did everything for the team, broke up plays. Football sometimes can be like that. There is a moment when Michael (Bradley) has the ball and Michael feels like the game has been going up and down, let's try to change the rhythm a little bit. He plays the ball to Ricardo, Michael would be the first one to say the ball to Ricardo should have been a little more to his back foot instead of in front of him. Ricardo would be the first one to say, 'Listen, I still should have handled it.' But when the ball turned over we still had people behind the ball. In the end Boateng turns Jay [DeMerit] and scores past Timmy at the near post … That's football."
There's an acceptance in Bradley's voice when he keeps repeating the term, "That's football." He can't control everything, and he accepts it. One thing that was an overriding theme of his time in charge of the USMNT was that Bradley was a bland, boring, strict manager that hated talking to the media, and the role the American media played in Bradley being depicted in that way was huge. Article titles such as "The Steely Leader" in the LA Times, the "Quiet American" in Rolling Stone and "The Thinking Man's coach" in the New York Post are certainly telling.
The media didn't have an "up and at them" coach to depict as the leader of the U.S. soccer revolution. Now they do with Klinsmann's constant positive vibes. But Bradley was never going to give them that, and certain preconceptions were made about the former USMNT head coach and they were never explored deeply and, more importantly, never relinquished. That said, Marsch also revealed that Bradley has gotten better at handling the increasing demands of the media in the modern day game.
Personable. Funny. Defiant. A leader. Those are the qualities I attribute most to Bradley after getting to know him over the past few months. His talent as a soccer coach speaks for itself. His ability to galvanize men, pass on his ethos and ideology, then make people believe in him and want to work for him is admirable. He has achieved so much in so many different countries on the club and national team level, but Bradley is still tackling one of his biggest challenges yet: being accepted as an American coach abroad.
It is perhaps his biggest challenge in soccer and one, slowly but surely, he is overcoming, at least in Norway. By breaking down the laws of Janteloven with his dry New Jersey wit, pushing his players to their limits and pushing the boundaries of American exceptionalism in soccer, overseas. As long as Bradley does his best, he will see his stint in charge of Stabæk as a success until the next challenge comes along.
"I respect him perhaps more than anybody else because I've seen him up close, along the way," Marsch said. "I've seen how much he puts into it, I've seen how hard he thinks about things and the attention to detail. I think everywhere he has been, among the inner circles, there is the highest amount of respect for who he is and what he does."
What about the outside impression of Bradley as a bland, strict coach? Will he have to keep fighting against that, as well as the fact that he is an American working in Europe? Tomasz Kaczmarek is one of Bradley's assistants at Stabæk after following him to Norway from Egypt, and is happy to offer his opinion on how he thinks Bob should be perceived.
"Look. All of the players, whether it is in Europe or in Egypt, they work with Bob and nobody thinks of him as American. They think he's a damn good football coach," Kaczmarek said, defiantly. "This is all they see and all they care about. They see he is a good leader and he makes the players better so they respect him and appreciate him. I believe on the outside there are too many people who say, 'Oh yeah, he's American. He can't be a good coach. How can an American know something about football?' This is not only in this case. There are too many people in football who don't look deep enough. Don't look at the work that is being done and the way the team plays. That is probably the biggest challenge for him going forward, to make sure that people on the outside recognize that he is American, yes, but he is a very good coach."
Whether or not he's American or a personable guy to be around, that's beside the point. He is Bob Bradley. He is the first American to coach in the top-flight of European soccer.
Have a closer, deeper look. Is he who you thought he was?
Stabæk Success
I thought about that question as I took the flight north to Trondheim in the middle of May to catch a match between Stabæk and Rosenborg. I also thought about the chilly air as I had only packed a windbreaker and a light sweater for the trip. As my plane roared through the Norwegian air and I glanced out the window, snow covering the hilltops was not a welcome site.
May 17 may not mean much to you or I, but in Norway it's a huge day. It is their Independence Day. Bradley took his Stabæk side on the one-hour flight on the eve of Norway's biggest holiday. A sellout crowd of over 20,000 jammed into Rosenborg's Lerkendal Stadion to see what they thought would be a routine home win for "The Troll Kids." How very wrong they were.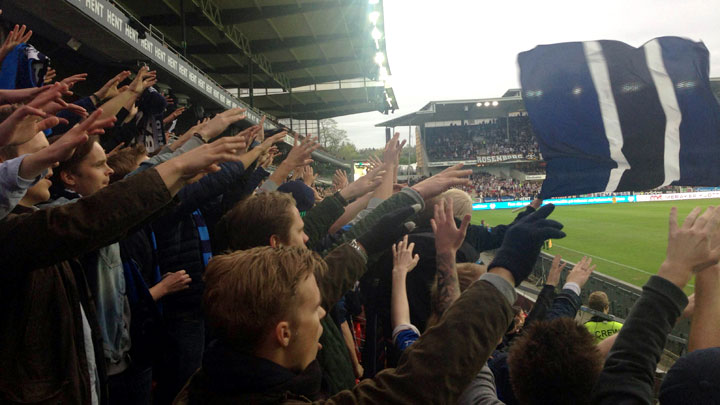 Outside the stadium, high school kids were out in full force as they were celebrating graduation by dressing in what looked like padded red overalls with blue crosses replicating the Norwegian flag on one half. In pouches on the fronts of their costumes, most were carrying business cards of themselves that they would hand out to peers so they could stay in touch. Perched against a concession stand eating a salty hot dog, I took it all in stride but must've sported a slightly bemused look on my face.
I asked Rosenborg fans for their thoughts on Bradley and Stabæk before the game. "The American, right? Didn't he coach the women's team?" was one answer I got. Also, "I hate Stabæk. They always do things different and are a nuisance. They make a lot of noise. Bradley? Never heard of him." One rather large guy, he fit the stereotype of his Viking ancestors superbly, simply shouted, "F**k Molde!" into my recorder and then gave me a wink. He too didn't know who Bradley was either. The only thing some Rosenborg fans knew about him was that he was an American. The stigma remained.
From 1990 to 2005, Rosenborg won 14 of 15 Norwegian titles and competed in the UEFA Champions League regularly. Their status as one of Scandinavia's top clubs is clear and as you wander through the quaint streets of this historic fishing town, which is the last stop before the majestic Fjords of Northern Norway, you get the sense that soccer is what this town is all about. Whether it's kids having a pick-up game in the street, or the Rosenborg flags hanging out of the windows of row after row of riverfront houses painted in various pastels, you get the sense quickly that Rosenborg are a big deal to the locals. This is what faced tiny Stabæk and Bob Bradley. The game was on national TV, the night before the biggest celebration in the Norwegian calendar and in front of a packed house. It was time to make a statement.
Watching the first half from the press box, I was agitated. Below me in the technical area Bob and his staff were up and down like yo-yo's. Contesting, heading and tackling every ball with their players. Often Bob stood reflectively with his hands on his hips or his arms crossed with one finger up to his mouth, a pose that U.S. national team fans will be quite familiar with. Stabæk weathered a severe Rosenborg storm. Ivory Coast international Sayouba Mande was standing on his head in goal and Rosenborg had rattled the woodwork twice. Then Stabæk settled down, and took the lead.
There was a distinct American influence in the first goal as the former Galaxy midfielder Michael Stephens played in Stetson University graduate Fredrik Brustad to score the opener. Bradley rushed to the edge of his technical area and punched the air with delight. Groans from the home fans emphasized the fact that his Stabæk side were playing the role of spoilers perfectly.
Familiar tactics from a "Bradleyian" team away from home were easily recognizable with two holding midfielders breaking up the play superbly to frustrate the home side. The midfield duo of Kofi Adu and Tomasz Sokolowski patrolled the area superbly. They kept things simple and gave Stabæk a solid base to build from. Much like Maurice Edu and Michael Bradley or Ricardo Clark used to do for the USA during Bradley's time in charge. His clear playing philosophy was already shining through at Stabæk.
As the half time whistle blew and boos rang out from the home crowd as their side trailed 1-0, I thought to myself, 'Screw this, I am going in with the Stabæk fans.' I walked out of the stadium and down two streets to the small caged area in the far corner of the grounds where Stabæk's 300 or so traveling fans were sitting. I peered through the caged fence and whistled over to a group of fans. Four came over. Within 30 seconds they located a Stabæk fan with a spare ticket, told the security guard to let me in and I had four new Norwegian friends. We spoke about Bradley's influence, how the team is looking, and they eventually wound up inviting me on the overnight bus ride back to Bekkestua. I kindly declined, although these lads looked like they knew how to make an eight-hour bus ride fun. Instead, I went and stood with them and the rest of the Stabæk Ultras, who were in full voice with their side up, 1-0. They annoyed the home fans greatly. Then, suddenly, Rosenborg scored to make it 1-1, and the home crowd erupted. Bradley's bench threw their arms in the air. My new "ultra" friends were not happy, as I edged slightly to one side and started to think I could be a bad omen. No need to panic, though. A late flurry saw Stabæk score twice and some incredible defending meant they held on for a famous 3-1 win.
The final whistle blew at Lerkendal Stadion, with the Stabæk fans delirious after winning away against the biggest team in Norway, on the eve of the biggest national holiday of the year and in front of a packed crowd. The Stabæk players celebrated with their fans as jubilant scenes played out. Bradley stood behind his team who were linked as one, throwing their arms up to the fans in unison. The American clapped for about 30 seconds straight with a wry smile on his face. Then he turned and walked away.
[youtube https://www.youtube.com/watch?v=5ObumaDCQ3U&w=560&h=315%5D
The next time I saw Bob was in the mixed zone, answering questions to the Norwegian media about the big win and how the biggest day of the holiday was a sacred soccer day.
"I know a little bit about the history," Bob told the TV crews. "When you become the TV 2 game, everyone is watching and there is a full stadium, then there's a chance to show the football we are trying to play is real and I think we are an exciting team who plays positive football and can compete. We knew how special it was to play here tonight in a packed stadium with a great atmosphere, and with people all across Norway watching."
I shook hands with Bob, he wished me well on my travels and with that, his trademark limping walk carried him out of the stadium and towards the bus past Rosenborg fans screaming for their own manager to be fired. Bradley's Stabæk had upset the people of Trondheim. Walking back to my hotel at 11 p.m. in bright sunlight — the "Land of the Midnight Sun" dishes out about 19 hours of sunlight a day during the summer — with a local journalist, Fredjistad, we chatted about what some of the veterans on Stabæk had been saying after the game. "Tomorrow is the national day of Norway and the players have to go to the training field," said Fredjistad. "The real experienced players at Stabæk have played for some big clubs in Norway and (one of them) said he's never trained on Constitution day. That's because of Bradley."
Dedication. Commitment. Professionalism. Bradley and his players were all in. And it showed.
More big wins for Stabæk have since arrived against Stromsgodset, Rosenborg again, and Lillestrom, and many more will come in Bradley's coaching career if you believe Olsen, the club's sporting director, who hopes his head coach moves on to a bigger club after success with the tiny, yet ambitious, Scandinavian outfit.
"I hope that will happen. That is the purpose of bringing Bob here," Olsen said, smiling. "All the knowledge he has, we need to take care of it, store it and use it every day. We know that Bob at one time will go to a bigger club, he is already on a different level than the Tippeligaen level. Way above it. We will be really happy if Bob can get a good club in Spain, France, Germany, England, then we can say we did a good job with Bob as well. That's what Stabæk is about, we want to develop good players and good coaches."
So, why is Bradley a good coach? Obviously he has an innate ability to nurture a good environment for people to work in and listen to him, plus his tactical acumen should be revered in the American game. The work that any coach does behind the scenes goes unnoticed, but Kaczmarek shed some light onto the American's schedule.
"He is all about football," Kaczmarek said, with a serious look on his face. "I'm not sure if I should say this … but Bob's life is about family and football. He has put so much into it and is always thinking; his head is spinning as he thinks how to make the team better, or will this extremely young group be able to compete with and beat the best teams? Sometimes we sit here thinking, we are looking at the game and then we leave late at night and we come in in the morning, and we've already watched the game five times here, and he'd say at home he watched the game three more times. I'm like, 'Come on, man, you only went home for 10 hours, how did you watch the game three more times?' But this is him. It is unbelievable how much he puts into it."
It's not all work, though. Kaczmarek mentioned while we were all standing in the office at Nadderud that he was taking his girlfriend to see a production of Swan Lake in Oslo that was in town. Bradley's ears pricked up in interest. Europe is taking to this particular American and vice versa.
Later on in the summer I spoke with Bob about his progress with Stabæk. After losing players halfway through the season, new guys arriving, a two-week break and reaching the final four of the Norwegian Cup, plenty of challenges arose. The way his team was playing had turned heads and Bradley's name was being linked with job openings across Europe. What did he think about that?
"I've heard from different people that there's a positive buzz about what's going on," Bradley said. "About the work that gets done here, the way this team has played. In different ways, I hear people around Europe have taken notice. We will see. You never know what that means. In the meantime, to the club and the group you are involved in, we will continue to stay focused here every day and try to finish the season as best we can."
The morning after Stabæk's big win at Rosenborg back in May, I had a connecting flight through Oslo airport and as I passed a bar, the TV screens showed Stabæk's players celebrating after the third goal went in from the night before. The antics of Bradley's small team was big news in Norway, as an American coach continued his journey abroad.