South Bend's August sun beat up on Matt Besler, prone on the training field at Notre Dame. Weighed down by sweat, classes and the life of a college kid, the last thing the defender wanted was another ab workout.
The Fighting Irish men's soccer team worked their core every day under head coach Bobby Clark, and some days it took everything to fight through the darn things.
"There were many times when I was pretty tired and my abs were burning and I kinda wanted to cheat a little bit," said Besler, the United States men's national team veteran and Sporting Kansas City captain who played at Notre Dame between 2005-08.
"But I look over my shoulder and here's this 65-year-old guy who's like a rock, sitting there solid, whistling away."
That was Clark, Scottish goalkeeping legend and Notre Dame's decorated head coach, ripping through the daily workout with his team.
Set to turn 70 in late September, one of the nation's most respected coaches is still churning out crunches. He's also continuing a life focused on turning boys into men through work ethic and character, all under the guise of soccer.
* * *
Clark's coaching accolades speak for themselves, but his playing days only amplify the man's stature in soccer.
Born in Glasgow on Sept. 26, 1945, Clark broke into the senior team at Queen's Park in 1962, where he'd make 85 appearances before beginning a nearly two-decade run at Aberdeen, the last several seasons under the guidance of a manager named Alex Ferguson.
Clark would play 696 matches for Aberdeen, setting the British top-flight record for not conceding a goal. His 1,155 minute shutout streak, briefly a world record, stood for almost 40 years (Edwin van der Sar broke the mark by 156 minutes with Manchester United in 2009).
Capped 17 times by Scotland, Clark was on the squad for the 1978 World Cup in Argentina and also participated in qualifying for the 1970 and 1974 tournaments.
His coaching record, however, is even more marvelous, and lies largely in both his hunger to teach and his passion for soccer. While playing with Aberdeen, Clark trained in the morning before teaching school in the afternoons.
So after five years coaching youth at Aberdeen and a pair of seasons as director of coaching for the Bulawayo Highlanders of the Zimbabwe Super League, Clark got an invitation to apply for a college job in the U.S. It intrigued him.
"I thought it was a good halfway house between coaching and teaching," he said. "Back in the UK, you either had to be a teacher or a coach. I used to train every morning at Aberdeen and teach every afternoon."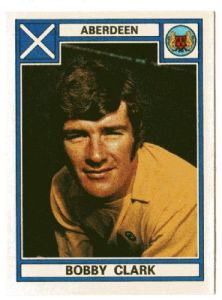 Clark had spent several summers in the U.S. during his time at Aberdeen, where the club played in 1976 as the Washington Whips in the United Soccer Association. Other summers, he worked camps near Seattle, and in 1976 he played 19 matches on loan to San Antonio in the North American Soccer League.
"When I came back from Africa, I got a call from somebody I met over here, and he asked me if I ever thought of coaching at college," Clark said. "I never really had, but the long and short of it was there was a job at Princeton and he said, 'Why don't you throw in a resume and see what happens?'"
Clark did, flew over, and lost the job to another legend in his own right. Clark was a finalist, but Bob Bradley got the job en route to a coaching career that now includes an NCAA Final Four, an MLS Cup, two U.S. Open Cups and a storied career leading the men's national teams for the United States and Egypt (Bradley is now at Stabaek in Norway).
"He was a Princeton alumnus and I asked more questions than I was really answering anyway," Clark said. "They were great to me. They called me up to tell me they were giving it to Bobby, but they also said to me, 'I think you'd be good at this and please use as a reference.'"
He did, and got the head job at Dartmouth in 1985. The team went 6-7-1, and that remains the only losing season in Clark's collegiate coaching career. He won three Ivy League titles in nine years at Dartmouth, winning 62 percent of games.
After a pair of years guiding a young New Zealand national team in which the side went 21-12-3, Clark headed back to the NCAA with Stanford. There he won 74 percent of his matches and made the NCAA Tournament in four-straight years, including a runner-up finish in 1998.
It was cost of living and a desire to stay in the college game that led him to choose Notre Dame over offers from MLS and European clubs. Clark loves to entertain family and friends and had trouble doing that in a small Bay Area condo.
"I've asked him before why he doesn't want to coach professionals, and he's said it's because he doesn't think he can the have the impact on people's lives like he does in college soccer," said Notre Dame graduate and Toronto FC defender Justin Morrow.
"That statement tells his whole story."
And it's reaped big dividends for the Irish program, which has missed the NCAA Tournament in just one of Clark's 14 seasons. Notre Dame has been to the quarterfinals in five of the seasons, and won the 2013 National Championship with a 2-1 win over Maryland.
[parallax src="https://nbc-sports.go-vip.net/wp-content/uploads/sites/21/2015/08/150819-notre-dame.jpg" height=600 credit="Getty Images"]
* * *
Simply put, Clark thinks the collegiate athletic system in the United States is "tremendous".
"I think back to my days when I was playing with Queen's Park in the Scottish second division and you're getting to college in the morning by bus and then away to train at night," Clark said. "It was long, and a lot of traveling and nothing was next door. Here, the kids jump out of their dorms, fall into a classroom and onto the practice field. We Americans don't realize how good it is."
Clark beams when he says all 71 of his Notre Dame players to go on to MLS have graduated. Calling Clark "a teacher more than anything", Morrow said his old coach has an innate ability to help a kid navigate the college experience.
"When you go to a university like Notre Dame, you know there's a lot expected out of you," Morrow said. "But he taught us that it wasn't all about soccer. He really taught us how to be men in a lot of different ways, and he exemplifies that in his life."
Besler agrees, and presumably so does his family. Both Matt and his brother Nick have been selected in the first round of the MLS SuperDraft after college careers spent at Notre Dame.
"Coach Clark is exactly what a college coach should be," Besler said. "I know that coach has gotten opportunities many, many times to move on and coach professionally, but I understand why he's turned them down.
"He has so much passion to be involved in his players' lives from 18 to 22. Those are very big years in someone's life and he's taken the responsibility to teach those kids at his age. He's had all these chances to leave and some people might say bigger and better things, but in his mind he's right where he wants to be. And I think that's special."
And good coaching breeds good coaches, both metaphorically and genetically.
"Jamie always was a a very smart player," said Bobby Clark. "He was technically sound, was competitive, had soccer smarts and was a coach on the field. I think these same characteristics have helped him be a good collegiate coach. I would add that he has an excellent way with his players, very similar to how he was as a player."
His daughter Jennifer spent time as an assistant at Stanford, while eldest child Tommy Clark founded Grassroot Soccer a group that spreads AIDS awareness in Africa.
Assistants and players have gone on to big things in coaching as well. Long-time Clark assistant Brian Wiese is the head coach for Georgetown's strong program, and Mike Avery's gone on to Valparaiso.
Players from Clark's days in New Zealand have taken up the coaching mantle, too. Longtime All Whites goalkeeper Jason Batty coached at Dartmouth and then for the San Jose Earthquakes, while Stu Riddle is at the helm of the University at Buffalo.
"He was very different than anyone I had been given the opportunity to play under before," said Riddle. "To this day if I'm posed with an issue or a problem one of my first thoughts is, 'What would Bobby do?' And that shows how much of a positive effect he had on me."
Batty, who was capped 55 times by New Zealand between 1994-2003, said he was often struck by his coach's character.
"He's always managed to treat people the same, whether it's the star player, the office staff people, the receptionist, the president, he always conducts himself the [same] way," Batty said. "I think that's a big learning tool for any young person: The humility he conducts himself with to this day."
That's something Clark says he took from Ferguson, the legendary Manchester United boss.
"What could you not learn from Sir Alex," Clark said. "I was fortunate enough in my final 5 years at Aberdeen to help run the Aberdeen youth program. Four of these was under Sir Alex and I think this was a wonderful apprenticeship.
"I learned so many things but possibly the two that stand out would be how hard he worked and also how he treated everyone from the kit man, the groundsman through to the chairman. He is still the same today and never forgets his old players. I would also add that he is tough as teak and was never scared to make the hard decisions."
* * *
Clark has seen ebbs and flows in the college game over his three decades and finds the game at an all-time high.
He's impressed by how MLS sides are viewing college players now and notes the remarkable depth in a league that saw Stanford's Jordan Morris earn a full national team call-up — not to mention a goal against Mexico in April — for Jurgen Klinsmann.
And Clark's senior tri-captain, Patrick Hodan, was one of 28 players called into U.S. U-23 camp as coach Andi Herzog searches out players for the 2016 Olympics in Brazil.
"There's a lot of good players in college soccer, and full marks to Jordan," Clark said. "He's very good and we recruited him. But was he the best striker in college soccer last year? Possibly not. I'm delighted with Patrick Hodan, who was Offensive Player (of the Year) in the ACC, but there's a lot of good players out there and it's terrific that U.S. Soccer is taking a serious look at them. There are a lot of good ones who aren't even on that list."
Clark is impressed by the wisdom of MLS squads as time goes on. Whereas the Fighting Irish coach sees the MLS Combine as a bit of a crapshoot, he's happy to see NCAA players in MLS camps during their summers.
"Columbus, Sporting Kansas City, I know several players have gone there and practiced over the summer," Clark said. "If they do that with local guys, they can come back and look at them through the college season with so many games streamed now. They can check up with them, and when it comes to the draft you're not depending on the combine which is a really tough way."
Then there's the experience his players get every day. Besler glows when asked about his time at Notre Dame under Clark, saying "It made me who I am today."
"His tactics, you get an experience of a professional coach," Besler said. "Not a whole lot of college programs can say that."
And as for his guidance on a human level?
"The other stuff comes after the fact," Besler said. "You don't realize when you're going through it, but when you graduate and take a step back in the real world, you realize what a great teacher, person and friend that he is."
Notre Dame begins camp this week as the country's No. 4 team in the NSCAA preseason poll. They have a series of practices in the searing heat of Indiana before exhibitions against Ohio State, Butler and Saint Louis. Then the Irish start the season proper against Maryland on Aug. 28.
And if Clark's players feel exhausted during their post-practice core workout, bodies soaked and cramping after another brutal day, they can just lift their heads.
They'll see their 69-year-old boss, solid as a rock, and whistling away.