(As told to NBC SportsWorld's Joe Prince-Wright.)
I've tried to take the game seriously since I was a kid. For instance, I worked on my pace as an 11- to 12-year-old at the Frappier Clinic in London. It was just to work on speed really. I didn't have much to do with it. My Dad used to take me up there. It was interesting. Quite a long time ago now … Not too sure if it worked, or if it's still going on. But it was interesting at the time.
Pace isn't a huge part of my game now, but playing the percentages, mathematically, if you can add an extra yard of pace or a couple of percentage points to your game, then that's massive nowadays. So I still do a lot of work in the gym to improve my pace, power, strength to try and get that little bit more explosive power to my game. I'm always working to improve.
Speaking of my childhood, one thing people might not know about me is my grandfather is Spanish, from Madrid. I don't know if it influences my game, and he never takes credit for it. He isn't a massive football fan, actually.
Interestingly, though, my idol growing up was former Real Madrid great Zinedine Zidane. I watched a lot of him growing up. The way he plays. Even now, he's a coach at Real Madrid but I still go back and watch those clips.
SAINTS DAYS
I've heard that when I was at Southampton the ground crew would always say that I was the first one in and the last one out. Now, I'm not sure about being the last one out! Maybe when you're captain you feel that extra sense of responsibility to lead by example. Either way, I thoroughly enjoyed my time there. And, yes, I used to get in to work early. But a lot of people like getting to work early!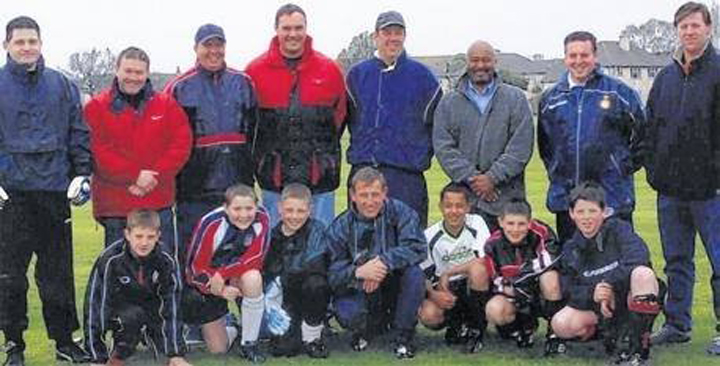 I'll have to return to play at Southampton some day, and I really hope my reception is a good one. I had a great time down there and had a great relationship with the fans. Yes, the fans are obviously disappointed that I left and I can understand that. But it was a decision I had to make. I look back at my time there — the back-to-back promotions, the journey we went on — and it's great to see them still doing so well. You know, I'm sure there will be a bit of banter and jeering, but I hope I get a bit of a warm reception as well.
One match I'm really looking forward to is our League Cup quarterfinal against Bournemouth in December. I've still got friends who play for Bournemouth, and a lot of family and friends who live there. I was on loan there for a month in 2007, and I used to play for them as a kid before I joined Southampton, so it will be nice to go down there. It's a great club and manager Eddie Howe is doing such a fantastic job. It will be a tough game but a game we can win to get into the semifinals. It was also nice that the sell-on clause that Bournemouth got when I went from Southampton to Liverpool could help them out. That was why it was put in to place all those years ago.
But my days at Southampton were also special. There really is no magic ingredient as to how Southampton has found so much success and generated so many England internationals. It's a combination of a lot of things, but hard work is definitely one of them. Having a good attitude and just doing the right things and wanting to work hard are all big pieces of that.
MOVING UP
Moving from the South Coast to the northwest has been different. My wife and I have never lived outside of south England. You take it for granted, having your family around you and friends. It's been difficult. Our friends and family have been up to visit and the lads have been great helping us settle, so I can't complain, really.
I suppose last year was a bit of a whirlwind. I don't really take much time to sit down and look back. But it has been enjoyable, put it that way. I've enjoyed the last 12 months. Like last season, I enjoyed a great season at Southampton, and I really enjoyed playing under Mauricio Pochettino. But things change. I got the opportunity to come to Liverpool, and it was something I couldn't turn down, really. It was a chance to play Champions League football at a huge, historic club.
For instance, playing against Real Madrid was really a great experience. To be on the same pitch as Cristiano Ronaldo, Luka Modric and Karim Benzema … it was great. But it was disappointing. I thought we started well, especially in the first leg, but they showed their quality and why they are holders of the competition.
And then to get a chance to play against my old youth team colleague Gareth Bale at the Bernabeu — I never thought that would happen. At that moment, I could only think back to when Bale was 15 or 16, and then to now. It's remarkable how well he's done, but he's grafted and worked hard, and he deserves all of the success he gets. I don't talk to him too often now — I'll have a chat with him when we play against each other — but he's busy. He has a family of his own and it's a credit to him how well he's done. I always look forward to seeing him, though.
[parallax src="https://nbc-sports.go-vip.net/wp-content/uploads/sites/21/2014/11/lallana-bale-2-ap.jpg" height=600 credit="Lallana (right) catches up with Gareth Bale (middle) and Steven Gerrard after Liverpool's 1-0 loss to Real Madrid in the Champions League. (AP)"]
LIFE AS A RED
My dad and I are Everton fans, but my sister is a Liverpool fan. Growing up she had a Liverpool kit. I don't know if that was just to be different from me and my dad. I'm not too sure really, it's just the way it goes! Growing up, she came to a lot of my games as well and she followed my football closely. It's strange isn't it, how I've ended up playing for Liverpool.
Joining a team like Liverpool is definitely an adaption phase. I knew it wasn't going to be easy. After losing Luis Suarez and missing Daniel Sturridge up top lately, it's been difficult. But we've had to find different ways of winning games; other people have had to chip in with goals. It was great for Mario Balotelli to get a goal against Swansea in the League Cup and now we are through to the quarters. We know we've not been playing to our maximum but we are still in transition. We feel that if we keep working hard, a really good performance is around the corner.
My big aim for Liverpool this season is to settle in as well as I can to the group and contribute as much as possible to getting into the top four again. And hopefully win a bit of silverware.
Working for Brendan Rodgers has been brilliant. He's a great manager, he's very hands on. Works very much with the players, and his man-management skills are good. He even speaks Spanish to a lot of the lads who can't speak English. He's tactically clever and sees things. And he always wants to improve. He's always watching games, looking to tweak things different. He's a very, very clever manager.
ENGLAND AND BEYOND
One thing that's great about Liverpool is our core of English players. I think we'll grow together as a group for England. It's refreshing to see these days because a lot of people talk about the amount of foreign players playing in the Premier League. It is healthy to see.
Speaking of English teammates, it's great to have Big Rick (Lambert) around at Liverpool. We've been good friends and teammates for five or six years, and Dejan Lovren as well. Dejan has settled in well after playing with him last season. So to have the three of us come here from Southampton, we've helped each other.
This whole journey has been remarkable, really, when you see that five years ago this week I was with Southampton in the bottom three of League One. In our wildest dreams both of us wouldn't have imagined we'd both be playing for Liverpool. Rickie would echo what I'm saying, I'm sure. We've just got to live in the present and we are working hard to contribute to Liverpool doing well.
In my spare time, I'm just busy being a father to my son. He keeps me busy all the time. When I get back I'm in the garden playing football with him. Time seems to fly at the minute. I'm enjoying myself at Liverpool and the amount of games we have. It's just so full on. But I can't complain. I'm really enjoying it.