The following is excerpted from Joe Posnanski's forthcoming book "The Secret of Golf: The Story of Tom Watson and Jack Nicklaus," set to be released on June 9 from Simon and Schuster. 
From the time he was in junior high school, Jack Nicklaus had reigned supreme in Tom Watson's mind. Nicklaus had vanquished his hero, Arnold Palmer. Nicklaus had pushed the boundaries of golf excellence. When Watson first came on the PGA Tour, Nicklaus was a faraway star playing what seemed a different game. Watson would watch him, follow him, study him. One weekend in New Orleans, he walked with the gallery after Nicklaus. "It was hard with the fans out there, and I'm trying to see what club he's hitting off the thirteenth tee or where he's laying up or what type of shot he's playing. But I studied him every chance I could."
At the beginning of 1975, though, Watson felt ready to challenge Nicklaus. He had won a tournament. He had contended at the U.S. Open. Golfers and fans began to talk about him more and more; someone coined the phrase Watson par. A Watson par might go like this: Watson would hit a terrible drive into the woods somewhere. He often hit terrible drives then. He would smile his hard smile, find the ball behind a tree or barely visible in high grass, and hit a deft rescue shot to the fairway somewhere.
He would hit a good third shot that might stop eight or ten feet from the hole. And then he would make the putt for a par.
Watson made Watson pars so often and with such astonishing shots and putts that a little bit of a legend built up around him. There seemed no trouble he could not overcome.
"I never saw anybody—anybody—who was as positive after a bad shot as Tom Watson," Johnny Miller said. "It was crazy, really. He just never let it bother him."
In Augusta at the Masters, Watson got his chance to match up with Nicklaus. Tom Weiskopf, one of the fleet of "next Nicklaus" golfers who came onto the Tour, led the Masters going into Sunday. Nicklaus was a shot back; Miller was four back; Watson five. The Masters in those days mixed and matched the Sunday pairings. For some reason that neither golfer remembers, that day Watson and Nicklaus were paired, and Weiskopf and Miller played in the ground behind them. It made for great television.
Watson wasn't a big part of the story. He played reasonably well, but Nicklaus, Weiskopf, and Miller left him behind. The CBS producer Frank Chirkinian gleefully described how the day unfolded like a perfectly structured drama. Nicklaus was the reigning king. Weiskopf was the dark and grim younger brother who longed for his moment. Miller was the blond and heroic prince making his charge. The crescendo came when Nicklaus teed off on the 16th hole. "Get up!" he shouted at the ball; he had hit a poor shot. The ball did not get up. It settled forty treacherous feet away from the cup; he would need all of his skill and nerve just to two-putt the hole.
Meanwhile, back on the 15th hole, Weiskopf and Miller were in position to make eagles or birdies and take the tournament away from Nicklaus.
After Nicklaus hit his shot, Watson played his role in the theater, plunking his tee shot in the water. He walked all the way to the green to see if his ball had crossed land; it had not. So he walked back to the tee, hit the ball again, and again hit into the water. Finally, on his third attempt, he put the ball on dry land.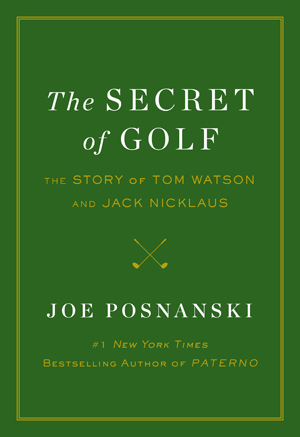 Chirkinian could not believe his telecasting fortune. He did not know anything about Watson yet, but he did know that Watson's fumbling had given Weiskopf and Miller time to hit their approach shots. This set up a remarkable television scene. The 15th green and 16th tee are only a few yards away from each other. Nicklaus would see exactly what Weiskopf and Miller did, and they would watch Nicklaus's putt. Chirkinian built the drama by directing his camera to first show Weiskopf, then Nicklaus, then Miller. For Chirkinian it felt like the moment before a heavyweight boxing fight. Weiskopf putted first. He made his ten-foot putt to take the lead, and Chirkinian turned the camera on Nicklaus. "And that," Ben Wright announced, "is going to be evil music ringing in Nicklaus's ears."
Then it was Nicklaus's turn. He faced what seemed to the broadcasters and gallery to be an impossible putt. But he had decided he could make it. As golf fans watched, Nicklaus slammed the putt up the hill. When the ball was ten feet from the hole, his caddy Willie Peter lifted his arm in triumph. The ball dropped in the hole, and the normally stoic Nicklaus leaped in the air and ran a few steps around the green. The CBS announcer Henry Longhurst countered Ben Wright's poetry by saying, "Did you ever see one like that? I think that's one of the greatest putts I've ever seen in my life. And now Weiskopf will have to take it as he dished it out before."
Nicklaus won the Masters. And Watson watched this one differently, not so much as an admirer but as a competitor. He was beginning to understand just how high he had to climb.
Two months later, at the 1975 U.S. Open in Medinah Country Club in Illinois, Watson started off remarkably well. He built a three-shot lead after two rounds and tied the thirty-six-hole U.S. Open scoring record. He was playing exuberant golf. He told reporters he had left the year-old disappointment of Winged Foot behind him: "The pressure might be a little bit less than last year [at] Winged Foot. I feel more sure."
Then Saturday came, and Watson almost four-putted the first hole; he just about whiffed on a three-foot putt. He was visibly shaken. He bogeyed three of the first four holes. Something about his inability to hold up under the intensity brought out the worst in a few golf fans. "Remember Winged Foot!" they shouted. Watson was affected. He shot 78 and fell three shots off the lead.
"It rips me up inside," he said, "but Sunday is another day. I can still win."
But Sunday was very much like Saturday. His touch had left him. He shot 76 and once again left the stage to Nicklaus. The Golden Bear had not played well all week, but one of the things Nicklaus had come to understand was that he did not need to play well in order to win major championships. He needed only to play smarter than everyone else. With three holes to go, he found himself near the lead, and he knew precisely what was left for him to do.
"Par, par, par wins this tournament," he said to himself. This was Nicklaus's internal clock at work. He sensed that even though he still trailed, he needed only to stay steady to the end. The other golfers, he knew, would come back to him. And he was right, except he didn't make three pars coming in. He made three bogeys instead and lost by two shots. The collapse was shocking to him. "I gave away the tournament," he moaned afterward.
Still, Nicklaus had fifteen major championships, more than anyone else, and he could afford to lose one every now and again. (And he did lose more than his share, finishing second a record nineteen times.) The Medinah U.S. Open was much harder on Watson, who had just let another chance slip away. He was playing the best golf of his life. He had proven—to Linda, to his father, to himself—that he was good enough to make a living at this game. But somewhere along the way the goal had changed. He no longer wanted just to make a living. He wanted to beat Jack Nicklaus.
Everything about Carnoustie Golf Links on the east coast of Scotland is historic and gothic and frightening. For a golfer, it seems set in a Charles Dickens novel. Locals say they have been playing golf at Carnoustie—or gawf, as it is written in the Parish Records of 1560—for four hundred years. When the wind howls and the rain blows sideways, golfers today have no more chance of holding their own than they did all those years ago.
Carnoustie is one of the toughest golf courses in Great Britain, which makes it one of the toughest courses in the world. Before the 1975 Open, only five golfers had ever shot better than 70 at a Carnoustie Open Championship. The most famous of those was Ben Hogan's final-round 68 to clinch the 1953 Open; that was the only Open Championship Hogan ever entered. His play on that final day was so inspired that afterward the 6th hole was renamed "Hogan's Alley." Fifteen years later Gary Player won the Open at Carnoustie without breaking 70 once.
This seemed the unlikeliest place for Watson to compete. He had never played the Open before, and he almost immediately did not like the golf course. Plus, just before heading to Carnoustie, he had to ask his first agent, Hughes Norton, to find him a caddie. His now-trusted American caddie, Bruce Edwards, had run into visa problems (he didn't have one) and motivational problems (the trip cost a lot of money). Norton found a hard-drinking, chain-smoking English character named Alfie Fyles who had caddied for Gary Player when he won at Carnoustie. "He knows the course as well as anybody," Norton said. Watson was satisfied until he went out with Fyles to the fierce 1st hole. "Hit it there," Fyles said, and Watson complied, hitting a shot he felt was just about perfect. But when they walked out to the spot, the ball was nowhere to be found. The two looked around for a while, until finally and reluctantly they looked in a pot bunker forty yards away. There was Watson's ball. It was like an anti-magic trick.
"This isn't golf," Watson muttered to himself. "This is luck."
No, he didn't like Carnoustie. He didn't like his caddie, at least at first. He didn't like links golf. And yet he played inspired golf in the first round. He shot a 71, which normally would have put him in the lead. But the wind, which always roared at Carnoustie, was positively still. There was no rain. Carnoustie was unexpectedly naked. Seven golfers broke 70 on the first day. One of them was Nicklaus, who was still steaming about giving away the U.S. Open.
On the second day, eight more golfers broke 70. A South African named Bobby Cole, who had never finished in the top ten at a major championship, set the course record with a 66. Then, with the wind still down, Cole shot another 66 the next day, but he no longer held the record. A fun-loving Australian named Jack Newton shot a 65.
The golfers were embarrassing the venerable old course, and Watson joined in. He shot 67 and 69 in the second and third rounds to put himself in fourth place, just three shots behind Cole, the leader. He was still uncomfortable with the mysteries of links golf, but he was beginning what would be a lifelong love affair with Scotland and its people.
In those days the Open always ended on Saturday, and the Saturday morning before his final round he heard a knock on the door of his small house in Monifieth, a town about five miles west of Carnoustie. Watson opened the door to a little girl, who gave him something in foil. "This is for good luck," she said. Inside the foil was a sprig of white heather.
There's a Celtic folktale of a beautiful woman named Malvina who was to be married to the great warrior Oscar. But Oscar was mortally wounded in battle; in his final moments he picked a sprig of purple heather and had a messenger take it to Malvina. When she was told that Oscar had died, she began to cry, and her tears turned the heather white. Malvina's prayer was this: "May the White Heather, symbol of my sorrow, bring good fortune to all who find it."
Watson did not know the story, but he thanked the girl and put the white heather into his golf bag. Then he headed to the golf course, not knowing he was carrying Malvina's prayer.
What is good fortune? Is it a bolt of luck that hits you unexpectedly? Or is it something else? When Watson got to the golf course that Saturday, he ran into Byron Nelson, who was broadcasting the tournament. Nelson and Watson had grown closer since their encounter at the U.S. Open; Watson had won the Byron Nelson Classic seven weeks earlier, much to Nelson's delight. Still, Nelson had always seemed reluctant to give Watson advice. He tended instead simply to encourage Watson to trust himself.
That day, though, Nelson had something specific in mind. The wind had picked up at Carnoustie. The golf course would bare its teeth on this day, and Nelson knew that most of the other golfers would not be ready for it.
"Tom, I've avoided giving you specific advice," Nelson began, "but I'm going to give you some advice today. You are always very good about leaving behind bad shots and looking forward. But today you need to be better at that than you've ever been in your life. You're going to make mistakes. Everyone is. The wind is up— those last four holes are going to be really hard. You're playing the best golf of anyone here. Remember those last four holes."
Nelson's words had a dramatic effect on Watson. He relaxed. It was as if, all at once, he realized that he could win without being perfect.
The 18th hole at Carnoustie is the site of the most disastrous collapse in golf history. The collapse happened long after Watson stepped to the tee that Saturday in 1975. The protagonist was a likable Frenchman named Jean van de Velde who had never come close to winning anything of note until he came to Carnoustie for the 1999 Open Championship. Van de Velde was something of a character. He wore a Disney logo on his shirt because he was the golf pro at Disneyland in Paris. "I test all the rides," he told reporters that week, "and walk around with all the characters."
That year the wind howled and rain fell and golfers succumbed to Carnoustie's will. Tiger Woods finished 10-over par. Watson, who was forty-nine and had come to Carnoustie hoping he could recapture some old magic, shot 13-over on just the first two days. All of the world's great golfers coughed and wheezed, and only this self-effacing character from France with Mickey Mouse near his heart seemed immune to Carnoustie's supremacy. After three rounds, he led by five shots. As he stepped up to the 18th and final hole, he led by three shots. He needed only a double bogey to win. His victory was assured.
Only it wasn't. The 18th hole at Carnoustie is a chilling hole, as intimidating as any in Great Britain, and van de Velde hit his driver way to the right into the rough. While the television announcers wondered why he had used a driver, the riskiest of clubs, he found his ball and was surprised to see that he had a clean lie. He decided to hit his second shot toward the green rather than simply punching the ball back into the fairway. His second shot flew into a grandstand and bounced back into deep rough. "His golfing brain stopped about ten minutes ago," a BBC announcer said.
Van de Velde tried to chip his third shot out of the rough and onto the green, and he hit it into a creek instead. He took off his shoes and rolled up his pants and went into the water after his ball. "Well, you get your money's worth from the French," one thoroughly amused BBC announcer said. Just as van de Velde stepped into the creek, the ball submerged and disappeared. In the press conference afterward, he re-created this scene, in which he could actually hear the golf ball talking to him. "Bye-bye," the ball said. "No Open Championship for you."
His fifth shot went into a bunker. His sixth shot—the last one that could have still won him the Open—rolled five feet from the cup. Van de Velde ended his nightmare in a three-man playoff, which he promptly lost. This is the horror of the 18th hole at Carnoustie. And this is where the young Tom Watson found his voice.
Watson approached the 18th hole on that final round in 1975 fully aware that he needed a birdie to give himself a chance. He was 8-under par, three shots behind the leader, Jack Newton, and two shots behind Newton's pursuer, Bobby Cole. Watson had watched Nicklaus enough to know that the way to win major championships was not to go chasing low scores but to wait for pressure to take its toll on everyone else. Nine under, Watson decided, would be good enough to give him a real shot.
Nicklaus had already made the same projection. He was 8-under par as he went into the last four holes, and he turned to his caddie, Angelo Argea, and said, "One birdie will take it, Angie. Those guys are going to fly apart back there." Nicklaus couldn't get that one birdie—instead he made four straight pars—but, as always, his internal clock was synchronized to the moment.
Johnny Miller's internal clock was not; this was perhaps the difference between Nicklaus and Miller. He came to the last four holes at 10-under par, in perfect position to win. But he looked back at the leaderboard of top scores and decided he needed one more birdie. He played too aggressively and made two bogeys in-stead, playing himself out of a chance.
Watson had played well all day. His putting touch abandoned him for a time—he three-putted three greens in a row—but otherwise he played with the patience and positive energy that Nelson had recommended. Watson had a superb chance for birdie on the 17th hole but missed the putt, so he came to the 18th believing that a birdie would at least get him into a playoff. This was the scenario he had imagined a million times in his life: one hole, one birdie, a major championship on the line. He striped a drive down the middle and hit his 9-iron to twenty feet from the flag. He then rammed home the birdie putt. He had gotten his 9-under. Now he just needed to see if the leaders really would fly apart, as Nelson and Nicklaus had predicted.
They did. Cole bogeyed 15, 16, and 17. Newton bogeyed the same three holes but held it together enough to make par on the 18th, to force an eighteen-hole playoff with Watson for the Open Championship. They were two young men, almost exactly the same age, each attempting to win a major championship for the first time. But they were not otherwise alike. When asked how he planned to prepare, Watson talked about his mental approach to dealing with pressure. Newton, when asked the same question, smiled slyly and said, "Get drunk again."
The playoff too came down to the 18th. Watson and Newton were tied. When Newton hit his second shot into a bunker, Watson aimed for the heart of the green. He took two putts and won his first major championship. Many of the stories that followed talked about how Watson had slain the choker inside.
Copyright © 2015 by Joe Posnanski. From the forthcoming book THE SECRET OF GOLF: THE STORY OF TOM WATSON AND JACK NICKLAUS by Joe Posnanski to be published by Simon & Schuster, Inc. Printed by permission.
Click here to order "The Secret of Golf: The Story of Tom Watson and Jack Nicklaus" from publisher Simon and Schuster.