The tiny car with the black matte finish is already distinctive in a myriad of ways.
Its surface is fuzzy to the touch, having been sprayed with a nylon-type material once ubiquitous on back porches in the 1960s. Its rounded nose and sharply contoured tail resemble the roadsters synonymous with Indianapolis Motor Speedway decades ago. Its refurbished rear axle bears unmistakable scars of a tyke learning the limits of a quarter-midget amid tears and trepidation.
But the quarter-midget's most special trait is its pedigree.
It was the first vehicle ever raced by a NASCAR legend – which makes the mystery of how and where it disappeared 30 years ago all the more compelling.
When Jeff Gordon makes his final Sprint Cup start Sunday at Homestead-Miami Speedway, his last No. 24 Chevrolet undoubtedly will be preserved as a testament to his storied career – and perhaps even a fifth championship – but the bookend that marks the longevity of Gordon's greatness is still being hunted down by John Bickford.
"My guess is that the fuzz car is probably laying along a shed or in a barn someplace," said Bickford, Gordon's stepfather and his first crew chief. "And nobody even knows what it is or really what the history is or anything behind it."
Bickford technically still owns the "fuzz car," the quarter-midget that Gordon raced shortly after receiving his first license as a 5-year-old in April 1977.  A month later, Gordon earned his first trophy with a fourth-place finish on a day he initially exhibited the on-track grit that later would define a record 797 consecutive starts in NASCAR's premier series (concluding with this Sunday's Ford EcoBoost 400).
MORE: Watch NASCAR's Championship from Miami, Sunday at 1:30 p.m. ET on NBC
He would score his first victory – a national championship qualifier in Sunnyvale, Calif., that earned a 4-foot trophy taller than the winner — that July before the first race car (a $450 hand-me-down investment) was retired after only a few months.
Roughly a year later, Bickford loaned the quarter-midget to a longtime friend who wanted to outfit it with a Briggs and Stratton motor and field it for a grandson who was interested in racing. When Bickford and his family moved to Indiana to further Gordon's career in the mid-1980s, the fuzz car still hadn't been returned.
Bickford has spent the better part of the last quarter-century looking for it and is convinced that 1) it still exists in an identifiable form and probably somewhere in the Northern California foothills; and 2) whoever has it is blissfully unaware of its immense lineage.
"Some of my friends say, 'Oh, they know it's Jeff Gordon's car,'" he said. "I'm not sure anyone actually ever knew it was Jeff Gordon's car. He was just Jeff Gordon then. He wasn't Jeff Gordon, race car driver."
Within the next year, though, Gordon would win the first of three national quarter-midget championships (against competition often four years older), then move on to four titles in go-karts that springboarded him to Midwestern sprint car success and eventually caught the eye of stock-car teams in the South. Fifteen years later, he would join Hendrick Motorsports and begin the multimillion-dollar trek to being a darling of Madison Ave. – a sports-marketing dream whose sponsor appeal and pop-culture crossover led to high-end endorsement deals, a wine collection and a chance to host Saturday Night Live.
Many roots on the rise to the most transcendent star in NASCAR history can be traced to that quarter-midget, which was meticulously outfitted and prepared by the mechanically inclined Bickford.
"John Bickford has really been the driving force behind Jeff Gordon forever," said NBC Sports analyst and former crew chief Ray Evernham, who guided Gordon to his first three championships in NASCAR. "A lot of Jeff Gordon and the person that he is goes back to his upbringing between John and Carol Bickford.
"For them to find that car, that very first car that started all this for them, too, would be an incredible thing for that family. I think right now it even means more to Jeff because he has a son and a daughter, but that car will probably mean as much or more than the car that Jeff won his last race in or last championship or this Sunday's car, because it really represents the bond between he and John Bickford."
Even a four-time champion with 93 Cup victories would love to own the wheels in which he captured his first checkered flag.
"Obviously, that car being the very first I ever drove, it would be pretty meaningful to have," Gordon said. "It has a tremendous amount of meaning."
* * *
[parallax src="https://nbc-sports.go-vip.net/wp-content/uploads/sites/21/2015/11/abbott_102015_0631-e1447963985286.jpg" height=600 credit="Phillip Abbott, Apex Photographic"]
Using a rake and a hoe, Carol and John Bickford marked off the best simulation of a quarter-midget track they could muster in the dirt of the fairgrounds near their home in Vallejo, Calif. Gordon ran thousands of laps on the flat, makeshift circuit before entering races at a track in Rio Linda.
"John and I got permission from a guy there to run him," Carol Bickford said. "We were there every opportunity.
"When we were doing that in Vallejo we would have friends of ours that had kids about that age. We would say we're doing this with Jeff. Bring your kids, too. Just about everybody brought their kids out, and not one of them would get in a quarter-midget. Jeff got in without much hesitation at a very young age."
Gordon is notorious for joking about his inability to recall many of his NASCAR races with much specificity, but the degree of bravery required for manhandling a quarter-midget left some indelible memories.
"I do remember the first time at the Vallejo fairgrounds," Gordon said. "I remember because I was so scared. You don't know what it's going to do. I do remember some of the early races at (Rio Linda). In one of the first races, I hit the wall and flipped and started screaming."
In the most memorable race with the "fuzz car," Bickford said Gordon tipped the car over four times while trying to turn the fastest lap in practice. The first crash occurred when Gordon didn't lift off the accelerator, causing him to drift high, climb the wooden wall with his right-rear tire and bend the rear axle while wiping out.
"He was crying and bawling, 'My car! My car!'" Bickford said. "I said, 'Jeff, your car is fine. Are your feet hurt?' 'No.'"
Bickford lifted the back of the quarter-midget while his stepson steered it into the pits. Bickford grabbed a hacksaw and replaced the axle while his wife ran interference on a group of parents concerned that Gordon was being pushed too hard.
"I grew up on the other side of the tracks, so I don't take a lot of direction from people, and I was younger," Bickford said. "I wouldn't say I was belligerent, but I had a pretty good use of the English language, and they'd know they shouldn't be around me when these parents would come up and say, 'Give him a break, don't force him.' My wife would stand there and say, 'Leave him alone, he knows what he's doing.'"
Gordon never got out of the fuzz car in the hour it took Bickford to fix it. He returned to the track and crashed twice more in the same spot, necessitating another lengthy repair.
On his fifth attempt, Gordon posted the quickest time of the eight kids in competition.
"A lot of who Jeff Gordon is comes from (when) he couldn't give up in times like those," Bickford said. "He just kept concentrating and didn't allow any distractions. He had 25 laps (to win) these races, and these kids would block him, and he'd learn how to set them up and pass them at the right time without crashing."
* * *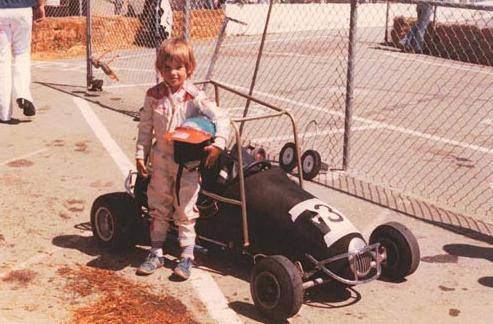 There is another quarter-midget that Bickford is trying to find – the most successful car that Gordon drove before moving into the midget class. It was sold in late 1981 to a man in Portland, Ore., whom Bickford recently tried to contact through social media.
"Jeff absolutely loved the car," Bickford said. "But I was never attached to any of these. The next car is always the faster one, so we'd put it off to the side of the garage and sell it."
The news didn't go over well when a 10-year-old Gordon wandered around the shop looking for his favorite car a few months later.
"He screamed, 'What do you mean you sold it?'" Bickford recalled with a chuckle. "He was mad ever since, so I'd love to get that car back."
Though Gordon doesn't have any cars from his time in midgets and quarter-midgets, he does have a replica of the fuzz car courtesy of a parting gift from Kansas Speedway.
An automotive technical school for high school students in north Kansas City, Mo., spent 61 days building the custom pedal car for Gordon. A student named Jacob Hite discovered the history of Gordon's first quarter-midget through an online search that included a story last summer in the Santa Rosa (Calif.) Press-Democrat.
"We thought it would be a fantastic gift, something at the end of his career that goes back to the beginning," said Hector St. John, a motorcycle road racer and instructor who helped commission the project when asked for help by Kansas Speedway president Pat Warren. "We got goosebumps."
Having worked before with teacher Jack Stow and his students on the pedal cars (some of which have been given to Kansas pole winners), St. John helped consult as the class designed and built the fiberglass body and roll cage from the ground up. Stow said a core group of six students worked almost daily on the pedal car, sometimes until 3 a.m.
Several were in the track's media center for the presentation to Gordon during last month's race weekend.
"The kids got to spend some time with Jeff, and it was awesome," Stow said. "I've been a NASCAR fan all my life. It was real nice to have someone like him that always did it right that I can always point to as a role model for kids, because he started so young. I try to get across that you're at the age now that he started setting the world on fire. Just do it like he did."
A smiling Gordon was touched by the students' gesture, noting his 5-year-old Leo "will love it" while marveling at some of the special touches.
"This is the closest I'll come to it until someone reveals that car," he said.
* * *
[parallax src="https://nbc-sports.go-vip.net/wp-content/uploads/sites/21/2015/11/abbott_102015_0658-e1447964061425.jpg" height=600 credit="Phillip Abbott, Apex Photographic"]
Bickford fancies himself as "a forensic car guy" from his experience in the formative years of harnessing Gordon's talent during the preteen and teenage years.
"Everything we bought for the most part were used cars," Bickford said. "You'd buy the car because it was an original and established and fairly fast car. I'd take it all apart and figure out what's unique about the car. Does it race better because it's crooked and lays into left turns?
"We figured out what it took and applied what we learned. Virtually every car that we got our hands on, we could make it fly. Part of it was Jeff's skill, part of it was that I knew my way around the motors and the suspension, and I had the time and tools. Once I got some of those things down, I could literally take anybody's car and do a few things to significantly improve the speed."
His intimate knowledge gives him confidence that he will recognize the fuzz car if it can be located. There would be the remnants of the axle repairs, and probably the numbers he had to grind through the fuzz to stick to a "tougher than nails" surface.
"No one would likely have ever taken the fuzz off the car because it's too difficult," he said.
Bickford believes he has a solid line on where the car might be after a few tragic twists. The man who borrowed the fuzz car died after Gordon's family moved to Indiana. Bickford said the grandson who raced it was paralyzed in a car crash and his parents split up. The car was then given to a man named Mike Thomson in Montague, Calif., but that's where the trail goes cold.
Bickford believes it was passed on again and likely remains in that area, but phone calls and Facebook messages haven't borne any fruit.
"Maybe my friends and I will make a trip to California, head up there with the guy's name and start banging on doors and go to gas stations and stores and just do the American Pickers deal," Bickford said. "Go out there and cruise around. It's an old country town, and I'm sure we could go have coffee someplace and say, 'Have you ever heard of this guy?' Put some pictures and a reward up there and see if we can find the car."
There are no elaborate plans if any of the quarter-midgets are located. Bickford just wants to restore them for Gordon, whose two children, Ella and Leo, also have shown interest in racing.
"I'm going to fix them up for the kids," said Bickford, who also has Gordon's first two helmets and is working on acquiring a third.
Evernham, a vintage car nut whose Americana show traces the U.S. history of the automobile and often revolves around recovering lost artifacts, has offered to help with the search.
"I can tell you that even though it's a piece of machinery, when they rolled that car off the truck, I had to turn around because I had a lump in my throat and tears in my eyes," Evernham said. "Even though they're inanimate objects, they can still create a lot of emotion."
Evernham recently recovered a vehicle he has been after for 42 years.
"If John knows where it's at, he'll get it, and hopefully, the person (who has it) will do him right," he said.