Miami head coach Jim Larrañaga had quite a bit to say this week after his Hurricanes knocked off No. 4 Duke in Cameron Indoor Stadium, and why wouldn't he?
His team, which lost to Eastern Kentucky and Green Bay in Coral Gables earlier this season, had just ended the longest home winning streak in college basketball. His team, which had scored just a combined 99 points in those two ugly losses, put up 90 on the Blue Devils.
How did that happen?
To hear Larrañaga tell it, it's pretty simple.
"You can't run offense, you must play offense."
Larrañaga's point is simple, really, but first, you need to understand what Duke wants to do on the defensive end. Head coach Mike Krzyzewski employs a pressuring, half-court, man-to-man defense. His guards will pick up defensively as soon as a ballhandler crosses half court, the goal being to force their opponents to initiate an offensive set 40 feet from the rim. The other perimeter defenders will be pressuring as well, overplaying passing lanes in an effort to make the first pass leading into the offense as difficult as possible.
There are wrinkles that the Blue Devils will use from time to time — they'll pick up defensively for the length of the court, they'll switch all perimeter screens and/or exchanges, etc. — but the simplest way to describe Duke's defense is this: Their main goal defensively is to prevent you from running what you want to run.
Here's an example from Duke's loss to N.C. State on Sunday. Rasheed Sulaimon is guarding Trevor Lacey, who was forced to handle the ball for 94 feet. As Lacey is trying to get the Wolfpack into their offense, look at how much pressure Sulaimon is putting on him and where Quinn Cook …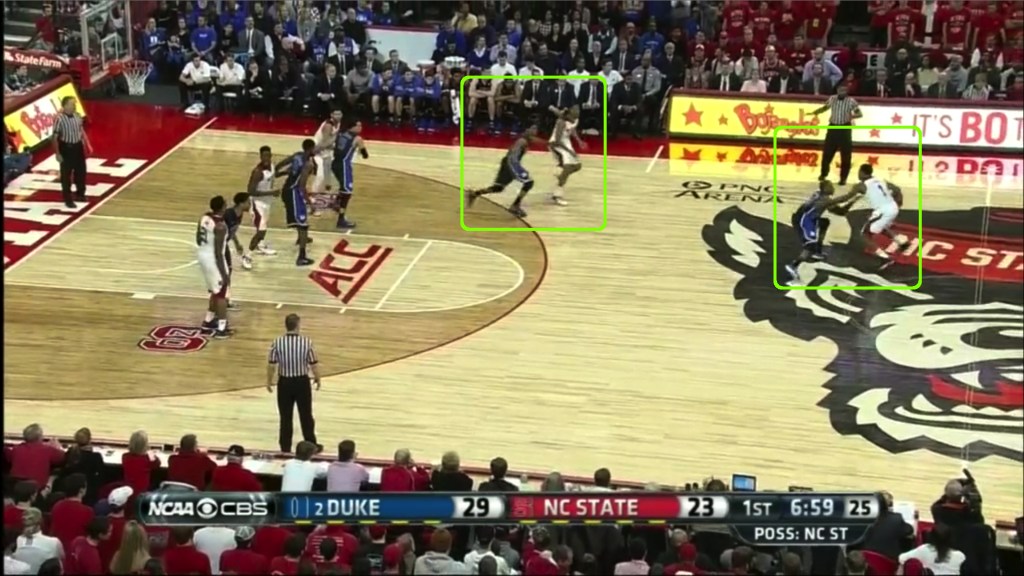 … and Tyus Jones are as Lacey looks to pass the ball to the wing: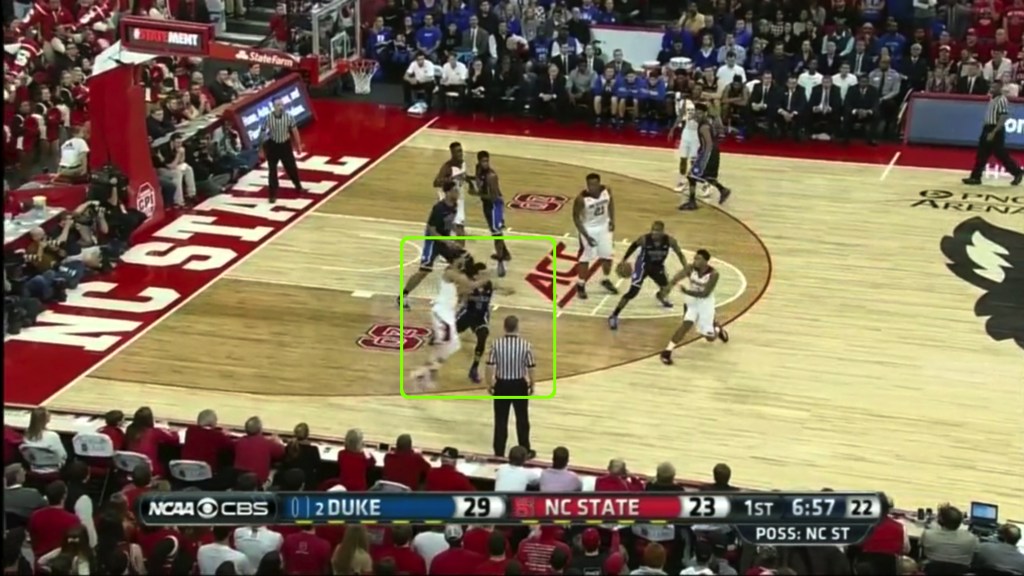 Here's the entire possession, which ends with BeeJay Anya finding Abdul Malik-Abu in a high-low action. Abu missed a layup.
[youtube=http://www.youtube.com/watch?v=DBV14nxFWDE&w=560&h=315]
And that's why Larrañaga's quote makes sense. You can't necessarily rely on having great schemes and great sets if you're going to break down the Blue Devils' defense. You have to be able to make plays against them, which, coincidentally enough, is the reason that Duke has suddenly gone from appearing to be Kentucky's biggest challenger to a team that can't seem to stop anyone.
The Blue Devils allowed Miami to score 1.22 points-per-possession in Tuesday night's 90-74 loss, which was marginally worse than the 1.24 PPP that N.C. State scored in Sunday's 87-75 loss. Those two performances have dropped Duke all the way down to 67th in adjusted defensive efficiency, according to Kenpom. They were 11th nationally entering Sunday.
It's hard to make any hard and fast conclusions off of just two games in a 31-game regular season, but there are some major red flags.
RELATED: What is Virginia's 'Pack-Line' defense, and why is it so effective?
Duke's defensive philosophy more or less dares opposing guards to try and break them down 1-on-1 off the dribble or in pick-and-roll actions. That's a problem because both of Duke's starting guards — senior Quinn Cook and freshman Tyus Jones — are small and below-average on-the-ball defenders. By itself, size isn't a major issue; Louisville won a national title with Russ Smith and Peyton Siva, who both stand about 5-foot-11, but Cook and Jones are nowhere near the pests that Smith and Siva were defensively. They shouldn't even be mentioned in the same conversation.
The problem gets magnified by Jahlil Okafor. As talented and dominant as he can be on the offensive end of the floor, Okafor is turning into a liability on the defensive end. For starters, he simply isn't a great rim protector. He's going to put up decent numbers because he's 6-foot-11 with a solid wingspan, but there isn't the same kind of fear for guards attacking the rim or bigs posting up against Duke as there is against, say, Kentucky or Washington.
Take a look at this clip. It's freshman Davon Reed, a 6-foot-5 wing, scoring over Okafor. Does he look concerned about challenging the big man?
[youtube=http://www.youtube.com/watch?v=FwqrJ61JHKY&w=560&h=315]
That's what cost Duke against N.C. State. Trevor Lacey and Ralston Turner (37 points combined) got the headlines, but it was the 31 points they got from big men Anya, Abu and Kyle Washington that really made the difference
That's not the biggest issue, however.
Okafor's pick-and-roll defense is.
Miami has a trio of really good perimeter scorers in Angel Rodriguez, Manu Lecomte and Shelden McClellan, and what Larrañaga has done this season is build an offense that is essentially built around putting those three in ball-screen actions.
"We run ball screens every day, all the time," Larrañaga said. "And our goal was to set one, if not two or three or four ball screens on every possession because our guards are best when they're on attack. The ball screen gives them a chance to get free a little bit and attack the paint."
"If you go behind the ball screen, they could hit a three," he added. "If you go over it, then they have a chance to attack the big man."
Thanks for doing my job for me, Jim.
Here's Rodriguez burying his fourth three of the game, as Cook goes under the ball-screen:
[youtube=http://www.youtube.com/watch?v=Ek38L8SseIc&w=560&h=315]
And, on the very next half court possession for the Hurricanes, here's Cook going over the screen and Rodriguez attacking the flat-footed Okafor, who commits a foul:
[youtube=http://www.youtube.com/watch?v=hfbyXHx-pBo&w=560&h=315]
This won't be the last time that this issue comes up, either.
Duke plays at Louisville on Saturday, and Louisville loves putting guards Terry Rozier and Chris Jones in ball-screen actions. And less than three weeks after that — after Duke plays on the road against St. John's and No. 2 Virginia — the Blue Devils will pay a visit to Notre Dame, another team that loves putting their talented guards in ball-screen action.
In total, Duke plays four of their next five on the road, which includes games against arguably the three best teams in the ACC.
The Blue Devils need to get these questions answered quickly.