BURNLEY, England – Start with the stands. Burnley, the smallest town ever to have its own Premier League team, plays in quaint old grounds near the center of town called Turf Moor. There's a lot of history at Turf Moor – it's the third-oldest stadium in all of England – but then there's a lot of history in Burnley. People here will tell you that the game of soccer, as we know it, was invented somewhere around Burnley. Heck, it might have been invented in the town of Burnley itself. Nobody knows for sure.
At Turf Moor, like at many other historic places, the stands are named for people. The East Stand, for instance, is named for Jimmy McIlroy, the greatest player in Burnley history. They called him Jimmy Mac and the Burnley Brain … he was a slick passer and effective goal scorer and the heart of a Burnley team that won England's first division some 54 years ago. Jimmy Mac has been dealing with some health issues but he still comes to games now and again, and when he does everyone in the stadium will cheer.
The South Stand, the one that backs onto the main street in Burnley, is named for Bob Lord. This is because Bob Lord himself named it. Lord was the son of a butcher in Burnley, which meant of course that he was a fanatical Burnley fan. After making his own money in the butcher business, he became chairman of his favorite football club. Lord was well-named – one journalist called him "Burnley's Kruschev," he rid himself of whoever he liked (including Jimmy Mac) and he regularly banned journalists who were not sufficiently appreciative of his genius – but he did have a touch of genius. Under Lord, Burnley had the best development program in the country, and he was the first to build a separate training grounds for the team.
The street the Bob Lord Stand lines, incidentally, is called Harry Potts Way after the manager when Burnley won England's first division in 1960.
Then there is the James Hargreaves stand. Ah, there's a soccer name if there ever was one – James Hargreaves. Who is he? A goalkeeper who made a spectacular series of saves in Burnley's inspired FA Cup run in 1914? No. A speedy fullback who anchored the defense when Burnley was one of the founding members of the Football League? No. A brilliant goal scorer when the team regained past glory?
Not exactly. James Hargreaves is a local plumber. He has generously supported the club.
A Massive Club
There's a wonderful phrase people sometimes use for soccer teams in England – the phrase is "big club" or, even more colorfully, "massive club." The phrase defies easy translation to the American sports fan. Yes, you might call the New York Yankees or New England Patriots or Los Angeles Lakers "massive clubs," but it doesn't really fit the description because no one sport, not even pro football, obsesses the nation the way soccer obsesses England.
A massive club is obviously a wildly successful team. Manchester United is the very essence of the massive club, as are Chelsea and Arsenal and Liverpool and the like. But being a massive club goes beyond success. It goes beyond popularity. A massive club is one with history, one with a loyal following, one that emerges from the hundreds of soccer teams in Britain and becomes representative of something grander. Leeds United was once a massive club. Nottingham Forrest was once a massive club. Portsmouth and Wolverhampton were once massive clubs. None of those four are even in the Premier League now, but they were known and admired and feared throughout the country.
Well, Burnley was once a massive club too. Burnley was one of the 12 original teams in the 1888 Football League. As mentioned, Burnley won the 1914 FA Cup (there are several books on the subject). In the 1950s, when Bob Lord ruled and Jimmy Mac scored and a former miner named Jimmy Adamson instilled ruggedness, the Clarets were contenders every year, and they were champions in 1960. Thousands of fans lined Yorkshire Street, the street that would soon be named for their manager Harry Potts.
Put it this way: Burnley was so massive a club then, they were chosen to come to New York and play in a new American experiment called the "International Soccer League." Ten of the best teams from around the world – including West Germany's Bayern Munich, Yugoslavia's Red Star Belgrade and Brazil's Bangu — played in a 30-match tournament designed to increase the popularity of soccer in the U.S. It simply made sense to everyone that Burnley should be the one team from England.
There's something else, though, about being a massive club in England: Many fans can't let go of that feeling. Circumstances change. Success fades. Decade after decade of losing and relegation piles on top of each other. But once you support a massive club, it's hard to think of your team any other way.
[parallax src="https://nbc-sports.go-vip.net/wp-content/uploads/sites/21/2014/10/burnley-sean-dyche-mar2014.jpg" credit="Sean Dyche has been manager of Burnley since October 30, 2012. (Getty Images)"]
The gaffer
Sean Dyche loves to talk about the grass length rule in the Premier League. Dyche is the manager of Burnley – in England, they often call managers "gaffers," an odd derivative of the word "governor" – and the Burnley gaffer is widely viewed as one of the bright young managers in England.
As reward: He's now charged with one of the world's most daunting tasks – leading a small-town team into the richest sports league on earth. There are 70,000 or so people in Burnley, a mill town 30 or so miles North of Manchester, which itself is 200 or so miles North of London. The town that had the record for smallest population in the Premier League was, well, Burnley itself five years ago. Burnley is smaller now, though.
There is no American equivalent – not even the Green Bay Packers, for many reasons – but for fun you might imagine the best football team in Scranton, Pa., simply being let into the NFL. The tart English media sums up Burnley's chances for success like so: "Cannon fodder."
"There's no actual given facts that we have no chance," Dyche says in a gravelly voice that sounds pitch-perfect under gray English skies. "It's perception looking in. It's not absolute fact. … We talk a lot here about probabilities and possibilities. They're different. It's probably not the case that we're going to win the Premier League. But is it possible? Well possibilities include anything, don't they?"
Dyche's sheer force of positive thinking has infected everyone around Burnley. Few outside the club thought Burnley had even the slightest chance for promotion last year – Dyche says they were bottom four in payroll in the Football League Championship, which is one level below the Premier League, sort of the Class AAA of British football. But the team played absurdly hard, and they played together, and they won promotion.
The players to a man talk about how Dyche's relentless enthusiasm inspired them throughout.
"The gaffer never stops," team captain Jason Shackell says.
Dyche will tell you: He is positive, but he's no dreamer. "Blind faith," he says, "is no way to live." When he first came to Burnley, for instance, he insisted that the board be honest with people and explain they simply HAD to sell off top goal scorer Charlie Austin. It wasn't even a choice. The club was financially strapped.
This club is always financially strapped. It's a way of life.
"I may not be anything else, but I'm honest," Dyche says. "When I first got here, the crowds were split about me, no question. I'd say fifty percent said, 'OK, he's bringing the team together, this is going in a nice direction, let's stay with it.' And I'd say the other fifty percent was saying, 'Wait a minute! We're a big club! We have to act like a big club!'
"We are a big club, if you look back in our history. But, if you're being honest, this is what you have to say: We have a big history. But we're not necessarily a big club."
Which brings us back to the grass length rule. The Premier League is somewhat fanatical about a rule that states that before every game the grass must be cut to precisely 30 millimeters. This, the Premier League will tell you, helps create a level playing field.
"Level playing field, right?" Dyche says smiling. "Here's a story for you. We played Manchester United, OK? (Angel) Di Maria costs 60 million pounds, right? (In) the whole history of the Burnley club, we've only spent 45 million. The whole history.
"We spent eight million pounds this year. In the grand scheme of our club, that is a lot of money. In the grand scheme of the Premier League, it's laughable. This is what we are. We're a real club with a lot of heart and a grand history. But …"
Just then, Darren Bentley, the team's media manager, comes in and screws a light bulb into a dangling electrical wire overhead. The team is using Premier League money to refurbish this small groundskeeper's house into a media center.
"Sorry, sorry," he says. "We only have one light bulb for now."
The Orient Game
When you ask around, you find that the biggest match in club history was not the 1914 FA Cup Final (1-0 over Liverpool) or the match that clinched the First Division championship in 1960. No, instead it is simply known as "The Orient Game."
This was 1987, and Burnley had fallen all the way to the fourth division of English Football. Again, there is no American equivalent; you could say it would be like the Chicago Cubs finding themselves in Class A ball, but it's not a fair comparison. For a town that so deeply reveres its football club – "It's almost like before the town was there, there was a football club," Dyche says – the fall had been devastating for Burnley. Like many small towns all over the world, Burnley has been hit hard in the last quarter century – a recent report from End Child Poverty said one out of every three children in Burnley is living in poverty. When the team went bad, fans simply stopped going to Turf Moor. The intense football passion was put into remembering better days.
"There are more books about this club than the second World War," Jimmy Mac would say.
The nadir was 1987. Bob Lord was gone, and the new management had no money to spend. The team tried to build with some old heroes, hoping that they might be able to rekindle just a glimpse of the team's great history. But old heroes are, first and foremost, old. The team won just 11 of 45 games and going into the last game needed something resembling a miracle to keep themselves from falling out of the fourth division and into what is called "the conference," a mishmash of little clubs in little towns that's also known as "non-league football."
Everyone understood: If Burnley fell into the conference, the team would fold.
To keep the club going, Burnley needed to beat Orient – a far superior team – and then have two other clubs lose. It was an impossible task. Orient had beaten Burnley 2-0 in their first match and dominated just about every minute. Hopes were bleak.
A huge crowd showed up for what could have been Burnley's final game. People all over England wrote letters of support for what had once been one of the England's massive clubs. Newspaper columnists came from every major city to write about the grand quest of Burnley FC to stay alive.
Well, it all happened. A man named Ian Britton scored the header that proved decisive in Burnley's 2-1 victory, and the other results worked out, and Burnley escaped relegation. Five years later, they were promoted to the Third Division, then a while later the Second Division, and Burnley fans believed again in the massiveness of their team. Now, barely more than a quarter century later, Burnley is in the most popular soccer league in the world.
The American
Lee Hoos remembers a television interview he saw with a Burnley fan back in 2009, before he become Chief Executive of the club. The Clarets had made it back to the first division of English football for the first time in 33 years, and right off the bat they beat Manchester United 1-0 and then Everton 1-0. There was joy in the city. Burnley was a massive club once more.
"You must really fancy your chances of staying up in the Premier League," the television reporter asked one Burnley fan.
"Staying up?" the fan said, incredulous. "We're looking to Europe!"
To get to Europe and play in the UEFA Championship League, a team has to finish in the top four of the Premiership. This obviously did not happen – Burnley lost 15 of its last 19 matches and was relegated back to the Championship immediately. But there was something about that fan's hope – no, his certainty – that deeply touched Hoos. It was one of the things he thought about when he took the job to bring back Burnley. It was one of the things he thought about when he hired Sean Dyche to be manager.
Hoos has plenty of Baltimore left in his accent – he grew up in the U.S. and still keeps a Baltimore Orioles jersey in his office. He knows his Americanism defined him when he first arrived at Burnley, even if he had been in English soccer for almost two decades.
"Burnley is very localized," he says. "I'll tell you something about Burnley that is different from every place I've ever been. You go to almost any other place, and you will see people wearing all different jerseys. You will see Manchester United jerseys and Chelsea jerseys and Liverpool jerseys. In Burnley, you only see Burnley. You only see claret and blue. Burnley is their team, it was their father's team, it was their father's father's team, it was their father's father's father's team.
"So you can imagine the shock, when now suddenly they bring in a new guy to run the team and not only is he not from Burnley, not only is he not from Lancashire, hell, he's not even English. You've got some Yank coming in here trying to run our club. I think for many of the dyed-in-the-wool traditionalists, that was very hard."
The Clarets success last year and their promotion to the Premier League certainly helped win some fans over, but not as many as you might think. Hoos says it is hard to explain to an American audience just how steeped in its history Burnley fans are. When asked if Burnley getting promoted to the Premiership is comparable to, say, Gary, Indiana having a team promoted to the NFL, he shakes his head.
"The people of this town will always think back to their heritage," he says. "They will always think back to when this team was up there. They will always think, 'We've got too much heritage to be a small team.' From a population standpoint, yes, we are a small team. From a financial standpoint, yes, we are smaller than other teams.
"But the people here will always believe, 'We've done too much to be considered a small team.' That's an interesting dichotomy."
Finding goals
The Premier League season is less than two months old, and already the Clarets had an astonishing 565-minute drought where they did not score a single goal. It is one of the longer droughts in Premier League history – tenth longest, to be exact – and it probably explains the Burnley challenge better than anything else.
When Dyche was hired, he made one thing clear: His team always would play its guts out. They would be the-better conditioned team, the harder working team and the more intensely driven team in every game. He told the fans, "I can't guarantee we will win every game. But I am guaranteeing you will get maximum effort from me, my staff and my players. That is the absolute minimum."
"I just felt hard work was an integral part of the area," Dyche says. "This is a tough area. People have to work really hard, they have to get out of bed and go to work for what is probably less than the normal wage. They're reflecting the team. And the team has to reflect them. The team has to give everything like these people do."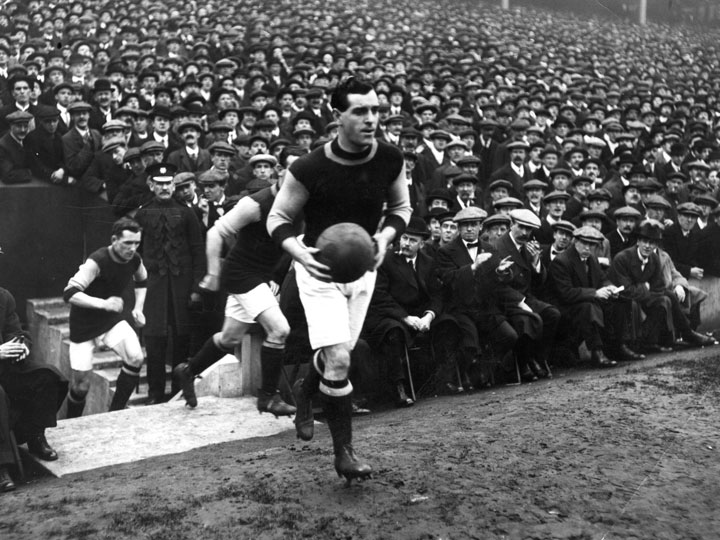 This connection is apparent when watching Burnley play Sunderland at Turf Moor on a misty gray Saturday. Every hustle play is met with loud applause. Every time Burnley stifled Sunderland's attack and forced a pass back to the goalkeeper, there was loud applause. The people do not seem especially interested in moments of brilliance; they want to see their team playing ferociously.
Then again, this might be because there were no moments of brilliance. The scored ended 0-0 or, as they say, nil-nil. Burnley did not score a single goal for the better part of six games, and part of this was due to the injuries of two of their best scorers, Sam Vokes and Danny Ings. But, more, it speaks to something that Sean Dyche cannot coach and something that Lee Hoos cannot afford: Pure, breathtaking talent.
The scoring of goals – unlike, say, the two-minute drill in the NFL – is not something that can be neatly orchestrated. Yes, plays are designed, crosses are practiced endlessly, players are always working on their shot. But goals require luck and precision and tactical awareness and an indescribable bit of class that Dyche calls, "A moment of quality."
"Sean and I talk about this all the time – you can't work with what you don't have," Hoos says. "If we had a Ronaldinho or a Cristiano Ronaldo … but we don't. We have to work with sensible contracts. We have to be smart. There are many examples of teams that made it into the Premier League and decided to go for it. Portsmouth is an example – Portsmouth went hellbound for glory at whatever cost, and it cost them big, big time. They almost went bust.
"We are not going to do that. We are building a club. We made many improvements to the grounds – we had to do that. We're making improvements at the training grounds, that is very important. We're building a club here. And we will play with what we have. I think we will score goals. We've created chances. I believe we will score goals."
The Clarets did finally break the drought and score two goals against Leicester City in a somewhat uninspiring match that Leicester manager Nigel Pearson called "a bit of a Championship (League) game." But everyone knows they have to score more or it will be another one-year-in-and-out of the Premier League. And Burnley desperately wants to stay up — there's a huge financial windfall that comes with getting promoted to the Premier League. Even the worst teams will get 40 or 45 million pounds ($65-70 million) just from television and profit sharing, never mind the extra money from merchandising. It is many multiples of what Burnley can make in the Championship League.
Can they score enough goals? Nobody knows, of course. The team has played devoted defense this year – they did have three consecutive clean sheets (shutouts) – and with the exception of the Chelsea game, where they were simply outclassed, and a 4-0 embarrassment against West Brom, they have been competitive.
"That's what I want," Hoos said. "I want us to be competitive every match. If we do that, everything will work out."
Can they do that?
"The thing about English football, the marvelous thing, is that there are no guarantees," Dyche says. "You take two teams, eleven players each, plus a referee, fluid play, free kicks, corner kicks, speedy play, you will have weird outcomes."
He smiles: "That's what we want, right? Weird outcomes."
David and Goliath and Burnley
So here is Burnley now, facing teams with ten times the payroll, playing in cities with twenty times the population, trying to win on hustle and guile and whatever bit of inspiration they can draw from the city where they play and the history of their team.
And, perhaps most of all, they have Sean Dyche. As Shackell says, it is Dyche's ceaseless energy that drives them. He's constantly running about the pitch during training, pushing and praising and demanding more. "He's just fantastic," Shackell says.
Of course, in the Premier League – like in American sports – things turn quickly, even for beloved managers. The amazing feat involved in getting Burnley to the Premier League is already forgotten. "My head is on the line every week," Dyche says. "That's how it is. And that's how it should be."
When you ask Sean Dyche what people think of his team's chances, he does not hold back: "They think, 'No chance.' They think, 'Cannon fodder.' They think, 'Yeah, they were a nice story last year, but this year forget it.' … That doesn't bother us. They're on the outside."
"This club has a unique history. The ups. The downs. It's a good story. I'm not just saying that because I'm the Burnley manager. The club fights above itself. It has for more than one hundred years. After all that time, here we are in the Premier League, holding our own. It's a good story."
You ask him if they can keep that underdog story going, and he smiles.
"You know the real story of David and Goliath, right? Well, that story is always told wrong. Goliath didn't stand a chance. David had a slingshot, and they're amazing weapons. David didn't think, 'Oh no, what am I going to do?' He thought, 'I'm going to slingshot this right at his head before he even gets close to me.'
"People from the outside will see the story one way. But we need to see the story more clearly. We have to be a tight-knit club that plays together and plays with our hearts. Then, when the moment of truth comes, who knows? Maybe we have a slingshot."