Danny Ings laughs, put his head in his hand and rolls his eyes.
He's joking again about the man who he owes more to than anybody else: his dad, Shane Ings.
Along the way there are many coaches, advisors and other people in the soccer world who have helped Ings on his way to the top as a star striker for Liverpool. However, his father's presence remains the one constant as their close relationship is both warming and indicative of the commitment and guidance needed to make it to the Premier League.
Ings, 23, has grinded his way from obscurity as a youngster in a local youth league to fighting his way up from the fourth tier to the top tier of English soccer. By his side the whole time remains one man and his partner, Sue Cooper, who have helped mold Ings into the fine man and player he has become.
"They have had the biggest impact out of everyone to be fair," Ings says, scratching his left knee, which now has a sizeable scar on the outside of it. "When I was 10, my parents separated and about a year later my dad met Sue and ever since then I lived with her and my dad. They used to take me to every game I was playing in, tournaments, everywhere. They took me down to Bournemouth when I was younger. They have definitely been the biggest influence and kept me on the straight and narrow and on the path to where I want to be."
Tracking the path of Danny's journey took me down to the South Coast of England — a place where the sea salt can be smelt in the air as a stiff breeze whistled up Southampton Water.
Netley is a small suburb of Southampton close to the Solent, where a humble home saw Danny and his two sisters grow up. He lived a stone's throw away from a local park which would help him achieve his hopes and dreams.
Those days spent on "Netley rec," replicating the stunning goals local legend Matt Le Tissier scored, were to become the stuff of legends as the grass pitches and soccer pitch in a cage on his doorstep gave him somewhere to hone his skills and express himself.
"He had so much ability," Shane Ings explained. "If I would pass it to him, he wouldn't stop it with his strong leg. He would stop it with the inside of the left, not outside of the right. He would get that. We would do everything. Keep-ups to each other and there is a bar just by the rec there. It is a concrete post with a metal bar going across. When we finished our training session I wouldn't let him come home unless he hit that bar from about 40 yards without touching the ground."
[MORE: Watch every Premier League game on NBC's Live Extra]
Telling tales of kicking a ball on a Bournemouth beach with Danny as a two-year-old and strangers coming up and asking "wait, how old is he?", Shane knew his son had a special gift.
Growing up on a modest street in a modest part of a largely modest city in southern England, Ings' upbringing saw his family "fight around for the pound" to try and help him achieve his dreams of going pro.
The journey was long, tough and winding. But he did it, and now look at him.
A few weeks after I met his family, Ings was grinning from ear to ear as he greeted me at Liverpool's training complex. The heavily tattooed striker made his England debut in October, but two days later his season was all-but-ended as he ruptured his left ACL in a routine training session, his first under Liverpool's new boss Jurgen Klopp. At first, forever the fighter, Ings believed he would play again this season, but it looks increasingly likely that his debut season at Anfield was ended in October.
"When I got the injury I said straight away I will play again before the season finishes but I think with the advice I've had of the surgeons and physios, I know they won't risk me and I don't want to risk it myself," Ings said. "If I'm back and feel 100 percent and I am ready, I will be itching to get back to be part of the squad. If I am not 100 percent and even if I am 98 percent, with this kind of injury, I will make sure I work hard enough and be ready to come back in preseason and go again. I am hoping and I'm going to work as hard as I can to get back before the end. Time will tell."
His untimely injury aside, Ings' story epitomizes the rags-to-riches narrative.
Growing up, a strong focus to remain on the straight and narrow when everything else seemed to be falling down around him – and distractions lurked in every corner – got him to the top. At the age of 23, he is now overcoming the third major knee injury of his career. Looking at the determination etched over his face, you believe him when he says he'll come back even stronger this time.
"This is all about the highs and lows of football. I was at the happiest point of my career and then, at the time of the injury, I felt like I was at my lowest point," Ings said, furrowing his brow. "I just felt like I got my foot in the door. I was becoming established here at Liverpool, playing games and scoring goals, keeping my place in the team and had made my debut for England, then somebody took that all away from me. It is absolutely gutting because football has been my life. If I can't do what I love doing then it is like someone having their kids taken away from them. That is how I felt. I know that I am going to come back extremely strong."
Ings has had to be extremely strong and has battled against all the odds just to get to this point.
***
THE RISE
In October 2015 – it was the same day he scored for Liverpool against Everton in the Merseyside derby – Ings was called up by the English national team for the first time. When he got the text from England's secretary, he thought it was a "windup" from one his friends. It was out of the blue, "completely unexpected."
Out shopping for the day, Sue got a text message which she showed Shane. Their reaction? "Woah." Then, predictably, some banter toward Danny arrived from Shane. Ings' international call-up meant they had to postpone a fishing trip down in Southampton they'd arranged to take place during the Premier League break when Danny visited home.
"It was just fantastic wasn't it?" Shane said. "I don't think I've ever enjoyed shopping so much! The old butterflies were going and I think I felt it more than he did. I phoned up Danny that night and said to him 'do you realize I've had to cancel all the bait?' Seriously though, we are immensely proud."
As we recalled that memorable moment in the back room of the Ings household, overlooking the garden where Danny used to smash up all the solar-powered lanterns and butchered plants with a ball, Sue got up and picked a mug out of the back of a kitchen cupboard. On it read: "Danny, born to play for England."
Thousands of those mugs would've been made and sold to kids up and down the country but now Danny can have a cup of tea out of it the next time he's home knowing he's achieved it.
"That was his dream. Always to play for England," Cooper said. "We bought that cup years and years ago."
"To go from Netley rec to Hamble School, knocking around with all those boys to play for my country, it is an achievement in itself," Ings said. "But it is an achievement that I only want to be the start and I want it to carry on when I am back from this injury and hopefully become a regular one day in those squads."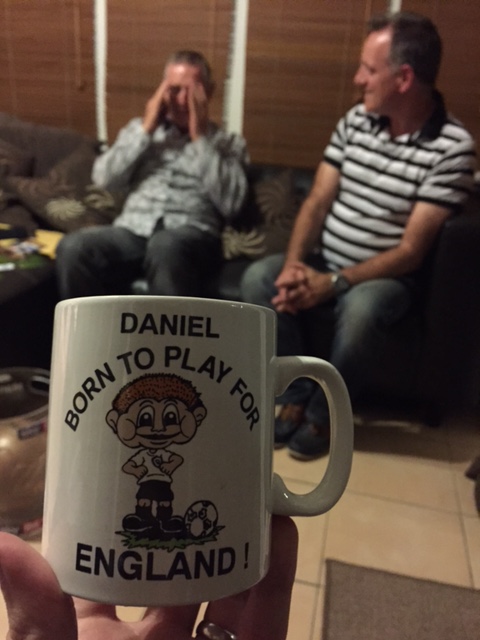 The rise for Ings has been a dramatic one.
Looking back to 2010 when making his way into Bournemouth's team, Ings couldn't drive and his family would often run out of petrol taking him to and from training 30 miles away.
Before one particular first-team game when he first broke through, his Dad drove him but they only got as far as the motorway.
"I remember once I was on my way down to a first-team game and I wasn't driving at this point. My Dad actually broke down on the hard shoulder of the motorway. I had to get my friend to drive out, pick me up and take me to the game whilst my Dad sorted out the car," Ings laughed. "It's his own fault because he said 'don't worry it will get us there' but every day he loses his keys, his phone. He loses everything, he is just one of those guys. The amount of times he ran out of petrol and I would have to turn up to football late. It is funny when you look back at it now. In five years to be in that position to where I am now. It is a huge step. I am extremely grateful for that and how quickly it has happened."
A loan spell at Dorchester Town (who then played in English soccer's seventh tier) came after he signed his first pro deal at Bournemouth, which, by the way, was only initially for three months as the club was in dire financial straits after previously battling against a hefty point deduction just to stay in the Football League.
"At every stage you would pat the nipper on the back but not too much," Shane explained. "You can't say 'you are as big as Rooney!' That is just ridiculous. We would say, 'go with the flow Danny. Just keep working mate, keep working. It all fits into place.' We didn't know that."
Ings soon made his mark for Bournemouth in the 2010-11 season in League One – the third division in England – under the guidance of young manager Eddie Howe, as he signed four contracts in his first 12 months as a pro and then turned down a fifth to make the step up to the Championship and play for Howe at Burnley.
After injuring his knee in his first training session with Howe at Burnley (sound familiar?), he went on to become a hero at Turf Moor, scoring 26 times in the 2013-14 season to get them promoted to the Premier League. Ings was also crowned the Player of the Year in England's second tier. Eleven goals in 35 Premier League games followed last season as Burnley were relegated in the penultimate weekend of the campaign. But Ings sealed a summer move to Liverpool, less than five years after he made his debut for Bournemouth in League One as an 18-year-old.
There was a lot which came before that which made his rise to the top taste even sweeter.
***
THE GRIND
From almost released by Bournemouth as a 15-year-old to being released by Southampton and brushed aside by Chelsea before settling to play Sunday youth football with friends, it would take a lot for Ings to get back in at the pro level.
So even when everything seemed to be caving in on Danny, his dad was there to help him through it. That motivated him even more.
"The motivation came from my dad, really. I didn't know anything else apart from football," Ings explained, rubbing his forehead. "Even in school… ah, I regret it to this day. I wasn't the best at school. Not behavior-wise. My attendance was up there but I just wanted to play football. To the point where I tried to get out of class to try and play PE with the next class doing that. I think the teachers at the school understood the amount of love I had for the game then, so a few of them would let me join in. That was probably my motivation, my dad and how much I loved the game."
If the bond between Shane and Danny seems stronger than a usual father-son relationship, that's because it is.
"It was all about stability when Sue arrived. Danny had some family trauma at the age of 10. His mum left us and left me with it," Shane smirks and half laughs. "And then I was on my own for nearly a year until I met Sue. She has been a mother figure to Danny."
Ings revealed that going through tough times personally at the same time that he was being overlooked by pro clubs all proved a bit too much.
"It was tough then, because at the same time I kept getting knocked back by clubs. So I felt like everything was coming down on me," Ings explained. "I have never accepted who I am. I have always wanted more, really, even off the pitch. I am quite a demanding person of myself and I think when I was younger, that was probably why I used to cry and shout at myself and stuff like that. It was hard for my dad to control."
That anger manifested itself on the pitch, too.
"He went through a hard time with his mum leaving him," Shane said. "We'd go to tournaments where we didn't win or I remember one time he fouled someone and he should have been sent off. It was blatant. So bad. Anyway, he went on and got the winning goal in the final but that day really got his goat. One of the other parents had to hold him back. But his ambition is a winning ambition."
Shane took his coaching badges to try and coach not only his son but others to play the game the right way instead of being worried about winning, as the part he played in Danny's journey to the top cannot be underestimated.
"We started off by the police training college in Hamble. They said to us, there is some ground over there, you can have it," Andy Parker, one of Ings' former coaches explained. "It used to be a pitch but was badly run down. We said, 'what do you think? Can we make a pitch out of this?' We set up the goals, measured the pitch and set it all up and that's where it all started. We did it all ourselves."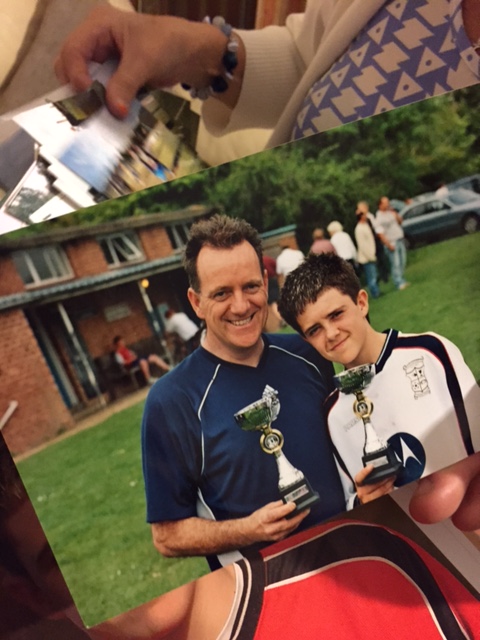 Scoring 11 goals in some games, winning every individual trophy going and often leaving school early to be picked up at a motorway petrol station by Bournemouth's reserve team on the way to a game, Ings clearly needed a chance at the next level.
Even at school, he spoke about scoring in a cup final from the halfway line and as everyone celebrated all you could hear from the sidelines was Shane's booming voice: "Danny, stop showing off."
Speaking to Ross Wallis, who attended Hamble Community Sports College but was three years older than Danny, he echoed Ings' view that playing with the older kids helped toughen him up and make him the player he is today.
"He was always so small and a lot younger than us but wanted to play football at lunch time and he was half decent… so we let him play with us older boys," Wallis said. "He has the best attitude I have ever seen. He's just a top kid who does so much for charities and others."
Others who know Danny revealed he is cheeky but was always committed to playing. Off the pitch he's laid back, likes to watch DVDs – Jim Carey is his favorite actor – and go out to eat with friends and family. Whether he made it in the pro game or not, you get the sense not much would be different.
He finally got a chance to go pro when a chap called Dean Mayes, who his dad – who else? – knew from taking his coaching badges mentioned that AFC Bournemouth's youth side needed a striker. The rest is history, but Ings wasn't sure if he had a future in the game and thought his career may have been over before it had begun after being turned down by Chelsea.
"That was when I just switched off from all the pressure and thought 'maybe it is not meant to be,'" Ings revealed. "At the same time my dad was like 'never give up' and said to me 'look, it's never over. You are still young. For now, just enjoy your football with me' and that's what I did and it was the best thing that ever happened to me to be fair because I was enjoying my football and I didn't feel any pressure. I was playing better."
That is when Ings got a trial at Bournemouth. Rising up through Bournemouth's academy ranks, Ings used to get up at 6:30 a.m. every morning as a teenager and embark on a journey along the South Coast from Southampton to Bournemouth.
Those lessons learned on long commutes every day when he couldn't afford his own place have held Ings in good stead to stay grounded in the flashy world of the Premier League.
"Football nowadays, a lot of the young lads get everything given to them on a plate," Ings said. "You don't have to do the work for the senior boys like clean the changing rooms or the boots. That part of it has now gone. So I think I am extremely fortunate that I have experienced some of that because it has made me humble and appreciate everything that I have now."
What Ings has now is a longterm contract at Liverpool, a club he joined from Burnley last summer after his deal with the Clarets ran out. Due to him being under the age of 23, Liverpool had to pay Burnley a transfer fee which would be set by a tribunal if the two sides couldn't come to an agreement. Talks are still ongoing but after Ings' quick start to life at Anfield and making his England debut, the fee is expected to be around $10 million.
That's a far cry from his humble beginnings, something and somewhere he's never lost sight of. After a Burnley game at Everton last season where the Clarets lost narrowly, Ings walked out of Goodison Park with his hood up but among the fans as he met his father and his friends in the parking lot.
"Ingsy, when are you going to sign for us mate?" shouted a group of Everton fans outside a pub.
Danny laughed and gave them one of his cheeky grins. No airs or graces, he just wants to be one of the lads.
"It goes back to the stuff that I've had to go through to get at the level that I am at now. I don't like people seeing me as that guy, I like people seeing me as 'Danny, that lad who walks around the rec or you see out at dinner,'" Ings said. "When I go back to Southampton there is probably a lot more attention than I get up north because of where I played Sunday league for five years, it is the same faces. They have seen my journey where I used to play with them. I think that is the reason why I probably get noticed more down south, but I try to block it out and be a regular lad who has time for everybody who approaches me."
***
THE GOOD GUY
Danny does have time for everybody, and then some.
Ings' reputation as one of soccer's good guys – often staying for many minutes after games and training to sign autographs and pose for pictures – blossomed from one incident during the 2013-14 season.
A photo of Ings giving a young handicapped Burnley fan his boots at the end of the game went viral. Now, he has his own self-named foundation in Burnley to help children suffering from disabilities who want to play soccer.
"It was one young lad who started it with me," Danny explained. "There was a picture with the lad. I was taking a corner and I was talking to him and then when the final whistle went I went over to him and gave him my boots and didn't think anything of it. The difference it made was huge. So I just thought 'wow, if one pair of boots can do that for somebody, what can I do for everybody else?'"
Now, Ings stages sessions for over 600 disabled children at Burnley.
"To see the parents come over and appreciate the stuff you do, the sessions you put on, it is great to be able to change people's life in that respect and make them part of my journey. Unfortunately they are not going to have the life I am going to have through football because of the physical demands. If I can make them part of my journey it makes me happy and hopefully it makes them happy as well."
With plans to expand the foundation to both Liverpool and Southampton in the future, Ings' actions brought a tear to the eye of his father.
"It brings a lump to your throat sometimes," Shane said, holding back his emotions. "Especially when he said: 'Dad, I am starting a project for kids with disabilities in Burnley.' It is fantastic and that's why he wants to give back. He knows what it is like to have no money and absolutely nothing. He survived on what we gave him when he was in digs at Bournemouth in his first year. We were funding him and gave him about 40 quid ($60 a week), if that."
Ings doesn't like to go into too much detail about the charity work he does or what else he does for others, but it's clear when talking to those around him that he's incredibly generous as he tries to help out any way he can.
Where does his generosity come from? His father, of course.
"You teach him not to be selfish. There is no point being selfish. It is ridiculous. There is no need to be selfish in life so if you can help someone, help someone," Shane said passionately. "They will help you back because one time you are going to need help. That is a good philosophy to live by. If you can help someone it does come around. Karma does come around. He is very generous, almost to a fault sometimes."
[parallax src="https://nbc-sports.go-vip.net/wp-content/uploads/sites/21/2015/12/151204-ings-tatoo.jpg" height=600 credit="Ings' tatoo of him and his father"]
THE PEAS IN A POD
"The way Danny is, you can see where he gets it from can't you?" exclaims Parker — who helped coach Danny at a young age — as he sits in a circle with Shane and Sue. "These two are incredible. I don't think he could get any different than he is with Sue and Shane. You can see he is just like these two. He's like a pea out of a pod."
The love Ings has for his family and where he's from is strong. He admits he misses the South Coast after spending the last five years living in and around Manchester – spending Christmas at home for the first time in five years is something he can't wait for – but his father is never far from his thoughts.
On his heart, Ings has a huge tattoo of a silhouette of a man and a boy walking hand in hand. The boy has a ball under one arm. It's him, side-by-side, with his dad.
"It was just for him to know that even though I am at the other end of the country now and working up here, he is still the biggest influence on me," Ings said with a smile. "Even if he watches the games on TV, when I am driving home and for example, say if I've not had the best of games, I know he is the first one to call me and get in to me. He's fantastic. I couldn't ask for a better dad to mentor me and help me become the footballer I am today."
Shane, who played soccer locally at an amateur level, had a lump in his throat when talking about the tattoo.
"That tattoo is brilliant. That is just like it was. He came with me everywhere. Whenever I played football, he would be there, home and away. It was in my blood, playing football," Shane explained. "Now I'm having these selfies and the Liverpool fans were telling me they really like him, his work rate and that he is giving everything. Whether you lose, you've got to come off that pitch having given 100 percent and saying I can't give anymore. That's what those fans like. Danny would play for 20 pounds a week as long as he was playing. The money hasn't gone to his head at all."
Ings revealed that he recently bought his family a new home less than a mile away from where they live now. He took his dad around to look at a house the last time he was home and the realtor played along with it all, showing Shane around and giving him the spiel, when in fact, Danny had already bought it for him. Later this month, Danny will get to spend one last Christmas at the house where he grew up before the family moves on.
At their longtime family home, Shane points over my right shoulder and over the fence. A small slither of a park is visible in the pre-dusk sky. It was there at "Netley rec" that a future England international was nurtured. With barely room for one pitch let alone two, there was also a small pitch in a cage which became Danny's Wembley.
Ings described it as "his patch" and Sue would often have to drag him home – Danny still in school uniform – in the evenings from the cages when it was time for bed.
"It was walking distance from my dad's house and every day he used to take me out and we used to knock around down the park," Ings said. "When I was younger it was great. Having that park so close to the house I could go out and practice and that was where I got my work done. He used to set me challenges. The metal bar… he used to beat me at all the time and I would never live that down. He never used to let me come home until I did it. I remember I used to beat myself up and get upset if I didn't do it, but I had to make sure I did do it. Those are the little details that have helped me on my journey to where I am today and person I am off the pitch."
Lounging back in sofas in the lobby of Liverpool's Melwood training ground with the Reds' fifth, and perhaps most famous, UEFA Champions League trophy on show in a glass box behind us, he'd gone a long way from the rec and being teased on building sites by his dad during a brief stint to see if he could cut it as a brickie. Every Liverpool employee who passes us says hello to Danny. He winks, nods and chats back.
Going back to the building site, he admitted it wasn't for him to stay in the family trade – Shane owns a small construction company called "Build Ings," which Danny mercilessly makes fun of him for the name – and he didn't last a week on site, something he calls "an experience" which made him realize how hard he had to work to get the most out of his talents on the pitch.
Sue told stories of how Shane used to tease Danny "terribly" as he'd wake him up while he slept on the sofa and tell him he was late for a game and going to miss kick off. Then Danny would rush to get his boots on and then realize it was 10 p.m. on a Thursday night and there was no game to go to. He would often fall asleep on the sofa after a long day training and traveling to Bournemouth, with hilarious tales of sleep-talking playing into his father's hands for numerous pranks. Two peas in a pod, always ready to laugh and joke around.
They look incredibly alike and Shane told a story about going to Old Trafford and sitting among the Liverpool fans to watch them play Manchester United earlier this season, as Danny made his first start in the Premier League for the club.
"I could see eyes on me and someone plucked up the courage to say 'are you Danny Ings' old man?'" Shane explained. "Then they asked if they could have a selfie with me. So I'm getting all of that now."
Recalling that story, Ings laughed hard and revealed his dad recently got an offer to play for an over-40s team just because his son plays for Liverpool and England. He then put on a deadpan expression and delivered the following.
"You've seen what my dad looks like, we look the same don't we? He has that smile. Spitting image," Ings laughed as I nodded my head in agreement. "I think people recognize him and he sort of plays up to it. If I ever see him getting a picture with someone I will slap him on the back of his head! I will."
With Ings currently going through a tough time with his ACL injury, his dad, predictably, is right there alongside him.
"I am on this strict diet at the moment where I am trying to get cut up and my dad rang me the other week and he said: 'I am on the same diet as you now. I've lost about seven pounds.' And I just said to him: 'why they hell are you doing it? You're not coming back from anything.' Then he said: "Well, I am part of you aren't I?" All I could say to him was 'you are a loon mate.'"
Always laughing. Always joking. Always in it together.