DELRAN, N.J. – Penalty kicks are mind games. They are soccer's version of the stare-down in a chess match just before checkmate; that look that asks, 'Are you sure about that move?'
Unlike chess, however, penalty kicks involve two players making a move at the same time. And unlike a free-throw in basketball, a penalty kick could be the only scoring play of the game.
Some goalkeepers guess, knowing their only hope of making a save rely on getting a head-start before the ball leaves the foot. Other goalkeepers wait to see where the ball goes, despite the nearly impossible amount of time they have to react to a shot from such a close distance.
There are questions the shooter must face, too. Hit the ball with power and slam it past the goalkeeper? Or wait for the goalkeeper to make the first move and gently place the ball to the other side of the net for the simple finish? Mentally, players can miss or save a penalty kick before the ball is even kicked.
It's a cool autumn evening at PPL Park in Chester, Pa., an industrial but modern soccer park in suburban Philadelphia that was built during the nationwide MLS stadium boom of the last decade. The venue is a stone's throw from New Jersey on the banks of the Delaware River, tucked impressively beneath the Commodore Barry Bridge.
Today is the all-important semifinal of the regional qualifying event for the 2015 Women's World Cup in Canada. The United States – ranked No. 1 in the world for over six years running – is playing Mexico and the winner automatically qualifies for the World Cup. On paper this is a gigantic mismatch. The U.S. had won 29 of the previous 31 meetings with Mexico, outscoring their southern neighbors, 131-11. The United States hadn't lost a home game in almost 10 full years, running off a 90-match unbeaten streak. The Americans just don't lose at home. Period.
But this was Mexico in a World Cup qualifying semifinal. Four years ago in Cancun, Mexico shocked the world and defeated the United States in a World Cup qualifying semifinal, embarrassing the Americans and forcing them into a playoff against Italy to make the 2011 World Cup. However weak this Mexico team looked during recent lopsided losses to the U.S., the Americans were facing nightmares of yesteryear.
This was a big moment.
With the U.S. leading 1-0 on an early Carli Lloyd goal, Mexico was harshly called for a foul in the box at the half-hour mark. Lloyd stepped up to take the penalty kick, and in one fluent motion, she swung her right foot through the ball and watched it beat Mexico goalkeeper Pamela Tajonar, who guessed the wrong way. It was hardly a pretty or strong shot, but it went in. Before the ball even crossed the line and knowing it was about to, Lloyd – with the collar of her all-white U.S. jersey confidently popped in the air – raised an understated, clutched right fist into the air to celebrate.
The U.S. would go on to beat Mexico, 3-0, and qualify for the World Cup.
"These are the moments I live for," Lloyd said after the game. These and much larger ones, of course.
Lloyd is a two-time Olympic hero, scoring the gold-medal winning goal for the U.S. women at both the 2008 and 2012 Games. She is the only player in history – male or female – to score in back-to-back Olympic finals. She wears the 10 shirt for the national team (customarily given to the top field player on the team). And yet, despite her heroics, she is hardly the face of U.S. Soccer.
Delran is a small, unassuming town. It's more suburbia than city, more country than Jersey Shore, and definitely more Philly than New York. It sits close to the shores of that same Delaware River, a few miles back from the highways and but a half-hour from PPL Park.
Delran is the kind of place where everyone knows everyone, and everyone definitely knows a local celebrity. The town has produced two world-class soccer players: Peter Vermes – current coach of Sporting Kansas City and former U.S. men's national team player – and Lloyd.
There's a small, unspectacular soccer park with a few fields in Delran; it is named after Vermes. Lloyd used to play soccer with boys at those fields. It's a common story amongst the world's elite women's soccer players: Whether they were too good to play with their female peers or there weren't women's teams that they could play for, players grew their games through competition with their male counterparts. It's a way for women's players to both improve and to get tough. Fast.
Much like she is today, Lloyd was a perfectionist even as a kid, repeatedly kicking the ball against the curb in front of her house just down the road. It's another common refrain among soccer players – finding a surface to kick a ball against when there is nobody there to train with. Lloyd's affable neighbor is outside doing some housework and is delighted to see the U.S. star driving through the old neighborhood. Unprompted, he recalls the same young Lloyd, kicking against that short slab of concrete on the corner of the back road. "She would kick the ball against that curb every day," he says, "and when it would go over, she would get so mad."
Lloyd played for the Medford Strikers as a kid, winning two New Jersey State Cups. Longtime coach and New Jersey resident James Galanis remembers what Lloyd was like back then. He worked with the Medford club at the time and saw how easily Lloyd's team, loaded with talent, would walk over their competition.
"This allowed Carli to cruise just on talent through her youth career," he says, standing on that same somewhat hidden field in a wooded area of Medford. "I used to see her and think, 'This girl's going to waste her talent.'"
Lloyd went on to star locally at Rutgers University, finishing as a semifinalist for the MAC Hermann Trophy, college soccer's version of the Heisman Trophy. She got called into the U-21 women's national team, but she was cut before being called back in due to another player's injury. She was successful at the youth national team level, winning four straight Nordic Cups (a major women's youth tournament in Scandanavia) from 2002-05.
But nothing came easy. Lloyd readily admits she wasn't fit, an aspect of her game she struggled with throughout her early career. Mentally, she also struggled to adapt to life at the next level. "Eventually she went to the U-21s and she met all the other Carli Lloyds," Galanis said.
"I was always the kid that had a lot of talent, but I didn't work hard and I wasn't fit," says Lloyd. "I always had coaches telling me, 'You can make the national team,' but no coach helped me get there. I was on the Under-21s, wasn't doing well, wasn't starting, didn't make a roster and then got called in. I thought about quitting. I thought, 'I just can't do this.'"
Soon after nearly quitting, Lloyd became reacquainted with Galanis in 2004. Lloyd needed a mentor. Galanis had already seen the potential in Lloyd from previous years and agreed to train her for free, promising he'd turn her into a star. His only condition was that Lloyd tell everyone how she made it when she became the world's best.
"Since then it's been nonstop progression," Lloyd says.
[parallax src="https://nbc-sports.go-vip.net/wp-content/uploads/sites/21/2014/11/carli-lloyd-jogging.jpg" height=600 credit="(Photo by Erica McCaulley)"]
James Galanis is mellow as far as coaches go. He's the anti-Bill Belichick, approachable and willing to talk to media and fans alike – and especially eager to talk about Lloyd. He's Australian-born and still distinctly carries the accent.
He drives a PT Cruiser that is customized wheel-to-roof and hood-to-trunk in the blue and gold branding of his soccer training business, Universal Soccer Academy. On the car are photos of some of the top players with whom he has worked, including Lloyd and her former U.S. teammate Heather Mitts.
Galanis' work with Lloyd has been as much mental as it has been physical. He develops players – Olympians and 10-year-olds alike – based on five pillars: mental toughness, technical skills, tactical skills, physical power and character.
Lloyd always had the technical skills, and her physical power – from striking a ball harder than almost anyone in the world, to crunching tackles in the midfield – has never been in question. But the intangibles needed refining. They were always a struggle for Lloyd, who directly credits Galanis for where she is today.
Her breakout moment came in 2008 when she delivered her first golden moment to help the U.S. women secure a second straight Olympic title. After flicking the ball to Amy Rodriguez, Lloyd got the ball back and hit a low, dipping shot that skipped on the muddy grass and fooled Brazilian goalkeeper Barbara. It was the game-winner in extra time of the gold-medal match.
The years that followed, though, were a struggle. Her first season as a professional in 2009 was a bad one. In Chicago she was a time zone removed from Galanis for the first time since coming under his wing. Coping mentally with the individual and team struggles wasn't the same. Putting in the extra fitness wasn't as easy. So that offseason Lloyd signed a new one-year deal with Sky Blue FC, based in central New Jersey. She was home, where she was more comfortable. This was to be her turnaround.
But Lloyd broke her ankle and hardly played that year. The next year she went to play for Atlanta, where Galanis had taken over as coach. And while she was back to a comfortable setting under Galanis, she was hardly there due to national team commitments ahead of the 2011 World Cup. The team, based around young, inexperienced players, ended the season 1-13-4.
Lloyd enjoyed success at the national team level, however, leading the United States in minutes played in 2011 and helping the team come within minutes of winning the World Cup, only falling to a Japan team that was widely accepted as a team of destiny after overcoming a devastating tsunami months earlier.
Carli Lloyd's time to truly shine would again come on the Olympic stage at one of the most famed soccer grounds in the world: the new Wembley Stadium in London during the 2012 Games. There, Lloyd first pounced on Alex Morgan's cross to convert eight minutes into the gold-medal match – another final against Japan – and later unleashed her famous, furious shot in the second half after a surging run up the middle of the field to score the eventual game-winner.
Destiny, this time, was on the side of Lloyd and the Americans. To the casual fan it was déjà vu – a top player coming up big again. But three weeks earlier, it would have been hard to imagine Lloyd starting that game, let alone playing heroine.
Ordering brunch at the same bagel shop at which she ate as a kid, Carli Lloyd has to wave off the old breakfast sandwich that the store owner recalls as her old favorite. "I don't eat like that anymore," she says, proceeding to order a healthy egg-white omelet. It's a simple place in a small-town strip mall, identifiable only by a sign that says "bagel shop."
Part of Lloyd's transformation over the years has been her new approach to being a professional player on and off the field. United States goalkeeper Hope Solo has seen the change in her teammate and friend. Solo sees Lloyd now carrying water everywhere she goes to stay hydrated. She sees Lloyd taking care of her body. And she sees Lloyd working harder than anyone else. "Her off-time is like camp for us," says Solo.
That wasn't always the case.
Solo was a rookie on the now defunct Philadelphia Charge in 2003 when Lloyd, then a junior at Rutgers, trained with the professional team during the summer. "I remember thinking, 'Dang, this girl has a lot of talent,'" Solo said. "A lot of raw talent, but she didn't know what it was like to be a professional at that point."
Glenn Crooks remembers the first time he saw Lloyd play. He was the Rutgers coach at the time and he went to watch a club team play the Mexican national team in New Brunswick, N.J. Lloyd, then a sophomore in high school, was a guest player, but was the best player on the field, according to Crooks. Now 32, Lloyd is only getting better with age. "She's become the quintessential 'work when nobody is watching' athlete," says Crooks.
Lloyd's training setup when nobody is watching is unlike any other player's on the national team. The United States women have been ranked No. 1 in the world for six years running, but establishing a stable professional league has proven a tough task. The National Women's Soccer League lasts only five months through the spring and summer, and the short season is largely the reason why the U.S. gathers for national team training camps so often. But there are still gaps of weeks, even months at times, where players have to find their own means of staying fit and sharp.
Lloyd isn't shy about telling you that she trains harder than anyone, and she's frank about her quest to be the best player in the world. She forever carries a chip on her shoulder, fueled by a crowd of naysayers whom Lloyd doesn't specify, yet acknowledges their existence. Lloyd said she doesn't play for accolades, but she's only human. She sees marketing and advertisements that don't involve her. In 2013 she was left off the NWSL all-league first and second teams, and didn't make the first team in 2014 after carrying her struggling Western New York Flash club through the season. But Lloyd was traded to the Houston Dash in October. Two weeks later she won the Golden Ball as the best player of the qualifying tournament.
"All these years, there are going to be people that try to push you down," she said. "There are going to be people that try to tell you you're not good enough. What James has always continued to harp on with me, is that you train 100 percent, 100 percent of the time and you prove everybody wrong."
Her attitude is classic if not cliché New Jersey: Work harder, always. And Lloyd is proud of that, calling herself a "Jersey girl for life." She lives a few towns over from where she grew up.
"We're fighters, we're aggressive," U.S. captain Christie Rampone said of New Jersey's style of soccer. Rampone is a Point Pleasant, N.J. native. "We have that good hard mentality of always trying to get better and prove we belong on the field."
On this sunny late September day at the familiar fields in Medford, three weeks before World Cup qualifying begins, Lloyd is working on improving the speed with which she sets up her shot. She is joined by 22-year-old teammate Julie Johnston, who is in the area ahead of the team's training camp. They start with juggling and short passes before moving into a passing drill, finding space in between bright yellow dummies — life-sized human silhouettes — that serve as still defenders. All of it expensive, serious training equipment.
And then the pair advances to a drill meant to improve Johnston's passing out of the back and Lloyd's first touch before her shots. Johnston's first pass of the drill gets to Lloyd, through seven dummies, and Lloyd smoothly strikes a knuckling shot into the corner of the goal. The ball becomes entangled midway up the net, staying there throughout the entire 20-minute drill, frozen in time. It's where it belongs.
This humble, bumpy field that features different shades of dried-out grass is an average youth soccer field. It's hardly spectacular. Galanis schedules time on the field with the adjacent special services school. A fire drill abruptly cuts this practice short, and Lloyd isn't happy. There's more training to be done today. The few hundred kids soon return to their classrooms, but Galanis is content with ending the training session, having put the tired pair of players through extensive fitness training the day prior.
Lloyd, however, stays an extra half-hour to work on her shooting. She sets up those yellow dummies right on the goal line, leaving about two feet between their tops and the crossbar. Her first two shots fly over the dummies and strike the bottom of the crossbar in nearly identical spots, each bouncing down just over the line. Relentlessly, she keeps on striking free kicks.
Lloyd says her gold-medal-winning goal in 2008 came as a surprise, a palpable emotion on her face after the goal. There was obviously joy when her two goals lifted the U.S to the 2012 Olympic gold medal in a 2-1 win over Japan, but there was also vindication.
Two weeks before leaving for 2012 Olympic training camp, Lloyd stood on that field in Medford where she had played so many times when she was younger. This time she was emotional, distraught. She had just been told by then coach Pia Sundhage that she wouldn't be starting any longer. The team was going in a different direction.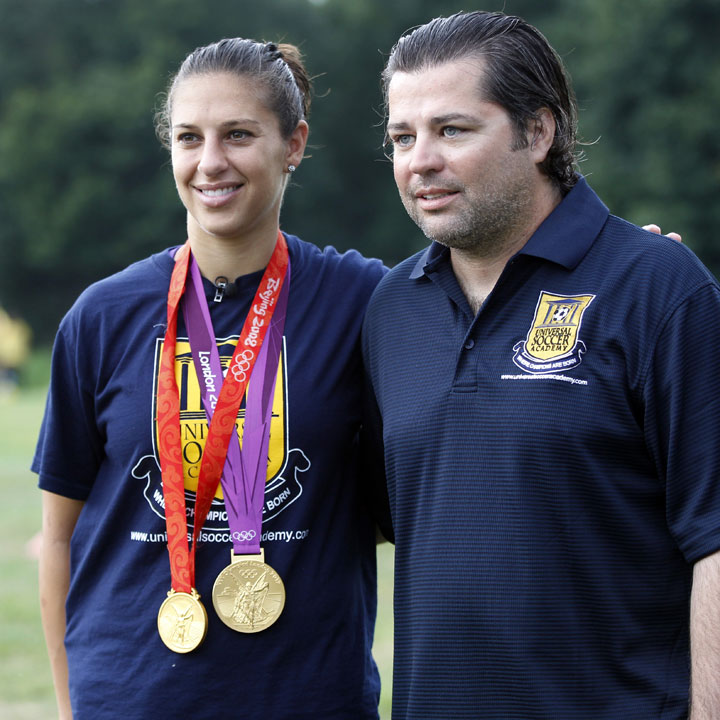 "It was one of the hardest things I think I have ever had to overcome in my career, the benching," Lloyd said. "I'm not going to lie, I was upset. I was not happy, I didn't understand it. But I went home and I remember walking over to James the first time I got back and tears were rolling down my face. I thought my career was over. I thought that this was it."
Sundhage, now the coach of her native Sweden, recalls two years later that Lloyd was a player who would make great moves and then the occasional costly error.
"I was always of the opinion that if you want the best of Carli Lloyd, you need to give her the chance, but also deal with the mistakes," Sundhage said. "For me, it was, 'It's OK to make mistakes, Carli Lloyd, if you try to make it up.' Because I know something good will come out from her mind and from her feet."
Sundhage's message to Lloyd at the time was to work hard and continue to help the team. Lloyd's message back was that she would be ready, and she would prove her coach wrong. She did that, and sooner than anybody – except maybe Lloyd – would have imagined.
In the two weeks between the bad news and the flight to Sweden for pre-Olympic training camp, Lloyd returned to New Jersey to train. She needed a mentor more than ever. Galanis told her not to pout, and the two developed a two-a-day training regimen that Galanis says involved four hours of technical training – soccer lingo for working with the ball – in the mornings, and three hours of fitness at night.
Sundhage kept telling Lloyd to be ready, even the day before the opener. Shannon Boxx, who played in the center of midfield just like Lloyd, entered the 2012 Olympics carrying a hamstring injury. Sixteen minutes into the opening match, Boxx needed to be substituted. The U.S. was already losing 2-0 to France, and the quest for a U.S. three-peat was already unraveling.
Lloyd replaced Boxx, and the Americans turned around that match, winning 4-2. Lloyd scored the eventual game-winner. It was another big moment, the foundation upon which Lloyd's career is built. She started the following five matches of the tournament, leading the U.S. to a third straight gold medal.
"The fact that she really wanted to prove that I was wrong, I love that," Sundhage said. "She came back. Bouncing back, I would say, is one of her strengths."
Lloyd's repeat Olympic heroism and her short-term emotional rollercoaster is nothing less than the stuff of legends. But Lloyd is hardly the face of this U.S. women's team. Hope Solo, Alex Morgan and world-record goal scorer Abby Wambach are the most recognizable faces on the team.
"On the field she is kind of the unsung hero of this team," Solo said of Lloyd. "And everybody knows that. I think at the end of the day, the coaching staff knows it; the rest of our staff knows it and I think to her, that's the most important thing. It doesn't matter about the media, it doesn't matter about the photo shoots. For her it's about winning games and earning the respect of her teammates. I think that's why we all respect her so much … because she doesn't care about that stuff. She just wants to win."
Part of Lloyd's absence in the mainstream speaks to the value of the World Cup. There is no greater stage in soccer than the World Cup. It's the pinnacle event of the world's most popular sport, and as hard as it may be to grasp for the common sports fan, it is more important to a soccer player than the Olympics. Lloyd is yet to win a World Cup, yet to have that big moment on that stage, just like all but one of her current teammates (Rampone, at 39, is the only remaining piece of that 1999 team).
Just last month Lloyd scored a goal and assisted two of Wambach's four goals in the championship match at World Cup qualifying.
"She's just been playing out of her mind, and honestly we're going to need Carli to be playing exactly like this for the next seven to eight months to win a world championship," Wambach said after the match.
And to prove everyone wrong, as she's been doing for years. Next year's World Cup, which starts on June 6 in Canada, could be the last one for Lloyd and many of her teammates.
"We've got to win it to basically shut everybody up," Lloyd says.