The Super Bowl presents several interesting matchups. Of those, the most intriguing is probably how the Seattle Seahawks will defend Rob Gronkowski. Gronkowski is the NFL's best tight end, an unparalleled combination of superb blocker and dangerous receiver.
Like any team facing a hybrid tight end, one of the key questions Seattle must answer is how it chooses to match up to Gronkowski. We can look back at the 2012 Patriots-Seahawks game for some clues about their likely tactics.
Seattle has shown some vulnerability against opposing tight ends this year, so how the Seahawks play Gronkowski is especially important. How exactly have the Seahawks been vulnerable to opposing tight ends? How does that compare with how the Patriots have used Gronkowski lately? Finally, what might all that mean for Sunday's game?
The Seahawks vs. Rob Gronkowski in 2012
In a world where teams change players virtually every year, how much can we really learn from a 2012 game? In some respects, not very much. Gronkowski is the only player who will dress for the Super Bowl to have caught a pass from Tom Brady in that 2012 game. Brady's leading receivers that day were Brandon Lloyd and Wes Welker. Covering Brandon LaFell and Julian Edelman instead of Lloyd and Welker may change how Seattle chooses to play Gronkowski. On the other hand, LaFell succeeds in some of the same ways as Lloyd, as Edelman mirrors Welker in some ways.
SUPER BOWL XLIX: Coverage starts Sunday at 12 p.m. ET on NBC
What makes that game meaningful is the players who seem most likely to cover Gronkowski also covered him back in 2012. The players who covered Gronkowski on more than one of his ten targets (including one negated by penalty) that game were strong safety Kam Chancellor, plus linebackers Bobby Wagner and K.J. Wright. Those were the three Seattle defenders who played every snap against the Packers. They are also the likeliest choices to draw Gronkowski duty come Sunday.
Gronkowski's usage on his targets that game displayed the expected mix of alignment and routes. He lined up inline, next to an offensive tackle. He aligned on the wing of an offensive tackle. He lined up standing up in the slot. He lined up out wide. All told, he caught 6 passes for 61 yards.
The key challenge for the Patriots' passing game is to control the short middle of the field. Gronkowski's routes were often designed with that in mind. His first and longest reception of the game is a good example of how New England can do that. Aligned in the near slot, he ran a skinny post, while Welker, aligned in the slot on the other side of center, ran a short crossing route. The combination is designed to attack middle linebacker Wagner (highlighted in red). If he responds to Gronkowski, Welker will be open. He attacks Welker, and Gronkowski used his inside alignment on deep defender Chancellor to make the catch. Deep safety Thomas brought him down after a gain of 20 yards.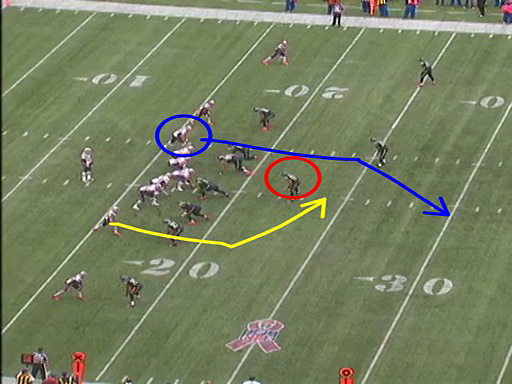 Attacking Wagner like that was not always a successful strategy. Brady tried to find Gronkowski on a similar route in the end zone late in the first half. Wagner's perfect positioning forced Brady to hold the throw. When Brady did release it, the ball was behind Gronkowski and nearly intercepted by Thomas.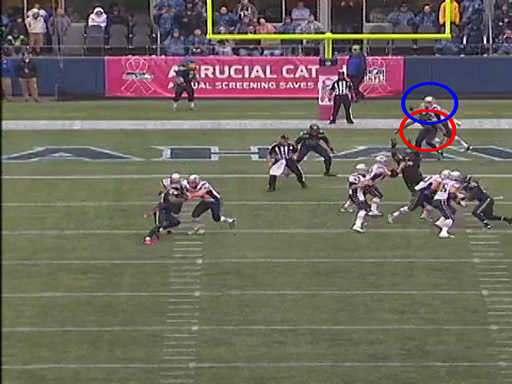 That was Thomas' second near-interception of a Gronkowski red-zone target. Earlier in the game, he jumped an out route where Wright had primary coverage responsibility.
Like the big first completion, Gronkowski's big plays typically featured combination routes designed to defeat coverage rather than him winning physical matchups in coverage. His last catch of the game shows this. He is split out wide and is running a simple slant route combined with a flat route from the backfield player. If the Seahawks are playing zone coverage, his inside release should occupy the closest defender and the flat route should convert third-and-2. As indicated, the Seahawks were playing man. Gronkowski released inside on the slant and had an easy conversion with Chancellor playing well off.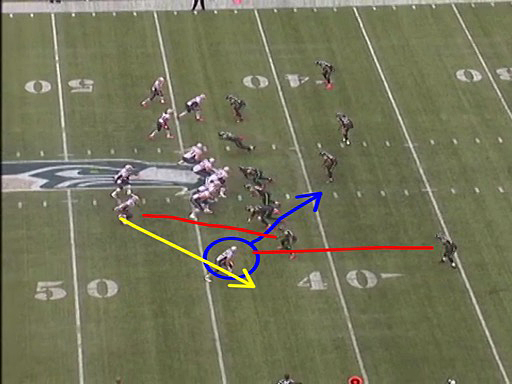 How Tight Ends Beat Seattle in 2014
The Seahawks were an excellent pass defense overall. They were especially good against opposing wide receivers but were just average against tight ends in Football Outsiders' efficiency metrics. However, their losses didn't always include a big day by the opposing tight end. In their home loss to the Cowboys, Jason Witten only had 24 yards receiving. Gronkowski is a bigger threat than Witten, though. He was the most valuable receiving tight end in the league, and the Seahawks struggled badly with the man who finished behind him.
While the Seahawks were not very efficient against tight ends, they also did not allow them many yards. The average team allowed 50.8 yards per game to tight ends, Seattle only 41.4. Only two tight ends had more than 50 yards in a game against the Seahawks, but both did so with good efficiency. The first, and most notable, was Antonio Gates. In San Diego's win in Week 2, he caught all seven passes thrown his direction for 96 yards and three touchdowns.
Two of Gates' touchdowns came from a similar pre-snap look as the last play from the 2012 New England-Seattle game. The tight end and the back are the sole receivers to that side, and the Seahawks have one defender up on the line of scrimmage and another deeper. The alignment is not exactly the same — Gates has more of a minus split, closer to the line of scrimmage. This gives him the necessary room to take an outside release, crucial for this unusual way to run curl-flat. Curl-flat is a staple of NFL playbooks, but a player in Gates' position is typically running the curl. Instead, he runs the flat and takes it upfield, easily beating Chancellor's coverage for a score.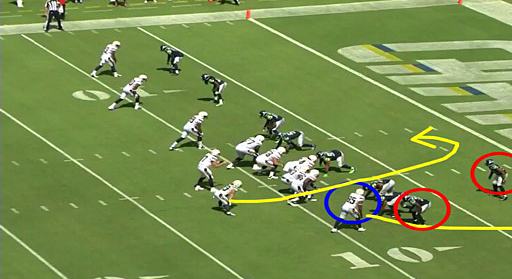 Gates' second score came from the same formation from the same spot on the field. The route combination is slightly different — the running back runs an angle route instead of a curl — but Gates' route appears to be the same. The near coverage defender — this time, last year's Super Bowl MVP Malcolm Smith — takes Gates and grabs him to prevent him from breaking upfield. Gates manages to shake free and adjusts to give Rivers a throwing angle for the TD.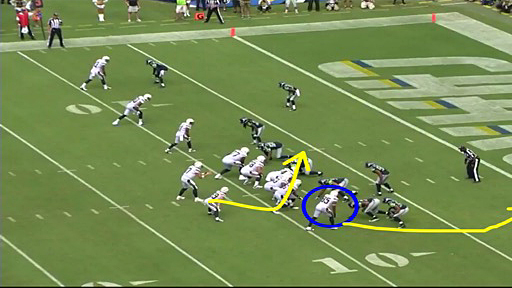 The other tight end to beat the Seahawks was the Eagles' Zach Ertz, who had 51 yards, including a pass interference penalty. Ertz had his success attacking Seattle's downfield coverage. His big play was a 35-yard touchdown. It came on a switch concept, where, like Gates' third score, K.J. Wright was beaten in man coverage.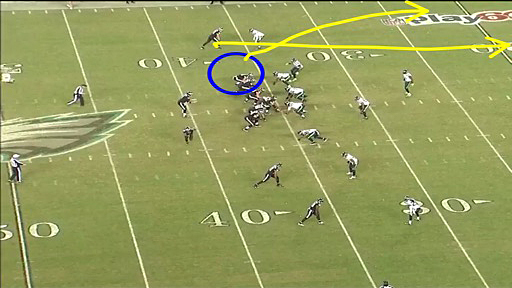 How Gronkowski Is Winning
The good news for Seattle is Gronkowski has not been that type of downfield threat in the postseason. On throws traveling much more than 15 yards downfield, Gronkowski has one catch in the playoffs while opposing defenders have two interceptions. His only deep catch came when he found a seam in the Ravens' deep zone. This was not a big change from the regular season. Over 75 percent of his targets came no more than 15 yards downfield. New England may see the success Gates and Ertz had downfield and try to use Gronkowski that way, but that is not how the Patriots have regularly played offense.
Rather, most of Gronkowski's work has come in route combinations designed to defeat the zone coverages Baltimore and Indianapolis have played. His 23-yard gain in the second quarter against the Ravens demonstrated this. Like his first catch against the Seahawks back in 2012, his route was part of a high-low designed to attack the middle of the field.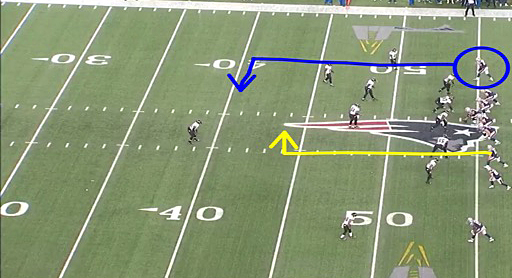 The result was a good throwing lane for Brady. Showing off one other thing he does so well, Gronkowski picked up an extra nine yards after the catch.
How Seattle May Defend Gronkowski and Gronkowski May Attack Seattle
The good news for the Seahawks is Bobby Wagner and K.J. Wright have the size and physicality to match up with Gronkowski one-on-one and come out fairly well. Gronkowski's lack of deep targets may mean Wright's vulnerability downfield is not an issue.
If Wagner and Wright do match up with him, and Gronkowski does not win, New England will need to be more creative in its scheming. Given two weeks to prepare, master schemer Bill Belichick should be up for the challenge with alignments and combinations that make it possible for Gronkowski to win. Wagner and Wright (plus Kam Chancellor and Earl Thomas), though, are much more experienced than they were 2 1/2 seasons ago. They should do a better job of handling those route combinations and giving their teammates the help they will need in man and zone coverage to shut down Gronkowski.