(Editor's Note: This article originally ran on golfchannel.com on Sept. 10, 2014 as part of a series of stories celebrating Palmer's 85th birthday. For the full collection of stories, click here.)
LATROBE, Pa. – As soon as he pauses … you know the question has him.
This response, if offered honestly, requires a level of introspection, and introspection at 85 years old can dig deep and touch all kinds of nerves.
Four, five, six seconds pass …
He can't speak with his mouth so he lets his hands to the talking – a thumbs-up. There's no mistaking what that means: The words are there; they just can't come out at the moment. But they will, and everything is fine.
As Arnold Palmer makes his second attempt to answer, this unexpectedly emotional response takes hold again.
And there, there in the right corner of his right eye sets a tear, welled up and shimmering in the camera lights. You just can't look away at this moment. Golf's most masculine of men is trying – fighting – to not cry.
This isn't weakness we are witnessing; this is nostalgia, a heart-felt appreciation for a prodigious life lived.
What does it do to you, to walk into this office every day?
That's the question. That's the one that got him.
Mr. Palmer's office is magnificent, in part because it is so understated. Neither the exterior design nor the interior space seems fit for a king. But Mr. Palmer never clung much to that moniker, anyway.
Tucked away a short, uphill cart ride from Latrobe CC, his signature umbrella logo decorates the entrance.
Then you walk in and see stuff everywhere. You just hope it's the good stuff. And it is.
Turn right and look straight ahead: a Masters Tournament trophy, the silver replica of the Augusta National clubhouse. It's just sitting there, unconfined.
On the back wall, trophies. Let's see: '60 U.S. Open; Ryder Cup replica from the '95 dinner; '80 U.S. Senior Open; '62 British Open claret jug; '54 Havemeyer for winning the U.S. Am.
All exposed and just begging to be touched. It's OK. It would be criminal not to run your fingers along the base or let your hands grip the neck. You think this opportunity is going to happen again?
Everywhere you look there is something that needs to be seen: keys to various cities; major badges; Ryder Cup patches and bags; wall collections of magazine appearances; more crystal than Swarovski.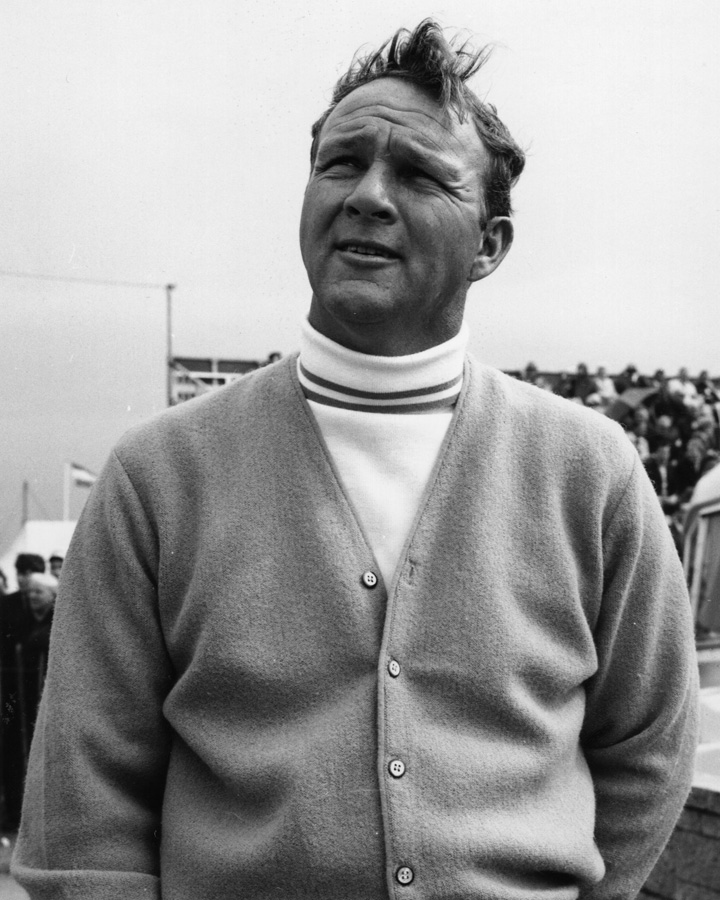 And the pièce de résistance: an 8-foot vertical case containing Mr. Palmer's Congressional Gold Medal; Medal of Freedom; awards presented by presidents and foreign dignitaries; and resting above them all, the Hickok Belt, which from 1950-76 was awarded annually to the top professional athlete in all of sport. Arnold Palmer reigned in 1960.
Little wonder he gets teary-eyed thinking about this place. He wakes up in the morning, gives wife Kit a kiss and off he goes to his office.
"And I do go," he says with emphasis.
His life is in this building. His accomplishments are there to be absorbed. Photographs of his family adorn the walls of his office proper. Across a short walkway are hundreds upon hundreds of golf clubs (mostly Callaway), combined with other golf artifacts and Pittsburgh team sports memorabilia.
If that's not enough, this is home. This is where he was born and raised, the oldest of four kids to Milfred "Deacon" and Doris Palmer. Born on this day – Sept. 10 – 85 years ago.
The Palmers, by Arnold's admission, were poor but lived modestly. If you don't have much, you make do with what you have. Deacon taught that to his first-born boy.
This is how you eat your food. This is how you behave. Better act like somebody. Yes, sir. No, ma'am.
Those are the basics. You let them be your foundation. Oh, you might not like it now, but you will, boy. It'll mean something when you get older.
Pap was right.
"Put your hands here and here," he commanded as he molded his son's grip on a cut-down golf club. "Now look at that and remember it. Don't ever change."
That's one of Arnold's first memories. Even then, at 3 years old, he knew Pap was not one to be disobeyed.
Remember running around in those western Pennsylvania woods, guns a-blazin'? Sometimes you'd play cowboys, sometimes you'd take that makeshift club and hit anything resembling a golf ball.
Those are the memories. The ones that cause pause.
And those hands. Those mighty hands, hardened and strengthened by farm work and fist fights, chin-ups and rope climbing.
Jack Nicklaus said those hands were born to hold a golf club. Gotta figure he'd know. Have two athletes been more intrinsically linked than the both of you?
Those hands. Lord, the thrills. Taking that visor and whipping it off your head after winning the '60 U.S. Open. Could be the most indelible image in golf history. Certainly in the top five.
The pain they caused, as well.
Congratulations!
DON'T DO IT, ARNOLD! Remember what Pap said: Don't get ahead of yourself; finish the job.
But you can't resist the siren call from a friend in the gallery. You've gotta shake that hand and thank him. And so a one-shot lead on the final hole in the '61 Masters turns into a one-stroke defeat.
It wasn't all about wins and losses, though. Mark McCormack knew that.
When the two of you shook hands and agreed to work together he didn't market you as Arnold Palmer the Great Champion. You were Arnold Palmer, All-American.
You weren't just a golfer; more than a Hall of Fame golfer. You were a business man, a family man, a leader of men, an aviator, an architect and a philanthropist. You were a TV pioneer, Brando in steel spikes. And when cigarettes were deemed dangerous, you knew what you had to do, because you were a role model, too.
Age and opportunity haven't changed things. You are still all of those things to all of the people you've touched.
Along those lines, has anyone ever shaken more hands than you? Those big catcher's mitt hands of yours. To shake them means something – to you and others. They swallow the average man's hands, but don't overwhelm them. There is a comfort in your handshake. Maybe it's because you look a person in the eye when you shake their hand. That matters. It's a basic manner, something Pap taught you.
You built your life on the foundation your father set: treat others the way you want to be treated; sign your name so people can read it; take your hat off when you enter a building.
So simple, but these things matter.
And people matter. You played for them as much as for yourself, maybe more so. And be it peasant or president, you give each person the same thing: your attention. Do you know how much that is worth to an individual? To meet someone so admired, so worldly famous and for them to care … about you?
You've passed down so much over the years. Lee Trevino says today's players should say a prayer of thanks for you every night. If only your manners could cross generational lines.
Remember that time when you were about to hit a tee shot and a woman came running up, asking for your autograph in the middle of your swing? You came to a screeching halt … looked that woman dead in her eyes … and said, of course. And when she said thank you, you responded, thank you for asking.
You probably don't remember that, since it wasn't a one-time thing. But those who witness such things do.
And now here you are, in your office, in a chair, under the lights. Those big, strong hands, once resting comfortably on your lap, now clenched. And after a second, and a third attempt you are able to answer.
What does it do to you, to walk into this office every day?
"Very important," you say. "I come into this office and it starts my day. It makes me think of all the things I enjoy in my life."
When the interview concludes, you finally relent and wipe away those tears with those distinguished hands of yours.
Outside of the office it's a very bright day at Latrobe CC. Very blue. A steady breeze sweeps away the falling elm leaves.
And here you come, later in the afternoon, driving up to the back porch in your golf cart. Two bags strapped in, but no golf to be played today. You stop and look to your right.
"Mr. Palmer," a youngish man acknowledges.
"How are you?" you reply.
"Just fine, thank you. Yourself?"
"Oh, I'm doing just fine as well."
This time, there is no hesitation.